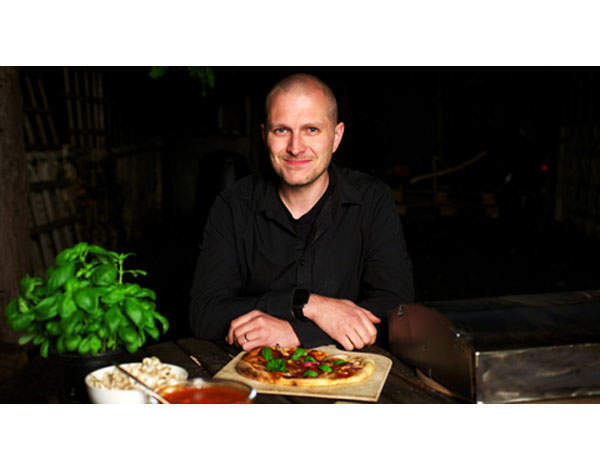 There isn't anything much better than a proper pizza fresh from the oven. Standard ovens, though, just don't get up to a high enough temperature to do a good dough justice. It will also never be able to recreate that wood-fired taste and give the edge of your pizza a lovely smokey lick from the flames.
If you don't want to spend thousands of pounds on building a pizza oven – and that is assuming you own your property and that is comes with its own outside space – then you're a bit stuck. That is unless you get your hands on an Uuni.
Finnish-born Kristian Tapaninaho (pictured below) has invented his own effective and affordable pizza oven – the Uuni – that only needs a little outside space to use and costs a mere £200. It works by burning wood pellets, heats up in 10 minutes and will cook your pizza in just three or four.
Unlike conventional ovens it also retains the heat so you can cook pizza after pizza. Anyone with a little balcony and the ability to knock up a decent dough will be able to make authentic pizza in no time at all.
But how has one man's backyard project ended up stocked in Selfridges? The answer is a determination to perfect home pizza making and funding from crowd-sourcing. I spoke to Kristian a few weeks ago and he walked me through the process from prototype to production.
The inspiration
'I started making pizzas at home on a regular basis some time in 2009/2010, not just every now and again but pretty much weekly. Pizzas are great as they're easy to make but there's a lot of work that goes into really mastering them. Towards the end of 2011 I started thinking that it'd be great to try a proper wood-fired pizza oven and have one in the garden.
'This really came from sort of hitting a wall with our regular oven. There are limits to how hot you can get it. And electric heat doesn't really add to the flavour either.Unlike wood.
'My wife and I were renting at the time so building a brick oven was out of the question — I liked my landlords but not enough to give them a £1000 pizza oven once we left!'
The design process, crowd sourcing and investment
'Getting something from a prototype to a product that is possible to be mass produced is not always straightforward. A lot of the difficulties we had were to do with making the Uuni cost effective to manufacture. I don't have an engineering degree or background in product design but I've always loved finding out how things work so much of the development was problem solving, as it would be for an engineer or a product designer.
'When I launched on [crowd-funding platform] Kickstarter, my goal was to sell about 25 units and get enough capital to make 50 of them so I'd have some units to sell afterwards. Turned out we took almost 100 Kickstarter orders and another 180 pre-orders after the campaign had ended.
'Literally an order of magnitude more. It's of course possible to launch a product without the backing of a hundred people but this way I knew that there's definitely a market for it. This mitigated the risk involved.
'Also, getting a manufacturer on board is not easy. They generally don't want to talk to you unless you can place a sizeable order with them. Being able to pretty much promise an order of 1000 units in the first year made this a little easier. Not much easier, but a little.'
What made people want to invest in an Uuni?
'Because the Uuni is a great way to make pizza and get better at it. Just from the stats point of view, the Uuni is ready in just 12 minutes after lighting. Even the better domestic ovens take 30-45 minutes, especially if using a stone. Uuni cooks a pizza in about 3 minutes, one after another. Home ovens tend to take 5-6 minutes for the first one and then longer for the next ones as they can't keep the heat.
'People who love Uuni are usually keen cooks or love barbecuing in the summer and want to do something more and a little different. It's a great product to entertain friends within the garden. And, of course, wood-fire is the best way to create tasty pizzas!'
Find out more here or follow news and developments at @UuniHQ on Twitter