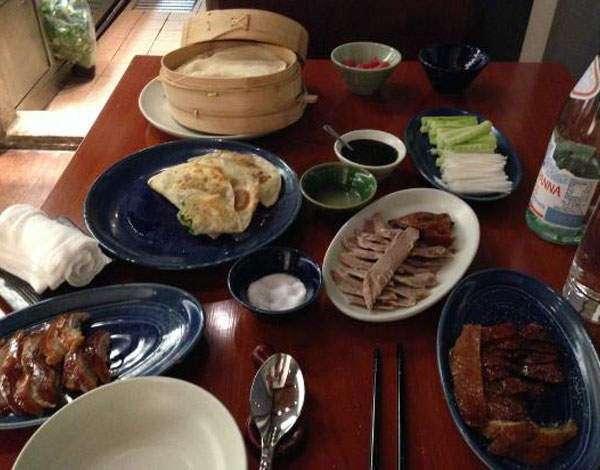 It seems odd that the best food in Beijing is tucked away in an unassuming hotel restaurant with informal service. The first time I came to Made in China at the Grand Hyatt I had eaten several ordinary meals at supposedly top Beijing restaurants, and was beginning to conclude that the serious food in China was all in Hong Kong: I was wrong.
Some very simple dishes here are impressive, with even humble braised cabbage in soy sauce elevated to a surprisingly high level through precise cooking and a carefully balanced dressing. But the reason to come to Made in China is its duck.
Read more from Spear's Food Friday
Peking Duck is a very familiar dish, with almost every Chinese restaurant in a Western city offering it; usually it is harmless enough, and with a few pancakes, plum sauce and a Tsing Tao beer it is easy to overlook the dried out, overcooked meat.
Made in China's Peking duck is a nobler beast entirely. Making it is a multi-day process, with several stages, finishing with the bird being roasted over peach wood. The result is duck skin that is ethereally delicate, almost melting on the tongue. The breast meat is beautifully tender and full flavoured, a world away from the sorry versions that we have become used to at our local Chinese restaurants.
It is so enticing that my dining companion, a vegetarian who had not touched meat of any form in over two decades, surrendered and tried some. There are other specialist Peking duck restaurants in Beijing, and I have tried some of the better-known places, but over multiple visits I have found nothing to touch the duck here.
Another elaborate dish that the restaurant prepares (with advance notice) is beggar's chicken. This is supposedly a dish invented by a peasant thief who stole a chicken and wanted to prepare it without the cooking smells giving him away.
Whatever the true origins of the dish, it involves stuffing a chicken with mushrooms and chestnuts, wrapping it in a lotus leaf and then encasing it in a clay shell that is then cooked slowly. On serving, the shell is cracked open with a hammer, the leaf unwrapped, the cooking aromas fill the room and gloriously tender chicken can then be enjoyed.
If you are in Beijing then make Made in China your first stop; you may not want to eat anywhere else.