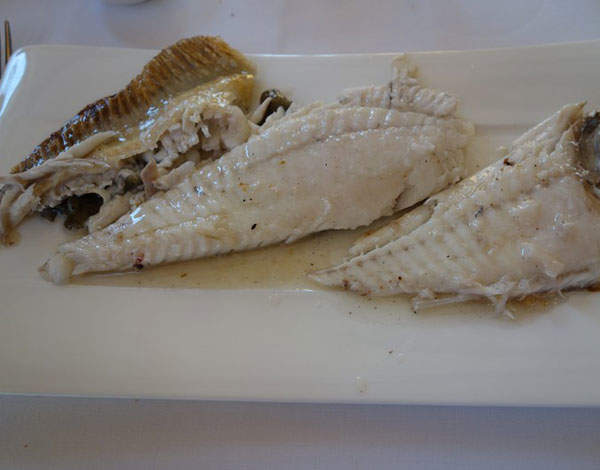 San Sebastian is a well-known food destination, and Bilbao also has some establishments of merit, but in between these two Basque cities is a very interesting restaurant.
In a little fishing village called Getaria is a restaurant that specialises in just one thing: the grilling of turbot, the king of fish. Along the side of the restaurant are large grills, the whole fish being smoked over charcoal. Because almost every customer orders this, the restaurant has an excellent relationship with the local fishermen, and Elkano is able to secure consistently high quality turbot.
The restaurant offers other dishes of course. There is a dark, richly flavoured fish soup, and excellent lobster bisque, a world away from the watery concoctions that so many bistros pass off under the same name.
But people come here to eat turbot, and it does not disappoint. The fish are expertly cooked, the flesh gaining a gentle smoky hint from the charcoal, and have terrific flavour. There are no fancy garnishes or sauces here: the fish is served on its own, not needing any distractions. The flavour is remarkable, fish that would shame many far grander restaurants.
After you have finished you can complete your meal with a simple but enjoyable dessert, such as a capably made chocolate fondant.
The wine list has its own delights. People who live in big cities like London or New York will be used to paying three or four times the retail price of wine in a restaurant, sometimes even more. For some reason Spain has generally yet to cotton on to this way of boosting restaurant profits, and there are frequently bargains to be had.
Elkano goes further than most in this regard, having bought some wines years ago and barely marking them up. In some cases the market price of the wine has long overtaken the price on the list. When I ate here the great Vega Sicilia Unico was listed at barely half the price you would pay in a wine shop for it.
Elkano doesn't have any Michelin stars, but you will struggle to find turbot of this quality even in multi-starred restaurants. Other dishes are good here too, and the wine list is simply a joy. If you are ever in this part of the world, take a break from the city and treat yourself to some great fish at the seaside.