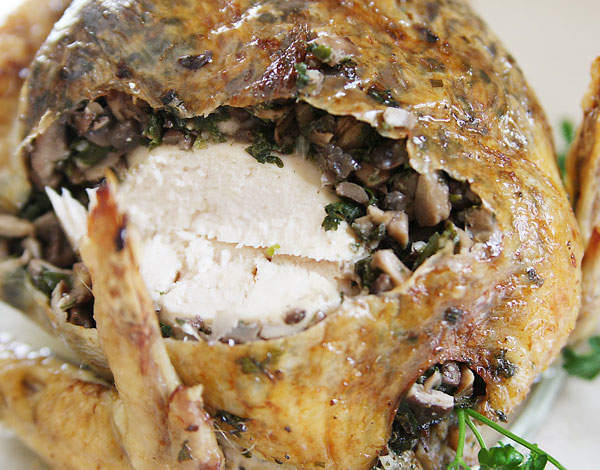 Serves 6
1 corn-fed chicken (ask your butcher to clean the liver and keep it to use in the recipe)
1 head pink garlic
Parsley stalk
1 tsp rock salt
500g Jersey potatoes
2 pinches Espelette pepper
For the stuffing
100g white bread
100ml pouring cream
2 shallots
500g wild mushrooms (a seasonal mix)
2 cloves pink garlic, minced
½ bunch flat-leaf parsley
2 stalks tarragon
125g salted butter
1 tsp salt
½ tsp Espelette pepper
First, make the stuffing. Add the bread to the cream and mix using a Robot Coupe (food processor). In a pan gently fry the shallots, add the wild mushrooms and the garlic and cook for ten minutes. Add the herbs and butter, then season well.
Prepare the chicken. Stuff the back of the chicken with half the head of garlic, the parsley stalk, chicken liver and rock salt, then tie up the back with string. Using a sharp knife, carefully cut and peel back the skin of the breast, making sure the skin remains attached to the breast. Put the stuffing in place, and replace the skin on top. String the chicken well, making a nice shape.
Clean the potatoes, leaving the skin on. Coat a large oval cocotte with duck fat and slightly roast the potatoes. Add the chicken, spray with duck fat and season with salt and Espelette pepper. Add the rest of the garlic evenly throughout the cocotte.
Cook for 45-50 minutes at 180C, basting the chicken breast regularly. After cooking, allow the chicken to rest for ten minutes, then carve.
Place the chicken pieces on top of the potatoes and serve from the cocotte.