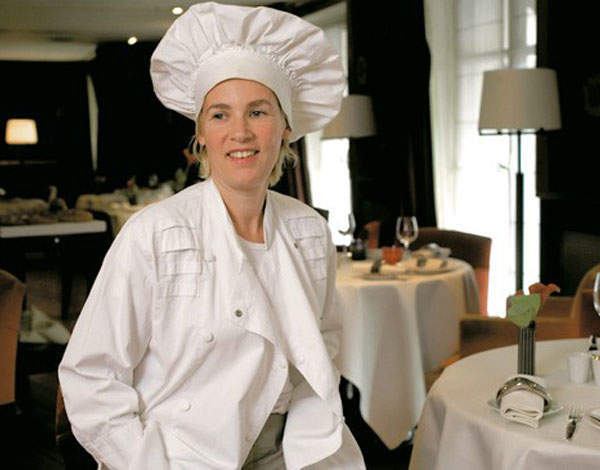 This week Helene Darroze celebrated five years at the Connaught by launching a new menu focused entirely on the finest, seasonal produce. Her suppliers from France, Scotland, Ireland and England came over for just 48 hours to showcase their products in a glorious recreation of a French market within the grand old walls of the Connaught.
The finest beef from Somerset, Noir de Bigorre ham from France and rhubarbs, cheeses, chocolates and more were all proudly presented by their producers to a room jam packed with eager journalists and members of the restaurant industry.
Darroze (pictured below) is one of the finest chefs in London, holding her own in a male dominated world without being showy, arrogant or pushy. She is a quiet, humble woman who wants the focus to be on the ingredients, not on the chef who put them together.
As we sat down to sample the new menu, which is built around single ingredients to highlight seasonality and fantastic produce, she thanked each and every one of the gathered suppliers, lavishing them with praise before retiring back to her kitchen.
So she should, she has gathered some of the very best producers from all over and has exchanged some French suppliers for ones here in the UK to recognise the quality of produce we have here on offer.
That said, you cannot eat in her eponymous restaurant and not mention the outstanding cooking ability and sense of taste and simplicity that Darroze has.
The food she creates is elegant, visually stunning and honest. Her focus is, and always has been, retaining the integrity of each ingredient and presenting the diner with some of the most beautiful food you will find in London.
'Fine de Claire' oyster carpaccio with a white bean veloute, Oscietra caviar and gold leaf remains one of the most sumptuous starters I have eaten. Rich and velvety smooth with a delicate freshness, each component shines through without any interference. Whether you choose five, seven or nine courses from the new menu, this should without fail be one of your choices.
Presenting the menu by ingredient, rather than by dish, adds a little extra excitement to dinner. You don't know exactly what you will get and that allows Darroze to vary her menu to best utilise the ingredients available to her at any one time.
Besides, should you go over to a friend's house for dinner you will rarely be told exactly what you will be eating, rather just 'chicken' or 'fish'. It is a lovely, simple approach that perfectly reflects the ethos of this wonderfully talented chef.
Incase you would like to investigate the suppliers Helene Darroze uses you can find them – and the ingredients they supply – listed below:
Pierre Matayron, Gers, France – Noir de Bigorre ham
James Odgers, Stream Farm, Somerset, England – Dexter beef
Nicolas de Loisy, Chocolaterie de l'Opera. Arles, France – Chocolate
Joel Thiebault, Yvelines, France – Vegetables
Bernadette Cassagnau, Bearn, France – White coco beans
Anne-Marie Vergez, Pays Basque, France – Hake
Alex McMullan, Cushendall, Ireland – Lobster
Katherine Rhodes, Keltic Seafare, Dingwall, Scotland – XXL Scallop
Janet Oldroyd Hulme, E Oldroyd & Sons Ltd, West Yorkshire, England – Rhubarb
Arnaud Tauzin, Landes, France – Corn-fed chicken
Xabi and Mattin Castanchoa, Biper Gorri, Pays Basque, France – Espelette Pepper
Joe Schneider, Welback Estate, Nottinghamshire, England – Stichelton
Read more from Spear's Food Friday