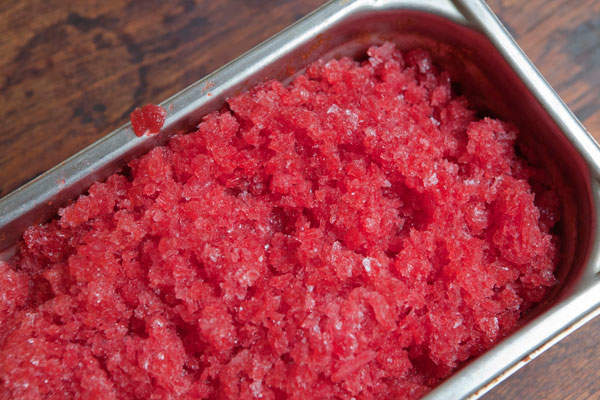 We have hit the incredibly short blood orange season so what better way to make the most of it than with two lovely recipes from Jacob Kenedy of Bocca di Lupo and Gelupo?
Bocca di Lupo's Blood Orange Salad (pictured above)
By Jacob Kenedy
Ingredients
½ a red onion
1kg blood oranges
2 sprigs fresh oregano
3 tablespoons extra virgin olive oil – a good, fruity Sicilian one is best
Method
Slice the onion into three or four along the grain, then shave very thinly across the grain to get fine, short slices. Soak in icy water for 20 minutes to play down the strength of the onion.
1 kilo of blood oranges is about eight small ones or four large. Small are often better, and bloodier. Cut off the peel and pith, then slice across into pinwheel rounds.
Arrange the slices on a plate, scatter with a little red onion, a few picked oregano leaves, and season with salt and pepper. Drizzle with the oil just as you serve.
Gelupo's Blood Orange Granita (pictured above)
Ingredients
600ml blood orange juice (from just over a kilo of oranges)
75g caster sugar
4 tablespoons flaked almonds
1 tablespoon icing sugar
4 large mint leaves
Method
Stir the sugar into the blood orange juice until dissolved. Freeze in a shallow dish, stirring through with a fork every half hour to produce frozen flakes of ice.
Toast the almonds in the oven until brown, but not burned. Toss when still warm in the icing sugar, then leave to cool.
Serve the granita in frozen glasses, with finely shredded mint and the toasted almonds on top.