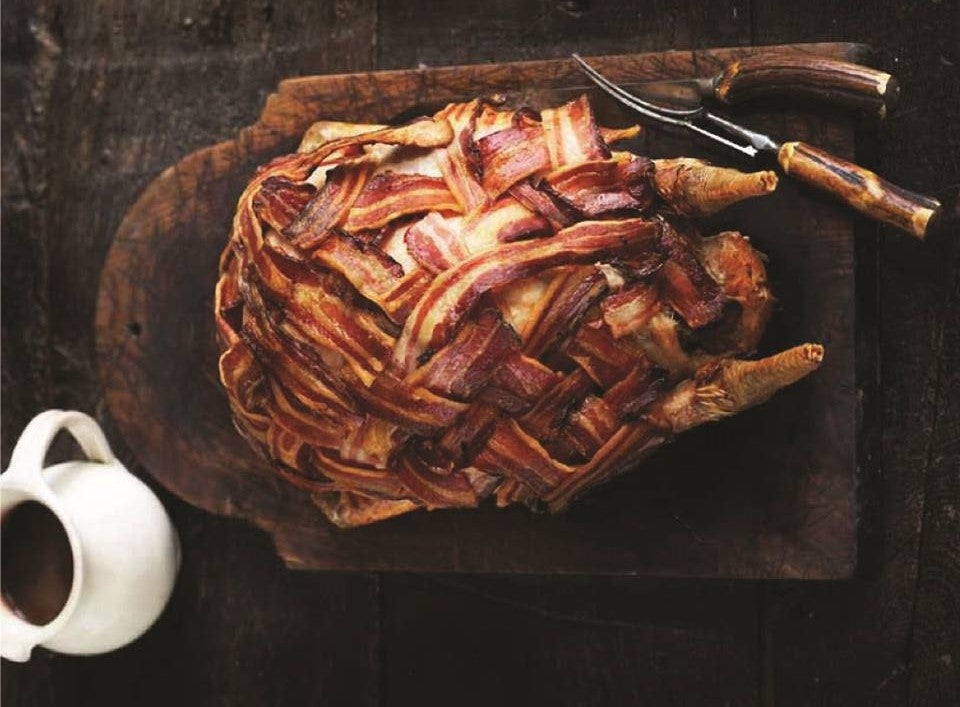 We bring you a seasonal classic featuring father and son team's 'Botterill broad-breasted Bronze birds'
American Thanksgiving celebrations take place this year on 26 November, and while the UK hasn't adopted it as a national holiday of our own, it has become popular in this neck of the woods, so how better to celebrate than with a showstopper of a roast?
Turkey is the meat of choice for Thanksgiving, with roughly 90 per cent of Americans eating it on the big day. At Ginger Pig, ours are the finest broad-breasted Bronze birds, sourced by father and son team Gerald and Richard Botterill, whose business has been rearing the birds on the Belvoir Estate in the Lincolnshire countryside for over 70 years.
The turkeys are free to roam the vast pastures and peck and graze as they please. There is no corn feed here; these beautiful Bronze birds have a wholesome diet of home-grown cereals and vegetable protein to ensure a happy and healthy growth to slaughter weight at five to seven months.
To cause as little stress as possible, when the time comes, the birds are transported by foot to the onsite abattoir at dusk. The slaughtered turkeys are then meticulously hand finished, having been dry plucked and hung, guts in, for ten to fourteen days. The birds' slow and natural growth combined with the process of dry plucking and hanging guarantees a tender turkey with a superior flavour.
Make sure you do your turkey justice by carefully roasting, following our go-to recipe to get the best from your bird.
Recipe
Take your Botterill broad-breasted Bronze turkey out of the fridge six to eight hours before it goes in the oven. Rub the skin with plenty of butter and pepper and cover the breast with lots of streaky bacon. Make a big tin foil cross inside your roasting pan, place the turkey in the middle and wrap the foil around to make a loose but closed parcel.
Cook at 220'C/425'F/Mark 7 for 40 minutes. Reduce heat to 170'C/325'F/Mark 3 and cook for approximately a further three hours (small turkey), three and a half hours (medium), four and a half hours (large) and five hours (extra-large).
Uncover for the last 30 minutes to crisp the bacon. Stick a long skewer in the fleshiest part to test for doneness; the juices should run clear. Rest it for half an hour before carving.
Gravy
While your turkey is roasting, gently simmer the neck, heart and gizzard in 1.5 litres of water or water and white wine, with some chopped carrot, onion, parsley, bay and peppercorns.
Allow to simmer for one and a half hours before straining out and discarding the solids. Reduce this liquid by half, and then use to deglaze the roasting tray once the turkey is cooked. Simmer for five minutes, scraping the bottom of the tray as you go.
For a thicker gravy, pour everything into a saucepan, then combine one heaped teaspoon of corn flour with just enough water to loosen it, pour into the simmering gravy and mix well until thickened. Season to taste and add a dollop of Dijon mustard if you like.
Turkey alternative
If you think a roast turkey in November might steal the thunder of your Christmas meal, then now is a good time to take advantage of the British game season by trying the Ginger Pig variation of pot au feu, using wild pheasant. Farm-reared pheasant don't have as much flavour, as their diet is bland, so go for wild and ask for a hen pheasant if you can, as they have more breast meat and are extremely tender.
Place two plump hen pheasants in a casserole dish and just cover with water. Add two bay leaves, one crushed clove of garlic and an onion that's been peeled and halved. Season well, cover and bring to the boil over a medium heat, then reduce the heat and simmer for 40 minutes.
Add four chopped sticks of celery, two peeled carrots and six peeled waxy potatoes to the pan, making sure the potatoes are covered by the cooking liquor. Replace the lid and simmer for a further twenty minutes or until the veggies are tender. Serve the pheasant with the vegetable and cooking liquor.