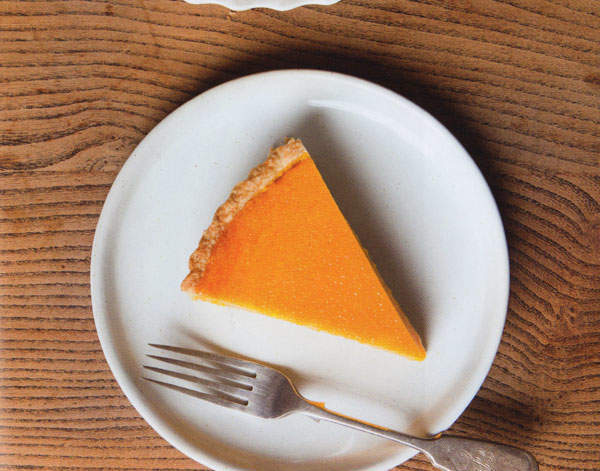 If you'd like a taste of Odette's at home (read our review here), Bryn Williams has kindly given us his recipe for pumpkin pie, which is just starting to come into season now. You can find this recipe and many more in his book 'For The Love of Veg', published by Kyle books.
Pumpkin pie
For the pumpkin pie, I advocate a winter squash, the green-skinned kabocha, a Japanese variety that's readily available from most supermarkets in the West.
Serves eight
1 quantity of sweet pastry (below)
Flour for dusting
350g kabocha squash, diced
1 free range egg
5 free range egg yolks
1/2 of a vanilla pod (seed only)
175g caster sugar
200ml double cream
Method
Preheat the oven to 180 degrees/gas mark 4. Lightly grease a 23cm tart tin with a removable base.
Roll out the pastry on a lightly floured surface and use it to carefully line the tart tin. Lay a sheet of greaseproof paper over the pastry, weigh it down with baking beans and bake blind in the oven for 15-20 minutes. Remove from the oven, lift out the paper and beans and set the tart shell aside to cool.
Put the diced squash into a heavy based saucepan. Pour in enough water to come halfway up the squash, cover the pan with a lid and bring up to the boil. Cook for 7-8 minutes. Remove the lid and stir the squash – if it isn't soft yet, continue to cook, uncovered, until it is. Remove from the heat and strain the squash through a colander, reserving the cooking liquor.
Put the squash into a blender or food processor and whizz, adding just enough of the cooking liquor to help it along. You need the purée to be nice and thick. When ready, set aside to cool, and then place in the fridge until cold.
Preheat the oven to 140 degrees/gas mark 1.
When the purée is cold, put it into a large bowl and add all of the remaining ingredients. Mix together until well combined.
Pour the mixture into the tart case and place in the oven for 40 minutes or until golden and risen.
Sweet pastry
250g plain flour
125g unsalted butter (straight from the fridge and cut into small dice)
pinch of salt
pinch of sugar
1 free range egg
1 tablespoon of milk
Method
Rub the flour and butter together using your fingertips until you have the texture of breadcrumbs. Add salt and sugar. Then add the egg, and mix together. Finally add the milk and mix to form a dough. Remove from the bowl, wrap in cling film and set aside to rest in the fridge for four hours before using.