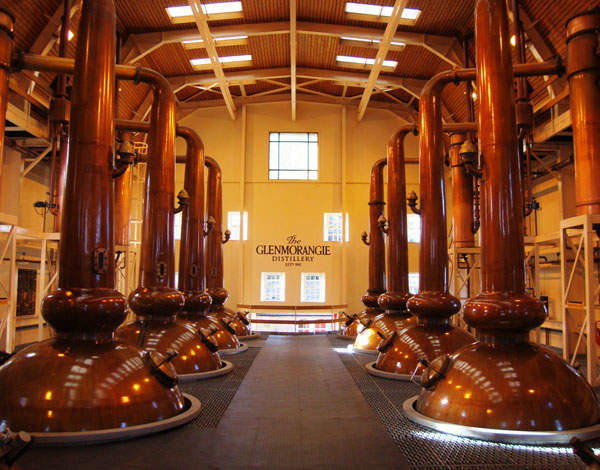 Drinkers can choose their tipple, but they rarely have a say in how that tipple is made. Now Glenmorangie has asked its consumers not only to choose from which cask its next whisky should be matured but also to select the packaging and even the name.
Such a move might raise an eyebrow or two as you'd think the people who are best at making whisky are those doing it for a living, but Glenmorangie seem keen to involve whisky drinkers in the creation process and to give them an understanding of and get them interested in the design that expresses a product beyond a picture of a mountain and a 'product of Scotland' label.
Although the average whisky drinker probably knows the difference between a single and a blended malt, they probably don't understand the complexities of distilling, or the variables inherent in ingredients and maturation. Enabling people to be part of the process by choosing the cask for maturation should give even the most oblivious of patrons a good handle on what makes a good whisky.
Read more on tasting events from Spear's
Glenmorangie seems confident this will be the case: earlier this year whisky aficionados voted online to select a sherry cask from the Andalucían town of Manzanilla in which to mature the new whisky. Crucially the choice was a good one: Spear's sampled the whisky earlier this week at an event to mark the halfway stage in the concept, and was impressed by the distinct pepper tongue that led to a smooth finish evocative of spiced berries.
The event also made use of the skills of London cocktail bar Callooh Callay's expert mixologist Matt Fairhurst, who fused the malt (50ml) with 40ml smoked banana milk and 10ml Amontilado sherry to give a pleasant smoothness that helps bring out the fruity flavours in the whisky. The taste and texture of this digestif was a welcome curiosity that certainly credited London's cocktail scene.
I found the aperitif to be a much warmer embrace of the whisky drinker's palate. Spiced with 20ml pineapple shrub, 20ml Cocchi Americano and 10ml Cynar it was unashamed propaganda for a malt of which Glenmorangie is rightly proud. It had little of the fission of the first cocktail and much more of a familiarity akin to a meeting of old friends, blending the sherry and pepper tastes with lasting embers of nut, and wood smoke with a glace cherry taste atop for a sweet varnish.
After tasting the spirit it's easier to see why Glenmorangie have looked to get their customers involved. Voting on appearance and taste gives a stake in the product, purchase of which will complete a cycle that has brought the consumer much closer to something they can truly claim as theirs. Such interest also allows Glenmorangie to gauge its market and find out what people want from their whisky, overall a savvy marketing move that has produced happy fruit.
The next stage sees votes being taken on the packaging design. At the same event a branding expert from design agency Butterfly Cannon, Jon Davies, spoke at length on the inspiration for his three potential designs, unifying the heritage of Spain's sherry region with that of Glenmorangie, and cheerfully admitting his team were happy to sample the product during the creative process.
Commenting on the public input, Davies said: 'The images and ideas have been perfect for the designers, sparking compelling brand and product stories which have been brought to life in three unique packaging designs. I am fascinated to see which one Glenmorangie aficionados will choose.'
Once a design for the packaging has been chosen a photo campaign will be selected by the public and finally a suitable location for the launch of the limited edition malt in autumn 2014.
Whether such a democratic method of whisky production will be successful remains to be seen, but giving scotch connoisseurs the ability to shape their taste and look of their next tipple is a welcome innovation for those discriminating about their drams. Fittingly, fans of the single malt also voted to name it 'Taghta' (Tuh-ta) or 'Chosen' in Gaelic.
Read more from Spear's Food Friday