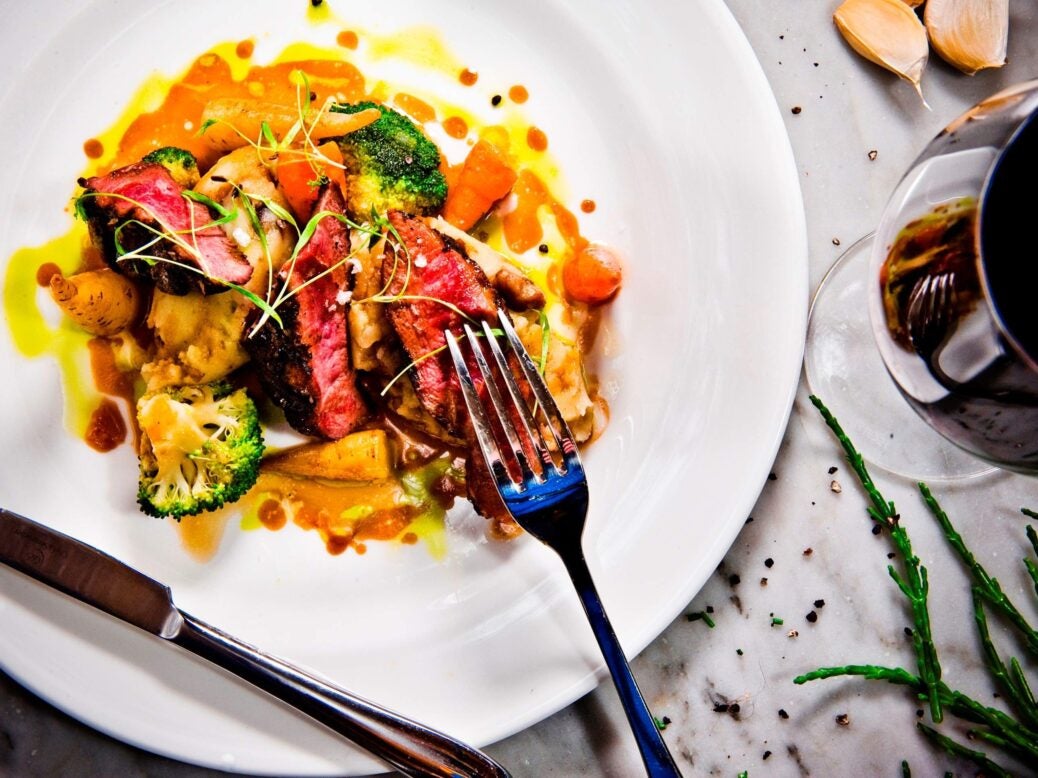 With dazzling decor and a menu to match, Charles Boyd's reimagined restaurant makes the most of its outstanding British ingredients, finds John Underwood
The last time I went to 8 Northumberland Avenue before this week, I drifted straight past Boyds Grill & Wine Bar and downstairs for a conference on offshore finance. I don't think such an oversight would be possible today. Boyds, which has just reopened following a complete overhaul, draws the eye like a solar flare.
Clad in fifteen varieties of marble and dramatically cut through with glowing copper bar counters, Boyds – a space which has previously served as a coffee room and a Ministry of Defence computer lab – presents an intentional clash of styles. Customers can perch at the bar, commandeer a sofa or head to the formal dining area, with the same menu available throughout.
Like Stevie Parle's Craft, one of last year's best received new restaurants, the menu at Boyds emphasises local, seasonal British produce, from Sussex Wagyu beef to Nyetimber sparkling wine, made on the edge of the South Downs. 'It's Champagne really,' confided a waiter, 'only you can't call it that. The French don't have a sense of humour about wine.'
Even allowing for the irreverence apparently inherent in British winemaking, there's also plenty for a continental oenophile to enjoy – much of it by the glass, thanks to an ingenious vacuum machine which dominates the bar back. One of the highlights of the wine list is a selection of Margaux from Chateau Boyd-Cantenac, a vineyard closely related, as you might imagine, to Boyds' owner Charles Boyd.
Restaurant press launches seldom involve a proper opportunity to attack the menu, which can be a blessing or a curse depending on the event and one's plans for the next morning. I visited Boyds for a 'meet-the-producers' event styled after a farmers' market, where the half-dozen companies supplying the restaurant with fresh fish, cured meat, outstanding British cheese and local fruit and veg vied for attention with migrating platters of food lifted from the regular menu.
Cold plates of cheese and charcuterie are particularly well-represented, and Eric Charriaux, the cheese genius who many will know from South Kensingon's La Cave au Fromage, was on hand to show off some of the cheeses he has picked for the menu. There must have been thirty cheeses available, but the two that stuck in my mind were both made from goat's milk. One, produced in Eric's dedicated maturation room, was a soft log rolled in Madagascan white peppercorns for a rich, fruity, almost sugared finish; the other, sourced from artisan Somerset producer Peter Humphries of White Lake Cheese, was a smooth and tangy semi-hard cheese with an almost tangerine-hued rind. The latter cheese is called, for reasons I didn't discover, Katherine; one imagines that its namesake is also tantalisingly soft and periodically drenched in apple brandy.
Although I spent what some would consider an intemperate amount of time hanging around the fruit and veg stall, quietly liberating one after another of the brightest, crispest Braeburns I've ever found in London, I did make some limited inroads into the menu. A stripped-down serving of fish and shellfish goujons with curried mayonnaise was punchy and flavourful, miles from the sorry slivers of plaice that so often sneak onto otherwise pleasant menus in a beer batter disguise.
Tandoori-spiced halloumi skewers paired surprisingly well with the Nyetimber not-Champagne, and were much easier to eat whilst standing than the tasty but basically unassailable pots of braised lamb. Alas, the homegrown wagyu was devoured before it got to the back of the room, but I'll be going back to try it; crossed with Sussex Red cattle on Trenchmore farm, the towering animals are fed apple pomace left over from the sensational cider also made onsite.
When I interviewed Marcus Wareing a few years ago, he told me the next trend in fine dining would be the deconstruction of the formal, starched-tablecloth setting – and both in this respect and in its commitment to superb British produce, Boyds is certainly in the vanguard of the New Dining. I'm looking forward to spending a few (or more than a few) quiet lunchtimes there before the rest of London catches on.
Boyds Grill & Wine Bar
8 Northumberland Avenue
8:00-23:30, Mon-Sat