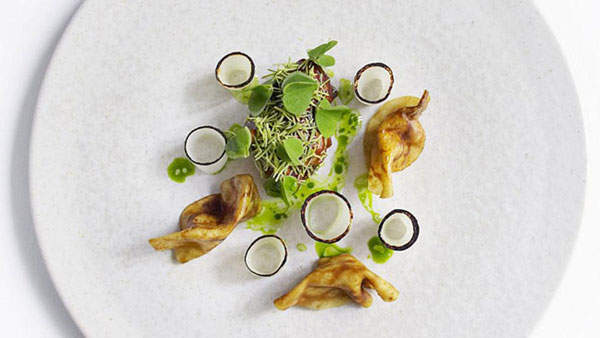 Copenhagen has been one of the cities sitting pretty at the top of the culinary destination list for some years now. Noma reigns supreme with its spot at number one in the top restaurants of the world list, but there are competitors making names for themselves in the Danish capital.
I was lucky enough to be treated to lunch at Noma last February as a surprise and I still have it marked down as the best lunch I've ever had – not simply for the food but for the overall experience.
Sat on the communal table upstairs with roughly twelve others from all over the world – Americans in actual shell suits complaining about the natural wines, Swedes from just over the bridge – it turns lunch into a real occasion. Being able to see the reactions on so many faces while enjoying arguably the most interesting – and I don't mean that in a derogatory way, it was genuinely fascinating and moreover enjoyable – food I've tried was fantastic.
Yet Noma won't be for everyone. The price alone keeps many away and others are put off at the thought of eating ants and moss, which is fair enough. You can eat exceptional food all over Copenhagen – though much of it has some connection to Noma even if you wouldn't guess.
Café Lillebror is a tiny café on the corner of Jarmers Plads, owned by former Noma chefs Victor Wågman and Samuel Nutter, who also own Bror, which aims for creative food that balances comfort and innovation. Lillebror means 'little brother' in Danish and this café is just that.
They serve wonderful bread and baked goods (pictured above) during the day and at night transform into a wine bar and casual restaurant. They managed to elevate the humble ham sandwich into something quite special – with proper slices of pork, not bright pink ham, pickled cabbage and a perfectly balanced mayonnaise – served with a simply but beautifully dressed salad of baby spinach and pumpkin seeds.
It was nothing wildly exciting yet was still one of the best things I've eaten in the past few months. The care put into this simple sandwich is myriad times greater than in many fine dining restaurants.
It isn't hard, though, to find exceptional fine dining experiences all over Copenhagen, from Geranium to Relæ. But what is hard to find is a luxury hotel.
There is only one: the D'Angleterre near the pretty rows of painted buildings in the new harbour. As it should, the hotel not only has the first champagne bar in Denmark – Balthazar – but its restaurant Marchal was awarded a Michelin star in 2014. Rightly so: the food here is amazing.
There is nothing too experimental, rather a carefully thought through selection of dishes in a smart but not overly formal environment. The food of executive chef Ronny Emborg (pictured top) is inspired by the Nordic and French classics and he prides himself on having dishes on the menu that can be enjoyed by everyone – not only from a taste perspective but from a cost one too. You can have a main on the à la carte menu for €21, which really isn't bad.
Scallops with kale soup filled the room with the heavenly smell of fresh truffle. A perfect combination of salty, earthy and sweet – a simple but very effective dish. The langoustine salad with almond crème, endive, apple and cabbage snow was exquisite, a very carefully and cleverly balanced dish of delicate flavours that were each distinct but complimentary. Not even the often-harsh endive could throw the balance off.
Glazed beef tenderloin with salsify, pear, parsley purée and hazelnuts was a dish everyone should order; if you're with someone else and need a second, get the pigeon with truffle purée, mushrooms and beef glaze. It is magnificent. You aren't required to deal with any 'challenging' combinations: you can enjoy beautiful cooking and endlessly pleasurable flavours.
The menu is easy to understand, inviting from start to finish and sensibly varied. The food is obviously complex but it isn't overly busy from a diner's perspective. Not one single element was out of place or questionable. It was a very solid display of cooking ability, flair and sensitivity towards ingredients.
I'd happily eat there over and over, and when you think how much you pay for a lousy pizza, steak or meal out in most capital cities, this really is very good value.
In addition you are in the rather lovely surroundings of the hotel, which first opened in 1755 and has been carefully refurbished over the years. The lobby has a roaring open fire, which is perfect in these bleak winter months, and if you can't face going back outside after your dinner the rooms are beautifully appointed and very importantly give you access to the only hotel pool in the city.
When I asked the concierge where their competition was, they said the nearest competitor was the Grand Hotel – in Stockholm.
Geographically, gastronomically and from a luxury perspective, the D'Angleterre stands proudly alone in Copenhagen. For those looking for a five-star base in one of the world's most exciting cities, there is nothing better that the D'Angleterre, and for those looking for a short break combining the most cutting edge, carefully constructed, outstandingly delicious food in a walkable, beautiful city, there is nowhere nicer than Copenhagen.
Hotel D'Angleterre is a member of the Leading Hotels of the World