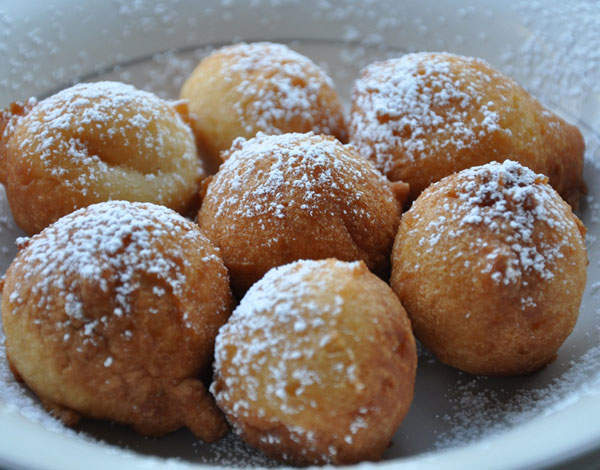 This week is national doughnut week. It is also national sandwich week but I don't think anyone needs a recipe for that, besides were we to go down that particular avenue there are far too many combinations for one article. So, doughnuts it is this week.
I tried making doughnuts from scratch over Easter for the first time. It was surprisingly easy, successful and without incident. No fire, no fuss. You are left with delicious, fluffy doughnuts that you can finish however you see fit – with jam, sugar or dunked into Nutella if you're feeling particularly naughty.
Read more recipes from Spear's Food Friday
Makes 16 small doughnuts
250g strong white flour
25g caster sugar plus a little extra to finish
20g butter
1 egg
1x7g sachet of dried quick acting yeast
5g salt
75ml warm milk
60ml water (though you probably won't need all of it)
First of all, a little tip. You can mix the cold butter into the dough, it will melt with the warm milk, but it is easier to drop the butter into the milk as it is warming. It just makes the process easier if you are combining the ingredients by hand rather than in a mixer.
Mix all of the ingredients together using only half of the water to start with. Mix in as much water as you can without the dough becoming too wet to handle. You are after a soft dough but not a wet dough (you're not making a sweet ciabatta). Knead until smooth, this takes about ten minutes.
I highly recommend the slapping technique: stretching the dough out by slapping it against the counter top, folding it in half once stretched out and repeat until smooth and pliable.
Leave to double in size in a floured bowl covered with your choice of cling film, a clean cloth or my personal favourite – a hotel showercap.
Once doubled in size, divide the dough into sixteen. Roll into balls and leave to rise again on a floured tray.
Now for the fun part – frying. Heat your oil of choice (I used peanut oil) to around 180 degrees. If you are using a deep fat fryer this is straightforward. If you are using a pan do not fill it more than half way and use a jam thermometer. Gently lower your doughnuts in a few at a time and cook until golden brown, turn over and repeat on the other side.
Remove from the pan and place onto kitchen paper to remove excess oil. Then roll in caster sugar.
Should you wish to you can fill the doughnuts with jam, or add a little cinnamon to the sugar. Once you have the basic recipe mastered you can play around with flavours and indeed the size if you'd rather have bigger doughnuts (this size is easy to deal with in a small saucepan).
If you don't want to fry the dough it bakes very well in the oven producing an enriched bread similar to an iced bun. A lighter breakfast alternative to brioche and perfect with apricot jam.