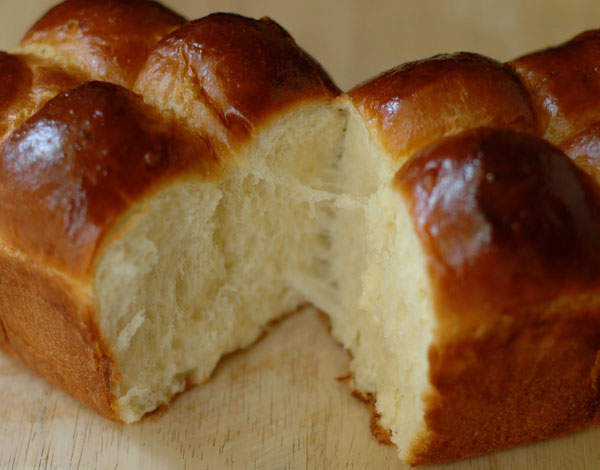 When the weather gets a little warmer, there is little I enjoy more than sitting in the sun enjoying warm brioche with apricot jam for breakfast. There is something very decadent about it (yes, probably all of that butter) and somehow it seems like it would be incredibly hard to make for yourself.
Turns out, it is fairly straightforward. The only downside is that you actually see just how much butter goes into it. For those of you not afraid of devouring a block of butter here is a recipe adapted from two others – so thanks go to Richard Bertinet and Dan Leopard.
3 medium eggs
1 x 7g fast acting yeast (1 sachet)
75 caster sugar
290 strong white flour
25ml warm water
1 tsp salt
175g butter, cut into pieces about the size of a dice
Makes one loaf or eight nice buns. Mix the water and yeast together and leave for five minutes to bubble away. Beat in the eggs until smooth. Combine the wet ingredients with the flour, salt and sugar and knead until smooth. Leave to rest for 10 minutes
Flatten out the dough and place a handful of the butter cubes along the top. Squish and flatten the butter into the dough. Once the first handful is incorporated repeat with another and continue until all of the butter has been combined with the dough.
There will come a point where you think it has all gone horribly wrong – your hands will be covered in butter and you will just have a big sticky mess on the work surface. Do carry on though and have faith, it will eventually all come together. You can of course do this in a mixer with a dough hook, I just don't happen to have one and in all honesty it is more fun to do it by hand.
I like to use a slapping method to knead the sticky dough – forming it into a vague sausage shape and bashing it against the worktop to stretch it out. You then fold it in half and repeat until you have a smooth dough.
Allow the dough to rise for two hours or until doubled in size, knock back slightly and put in the fridge to rest for around 6 hours. This solidifies the butter and makes the dough easier to work with.
I like to make a loaf out of six smaller buns so divide the mixture into eight and roll into balls. Line and grease a loaf tin and place the balls inside in a 2×4 pattern (or whatever works for your tin). Leave to double in size and glaze with egg wash. If you prefer, which I do, you can glaze with apricot jam, which gives you a beautiful sheen on top of your brioche and a lovely, slightly sticky top.
Pop into a preheated oven at 200 degrees for 15 minutes then turn the temperature down to 180 and bake for another 30 minutes.
Remove from the oven, allow to cool a little on a wire rack and then tuck in.