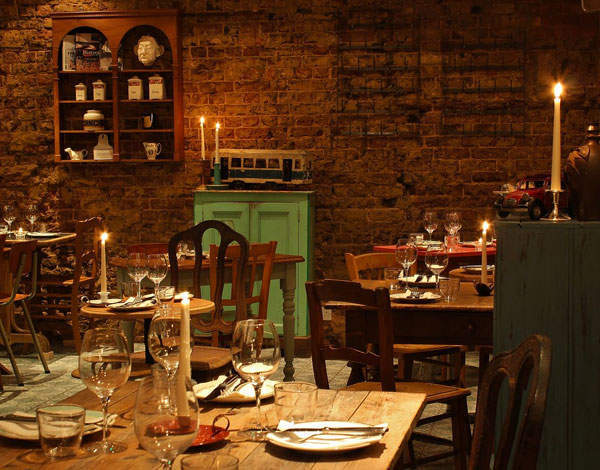 The imaginatively entitled 'My Cookbook' by Gerard Depardieu sits on a shelf towards the back of Blanchette, which is just one of many reasons I like this place. Blanchette is a small French bistro on D'Arblay street in Soho with brick walls, beautiful green tiled floors and lots of candles dribbling wax on to the well-loved furniture.
They serve a French version of tapas – so smaller plates alongside great charcuterie and snacks. There is also a great wine list and the promise of a 'wow' organic cider in the very near future.
Run by three brothers, Maxime, Yannis and Malik, with consultancy from the Salt Yard Group it is the sort of relaxed, fun place where you can completely lose track of time (and how many glasses of wine you've had). Yannis and Max have extensive experience in the restaurant industry and it shows.
You are met with huge smiles when you step in and continue to be well looked after for however long you decide to stay. The music has been put together by Malik, who is the founder of sound design company La Musique du Faubourg. Much like Upstairs at the Ten Bells, the music contributes hugely to the atmosphere and, yes, you will hear some excellent old-school French classics too.
I've popped in twice now, once for a lazy lunch and once for drinks. I accidentally spent three hours at the bar with a nice glass or two of dry white and crispy pig ears, merrily nibbling and drinking and swivelling on my chair with the music. It is that sort of place – somewhere you can settle into for the night – or afternoon.
The modern interpretation of classic French fare comes courtesy of ex-Bibendum chef Tam Storrer and includes everything from an unctuously melting pot of baked St Marcelin, terrines and croques on the snack menu to onglet with snails en Persillade to a very gorgeous black pudding with crisp pork belly, spiced quince and parsnip purée. I could and probably would order everything on the menu, which is rare. The frites also come with a pot of béarnaise, which is genius.
The dishes range in price from £3 to £8 so even if you're ordering a fair few the overall cost of dinner is reasonable. Wines by the glass start at £4.75 and you can get a bottle for £18.50. A great little spot in Soho and one that I hope stays around for a very long time.
blanchettesoho.co.uk
@BlanchetteSoho