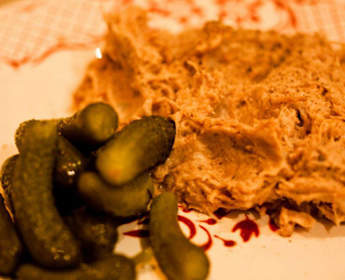 The day after Restaurant Magazine's top hundred restaurants were announced, I was challenged by señor Spero to try and munch in them all. Challenge accepted.
How possible this will be, given constraints of time, geography, wallet, digestive system and general health, I'm not sure – but I've got a decent 26 or so under my belt already, so will certainly give it a good bash.
One of those hundred, and my most recent conquest, is Green Man and French Horn, which came in at number 61. Green Man and French Horn is part of the same group of restaurants as Terroirs and Brawn and specialises in food from around the Loire river. This means lovely gutsy food in glorious vats of butter. You'll find a nice mix of small and larger plates, so you can opt for several to share or a more conventional starter, main, pud format if you so wish.
We shared a little bit of everything, so I started with a gloriously orange duck egg with anchovy and rosemary soldiers (I will be attempting to make this at home, it was such a great match), leeks with pretty little shrimps, eggs and vinaigrette and some rich duck rillettes with the obligatory cornichon (pictured bottom). Everything was exactly as you'd expect to get in one of those brilliant little places you stumble into in rural France.
The bigger plates – or mains as they were known back in the day – were similarly full of flavour. A bowl of clams with cider and bacon was the perfect thing to mop up with basket-loads of fresh bread while the brill with beurre blanc was made according to someone's sommelier's granny's recipe brought back by the owners after a recent trip. It was pure wine and butter heaven. Don't tell your doctor you've eaten it, mind: it can't be good for the cholesterol.
We also had the 'bunny pasta' (as I called it), which might have caused a little offence to those at the table who used to have pet rabbits. It was, more precisely, civet of hare with wild mushrooms and pasta. Fat ribbons of pasta with a rich, glossy rabbit gravy and a hearty chunk of bunny. Simple. Tasty. My kind of food.
This sort of place is where you will find me on my 'off-duty' days. The restaurant itself isn't huge, so it has a warm, bustling atmosphere, with candles in the top of wine bottles, a cliché but still welcoming. You'll probably spot me in a corner at some point in the near future with a basket of bread and a plate of butter sauce ready for the mopping.