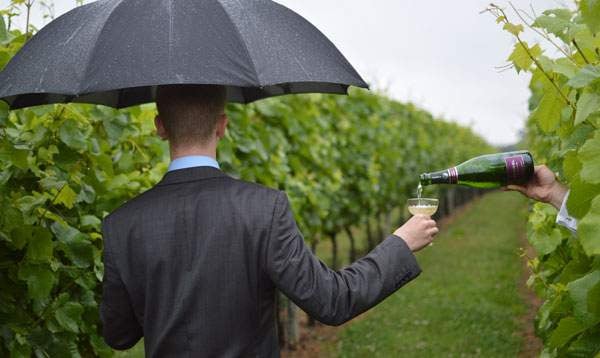 Jonathan Ray can't promise he'd stick to Dame Sally's advice, but keeping to wines of 12.5 per cent and below does make him feel better for it
Nanny — in the form of the government's Chief Medical Officer, Professor Dame Sally Davies — has spoken. I'm sure mine wasn't the only New Year ruined by her strongly worded suggestion that henceforth we chaps shouldn't consume more than 14 units of alcohol a week (in line with the amount that women have long been recommended to stick to). Ouch.
Actually, I really don't mean to be flippant. I'm fully aware of how damaging alcohol can be and I've seen at first hand the pain and distress it can cause. I know that I certainly drink far more than I should — hard not to in my business — and in an effort to prove to myself that I'm not overly dependent I (like many others) have only recently completed a full 31-day January on the wagon.
So, the recommended daily allowance for men and women in the UK is 2-3 units a day, which is roughly equivalent to a 25cl glass of wine of around 12-13 per cent vol. In other words, a third of a bottle. It seems, though, that Dame Sally's advice is well out of line with other wine-loving countries and much has been made of the fact that the Americans are encouraged only to keep to fewer than 24.5 units a week, the French 26 units, the Italians 31.5 units and the Spanish a heroic 35 units. Now that's a fine figure to aspire to as we binge-drink our way round the pubs and clubs of Britain on a Saturday night. It might interest you to know, though, that according to EU figures Spanish women live to an average age of 83.7, giving them the longest life expectancy in Europe. I'm just saying.
Sadly, there's not room enough here to extol the virtues of wine and the way it can combat stress and increase sociability, or to point out that reputable studies have shown there to be fewer heart attacks among wine drinkers than non-wine drinkers.
The sad but inescapable fact is that wines are getting stronger, what with riper fruit being gathered thanks to global warming or whatever it is, coupled with better technology and equipment.
Bigger, fuller, more alcoholic wines are being made almost everywhere. The clarets of Bordeaux are definitely a couple of degrees higher in alcohol than they were a dozen or so years ago, as are the sweet wines of Sauternes. And not long ago I had a wonderful Châteauneuf-du-Pape that was an astonishing 15 per cent vol. So well made was it, though, that I didn't notice the alcohol as I drank it. But, boy, I noticed later.
The trick, therefore, is for us wine lovers to try to stick to lower alcohol wines. I don't mean alcohol-free wines — God forbid! — simply wines that are within or below that magic 12-13 per cent vol range as recommended by Dame Sally.
Champagnes are rarely above 12.5 per cent vol and English sparklers rarely above 12 per cent vol. The fabulous Ambriel (see right) is in fact only 11.38 per cent vol, the winemaker tells me, although they rounded it up to 12 per cent vol on the label. Proseccos are even lower, at barely 11 per cent vol.
As for white, German Riesling is famously light in alcohol (sometimes as low as 7 per cent vol), as is the refreshing Vinho Verde of Portugal (never more than 11.5 per cent vol). And you might be surprised to find that many Chablis and white Burgundies are no more than 12.5 per cent vol. Ditto red Burgundy in many cases and the increasingly fine reds of Beaujolais.
I can't promise Dame Sally that I am sticking to her suggested units, but I am trying to keep to wines of 12.5 per cent and below and I'm telling myself I feel better for it.
SIX OF THE BEST 12.5% VOL OR LOWER
2014 Domaine de Fa, Beaujolais en Besset 12.5%
£12.50; Yapp Bros
Fine Beaujolais has been in the doldrums, but things are on the up. This first Beaujolais from Rhône legend Alain Graillot and his family is full of ripe bramble and a hint of spice. Although classed as a humble Beaujolais AC, it's blended from top-quality Fleurie and Saint Amour fruit only and next year will be bottled separately, making this a steal.
2011 Domaine de Bellene Beaune 1er Cru Teurons 12.5%
£32; Wine Society
Domaine de Bellene, based in a 15th-century abbey in Beaune, was founded by Nicolas Potel. The organic (partially biodynamic) wines he produces across the Côte d'Or are of the highest quality and are greatly sought-after. Pinot Noir is the perfect grape to opt for when seeking out lower-alcohol reds and this 1er Beaune is a joy, being rounded and supple with fulsome, ripe fruit and a soft, caressing finish.
2009 Tyrrell's Vat 1 Hunter Valley Semillon 10.5%
£31.50; Soho Wine Supply
The Hunter Valley in New South Wales is a sweet spot for Semillon. Tyrrell's (family-owned since 1858) is a past master, with Vat 1 pretty much the benchmark. Although unoaked, it's toasty and complex with plenty of fresh
citrus flavours, hints of nuts and
a crisp acidity.
2011 Joh Jos Prüm Wehlener Sonnenuhr Riesling Spatlese 8.5%
£28.50; Corney & Barrow
The Rieslings of family-owned JJ Prüm in the Mosel are among the finest in all Germany, noted for their exceptional purity, elegance and grace. This example is a beauty with ripe gooseberries, apples, honey and, yes, petrol on the nose, with a truly sophisticated, refreshing, mineral finish. When I visited the winery some years ago, I had a previous vintage of this alongside steaming hunks of wild boar (that Herr Prüm had shot and Frau Prüm had cooked). It was an unexpected but gloriously successful pairing.
Ambriel Classic Cuvée NV 12%
£25; ambrielsparkling.com
English sparkling wines are now up there with the best: soil, climate and terroir are as close to Champagne as it gets. Ambriel is one of the newer kids on the block and has fast become one of my favourite fizzes. A blend of Chardonnay (mainly), Pinot Noir and Pinot Meunier from the 2010 vintage, it's crammed with creamy, honeyed baked apple, nuts, toast and brioche.
2003 Tokaji Essencia, Royal Tokaji Wine Co 2%
£460 per 37.5cl; Berry Bros & Rudd
An astonishing wine — exceptionally rare, too, reputed to be an infallible aphrodisiac and efficacious enough to raise one from the dead. Made from the free-run juice of dried, shrivelled Furmint grapes, it can take up to ten years to ferment and is
so lusciously, marmaladey sweet (over 500g of sugar per litre) and so remarkably viscous that it's almost impossible to drink. Indeed, the favoured method in Tokaj is to sup it from a small crystal spoon.