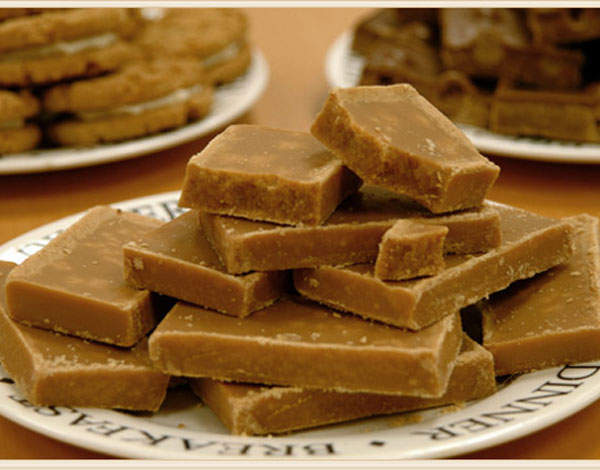 A very good friend of mine is of Scottish descent so I have pestered him for his family's tablet recipe. I'm told it was passed down to him from his father, who got the recipe from his granny, so I trust it to be a good and proper recipe (this is also why the measurements are more general rather than to the gram).
Now, I've been told that there are a few things that can go wrong – overcooking, undercooking, burning of the sugar and/or burning of yourself with the hot sugar – so there is a little element of getting a feel for the correct consistency but I think that adds to the charm. Seeing as it is Burns night on Saturday you can spend this evening perfecting this sugary wonder before feasting on it after your haggis tomorrow night.
Ingredients
Knob of butter
One tin of condensed milk and the same amount of fresh milk
2lbs granulated sugar
Method
Melt a walnut sized knob of butter in a large pan.
Add a tin of condensed milk and the same amount of milk, heat and mix.
Once combined add two pounds of sugar.
Bring to the boil over a medium high heat whilst stirring continuously. The mixture will double in size at this stage. Keep stirring and once the mixture has come to the boil keep at a low boil and continue to stir for 20 minutes.
Towards the end of this time the mixture will start to reduce in size and darken. You can test the mixture at this point by putting a spoonful into cold water. If it mostly solidifies so it slowly drops off the spoon, it's ready.
Take off the heat and stir continuously as the mixture cools, making sure to scrape any bits that solidify on the side of the pan back in to the mixture. As it thickens it will become harder to stir. Just before the mixture becomes too solid to pour, transfer into a shallow baking tray.
Allow to set for around an hour before scoring with a sharp knife. Leave to cool overnight before breaking the next day.
Read more from Spear's Food Friday