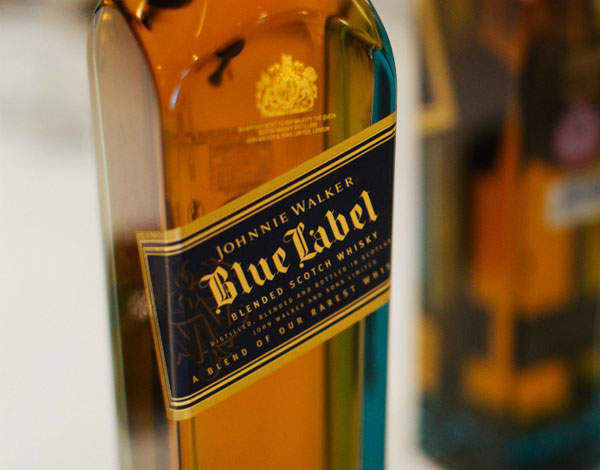 As a whisky fan I hold a natural conflict within me. Although welcoming of the liberal mindedness a dram or two brings, I find myself more often than not discriminating against blended whiskies in favour of what I regard as 'traditional' single malts. For me the blends seem generic and compromised.
They have lost their character, and dare I say virginity by mixing for the palate of the everyman. I am fearful of the lowest common denominator approach of their marketing campaigns and find myself looking longingly at the Gaelic names of the proud highlanders and islanders that stand atop the whisky shelf behind any good bar.
Oh ye of little faith. Perhaps someone sensed the crooked jury of my taste buds: I was recently treated to a whisky tasting dinner at London's Connaught hotel. The subject was Johnnie Walker and a selection of his iconic super deluxe range of blended whiskies. The evening's host was Colin Dunn, a Johnnie Walker 'ambassador', who is less of a dour tour guide and more a gastronomic maestro (he confides he used to be a DJ) as he introduces the audience to Johnnie Walker Blue Label with all the literal effervescence of a Romantic poet.
On his conclusion he segues into a jazz performance designed to complement the fusion inherent in great blended whisky. The score is Miles Davies' Kind of Blue, and although it's a stretch to taste the jazz in the heady blended malts the idea of combinations and combiners is a welcome and inventive conceit – perfect for the creative genie whisky often reveals.
The drink itself is mellow and slow burning, it takes a while for the smoothness to transpire but when it does the distance between the Blue Label and other standard market blends is significant. Interestingly the Connaught's director of mixology, Agostino Perrone, employs it in a cocktail made especially for the occasion, which, surprisingly for this purist, does the whisky more than justice, playing off its fruity piques as well as the rounded and rich smoothness akin to caramelised coconut without swamping the sharpness – predictably it too is called 'Kind of Blue'.
The second whisky is the Blue Label – King George V Edition. Similar in texture to the Blue Label, the bitterness rolls into a light sweetness that is incredibly alluring, once you think you have grasped the flavour it leaves by the back door, you follow and start searching the herb garden for that elusive note as it vanishes into a readymade flowerbed of nostalgia. It's a wonderfully curious whisky that credits the connoisseurial palate of the pre war king.
Next is a comparative blunderbuss of smokiness and body: The Odyssey. Although much lighter and refined than its single malt cousins, this bold and brilliant triple malt maintains a distinctive, and frankly vice-like, smoky smoothness. Inspired by sea voyages and presented in a rocking decanter, designed to counter the roll of the ship, this is a timeless whisky; at home on a tramp steamer or a luxury yacht. It is the most welcoming taste that only improves in its melting, caramel finish, deeply enchanting; it is a whisky you could eat. I admire the bravery of Johnnie Walker for opening such delightful nectar in the company of journalists.
Over steak and chocolate, Dunn enthuses about the alchemy of Johnnie Walker and the serendipity inherent in blending whiskies before taking the floor, thumb in tartan waistcoat pocket, to announce the final dram. The John Walker embodies rarity and exclusivity with a £2000 price tag to match. It is certainly reminiscent of the Blue Label but moves on in complexity, allowing strong marzipan undertones to take their cue from a vanilla based sweetness.
There is also a better rendering of the spices touched on in the Blue Label and King George V, they have their own arias and are not lost in heavy undertones. But this whisky does not last in the same way as the King George and certainly doesn't implore you to put the bottle to your lips like the voluptuous Odyssey.
Presented in Baccarat tumblers, and in the case of The John Walker, coming in a beautiful hand blown Baccarat crystal decanter, these are imperial products that demand your time and appreciation. There are subtleties and depth aplenty and as a discerning single malt disciple I not only felt rewarded by the integrity and complexity of what I was drinking but ashamed that I had come so late to such a vibrant party through no fault but my own.
The mileage and exclusivity of these blends certainly ranks them as 'superdelux' but their outright quality pushes them beyond the marketing soundbites and credits deliciously sophisticated drams. As Edinburgh's favourite author will tell you, even mudbloods can come out top, with more than a bit of magic.