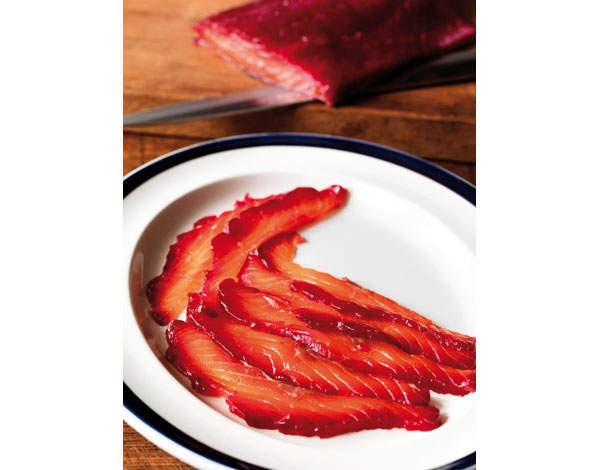 TISH BOOM
Powerful though the attractions of Skegness might be for some, they did not have the force to retain Ben Tish as a resident. So neither the clock tower, nor the jolly fisherman sculpture, nor the beach, nor Butlins could force the boy to stay. When I meet the man, now running a healthy and growing little empire of London restaurants (including Salt Yard and Opera Tavern, pictured below), he's not contemplating a return.
'My exit route from Skegness was via Boston Catering College,' explains Tish, who found his escape sooner than he had hoped. As part of his cooking studies, he spent a day with another Skeggy boy, Jason Atherton — now the acclaimed chef of Pollen Street Social and Berners Tavern, among others. Ben's day release was at the Links Hotel in Skegness and Atherton, fresh from the madhouse that was Marco Pierre White's Harvey's, was striking out in his career. Atherton liked the look of young Tish and offered him a position.
'I got the plum job,' he recalls, 'so I quit the course and started work. It was crazy, just me and him in the kitchen doing everything, so even if we just had half a dozen covers, we'd still get in the shit. We'd be juggling at least six pans for one dish, and then there was the washing-up. It went well, then he turned to me one day and said I needed to go to London.'
Small fish in a big smoke
Atherton got him a job at the Ritz, which sounded like a dream but turned out to be anything but.
'It was 1993 and I turned up there thinking I knew it all. But how wrong could you be? I was one of about 50 chefs. I think I spoke to the head chef once in the year I was there. The hours were ridiculously long and I earned £110 a week.' Still, it was London and his Skegness escape was done. He found a chef's hostel where he shared a room with other chefs for £50 a week, and he ate every day at the hotel (including days off).
'There were days when I was virtually in tears. There was a lot of bullying but then came my next move and another turning point.'
Good old Atherton had also put 'Skeg Vegas' behind him and had been hired to work alongside head chef Stephen Terry at a new restaurant in Mayfair's Albermarle Street. It was an old car showroom and now a fancy new place called Coast. Atherton got his pal Tish in to work as commis chef and it cemented his cooking aspirations: 'It was at that place I realised that, yes, I wanted to do this.'
Gradually he moved up the ranks, working from place to place, often alongside Atherton. Then, after a stint in a hotel on the remote village of Crinan on the west coast of Scotland he returned to London (with Atherton, of course, this time at Maze) before being offered the role of head chef at Salt Yard, where he soon became a partner.
Today the establishments he oversees as executive chef in addition to Salt Yard and Opera Tavern include the charcuterie and tapas bar Dehesa (which exemplifies the Spanish and Italian influences he craves) and soon-to-open Ember Yard. The latter is on Berwick Street, where every self-respecting restaurateur is opening a place.
After all, Russell Norman is putting Polpetto on the street — with Florence Knight at the helm — and Alan Yau has bought the old Endurance pub, creating a duck and rice hangout upstairs.
Opening doors
Tish and I sip tea on the terrace of Dehesa as he recounts his winding and intertwining cheffy tale of Atherton and the Costa del Skeg. There is a bouncy energy to him despite his sleepy eyes and five o'clock shadow. He wears a dark blue jacket and blue and white stripey T-shirt and has a thick mop of black hair. Slap on some make-up and he could start miming that he was stuck in a box.
But rather than doing Marcel Marceau impressions, his vitality, alongside Salt Yard co-founder Simon Mullins, is focused on expansion. 'Now is a good time to open,' he says. 'Spend per head is going up. There is definitely more optimism out there. Just look at how many bloody restaurants are opening. And there's lots of competition to get sites. And when you arrive to see a place you usually find Russell Norman's just been there!'
And what of old Skeg? Would he ever return to the seaside town where his father had an ice cream and fish and chip shop? Of course not. But when I ask him where Nykeeta, his second wife, came from, he smiles and says: 'She's from Skegness.'
Of course she is. And no doubt Atherton was best man at the wedding and will surely be godfather to the kids. All of which, I'd say, is pretty Skegtastic!
TISH OF THE DAY
J Sheekey: 'My favourite place in London. Always busy but always feels special.'
Honey & Co: 'I'm not one for Michelin and this has it all: amazing flavours.'
Gymkhana: 'Everyone's going nuts about this place and the food is knockout.'
Otto's: 'Classic French haute cuisine, with old-school table-side cooking. Great wine list.'
The Fish and Chip Shop: 'They've just nailed it with this Islington place. Champagne oysters, just perfect.'