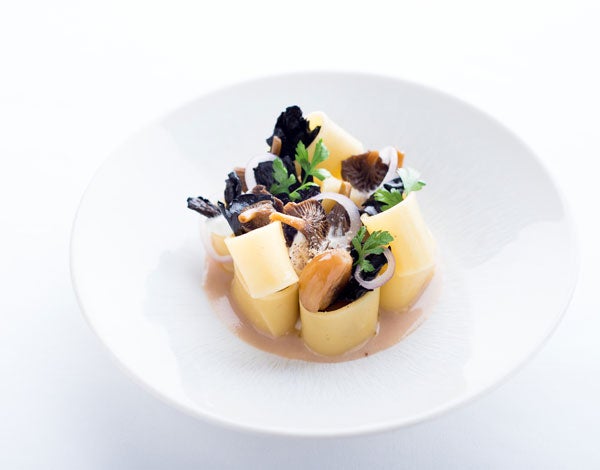 You can tell the year is quickening to its frigid end when chestnuts start appearing on menus. (Thankfully there have been no appearances so far of that Christmas mewling about chestnuts roasting on an open fire.) Alain Ducasse's Rivea in the Bulgari Hotel on Knightsbridge has taken to the shift in seasons with aplomb, creating a £45 three-course menu laden with the things.
After Rivea's standard Damien Hirst Spot-painting of dips for miniature grissini came artisanal paccheri with chestnut and sautéed mushrooms (pictured top). Paccheri, as I learnt that evening, are long tubular pasta shapes, like rigatoni with a thyroid problem. The pasta was nicely firm, not so much that you thought you were battling with the structures of raw starch but enough to lift it above the baby-food texture one is normally served.
The dish was pleasing, but it suffered from the standard problem of chestnuts: their texture can tend towards something like stale marzipan, which forces the teeth into somewhat overactive engagement only to be rewarded with a soft, giving grain. There was also 'delicate chestnut velouté' with roasted butternut; velouté feels like a natural state for a chestnut.
The two other forms of chestnut that evening were much more texturally amenable. Seared scallops with pumpkin, chestnut and hazelnut featured the chestnut as purée, which is where you gain all its sweetness of flavour, suiting the scallop like an heirloom blanket. (I could also have had chicken with chestnut, shallots and girolles.)
The final chestnut was in perfect ovoids of ice cream, alongside pear sorbet and some sort of sweet crunch. This was (my word of the moment) fresh, a welcome chill after two warm and close courses. There were also pear slices, poached pears, pear marmalade and a chestnut sponge tulle, in case you had missed the theme.
I say the 'final' chestnut, but there was a takeaway: a box of individually wrapped marrons glacés, which rather resemble mummified testicles, though were somewhat sweeter (I imagine).
Inspired by the 'music and merriment at festivals' throughout the Riviera, Ducasse has spun chestnuts into every course with a surprising degree of success. You perhaps won't want any more chestnuts this season after this meal, but you certainly won't regret having eaten them at Rivea.
The chestnut menu at Rivea at the Bulgari Hotel runs until 15 November
Photography by James Bedford