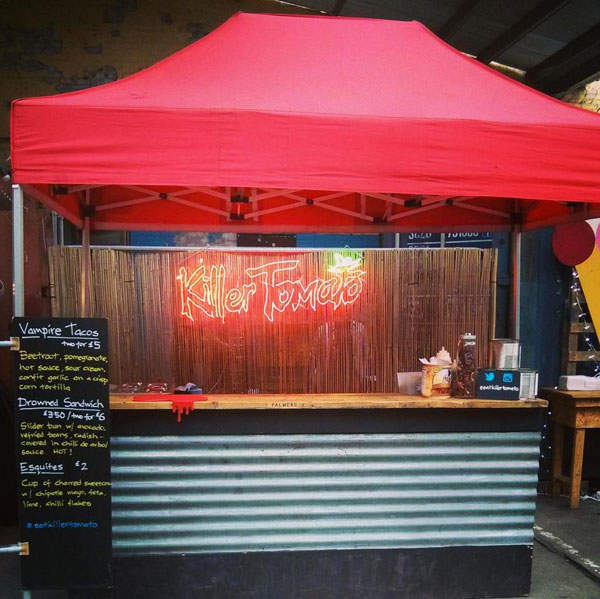 You know something has hit the big time when Richard Branson jumps on board, be it space tourism, philanthropy or high-speed broadband. This year Virgin StartUp organised Foodpreneur Fest 2014 and while I'm not convinced by the name, the thought behind it is a strong one: celebrating entrepreneurs in the food industry. Food businesses were encouraged to enter a range of categories including Most Exciting New Brand, Tastiest Startup, Most-Loved Kid's Food and Best Healthy Food Business.
Eight shortlisted companies gathered on Wednesday of this week to pitch to Branson and his panel of experts including Melissa and Jasmine Hemsley, cooks, founders of the Hemsley+Hemsley healthy-food business and authors of The Art of Eating Well (Ebury, £25); Paul Lindley, founder of Ella's Kitchen; and Mina Holland, editor of the Guardian Cook magazine.
The four winners – @Sweet_Virtues (healthy chocolates), @eatkillertomato (Vegetarian Mexican street food, pictured below), @properbeans (baked beans) and @SweetpeaPantry (kids' food) – each won a mentoring package including access to legal and brand support as well as the opportunity to pitch to Ocado. I spoke to the Hemsley sisters and asked them why they decided to get involved.
'We know first-hand all of the emotions, trials, tribulations and hard work that goes into getting an idea off the ground, so to be able to share that with people who are in a similar position was great.
'We always say that the number one thing you need to become a successful entrepreneur is passion, and there was certainly no shortage of that!
'On top of this, it's about networking – meeting people, asking them questions, telling them your ideas. The Virgin Food Fest is such a brilliant forum for this, bringing together likeminded people and giving them an opportunity to share their ideas with one another.'
A few years ago telling your family that you were quitting a big-money job in the City to start a food truck would not have gone down well. Your mother still might not be thrilled if you told her that today, but there are plenty of thriving food entrepreneurs to point to.
Propercorn (who recently won the Entrepreneur of the Year award at the Spear's Young Turk Awards), Prufrock Coffee and Pizza Pilgrims have all built successful businesses from scratch thanks to our growing enthusiasm for street food and diverse food businesses, and I for one am rather envious of what they have achieved.
Initiatives that support creative, up-and-coming businesses in the food industry are good news – though Foodpreneur Fest 2014 certainly isn't the first. Just look at Kerb and Kitchenette, which have really helped to put small food businesses on the map in London, or Street Feast, a now-permanent food-truck extravaganza in Dalston on Friday and Saturday nights.
Kitchenette is the first food-start-up incubator in the UK and helps young businesses grow with their twelve-week programme. Set up by Cynthia Shanmugalingam, it is a great project and one that has the backing of Iqbal Wahhab, the successful entrepreneur and founder of the restaurants Cinnamon Club and Roast.
'London's street food pop-up revolution has given the capital an extra set of dining experiences outside of conventional restaurants and in turn has created a number of solo aspirant food entrepreneurs.
'These new opportunities need to be harnessed to be economically viable and Kitchenette provides a unique entry vehicle for people to learn how to model their business and gain experience and mentoring from the many of us in the more established food business circle willing to commit their time and sometimes money to make sure they succeed.'
I've previously talked about the Uuni pizza oven which only made it into production thanks to a crowdfunding project; the same goes for Clove Club in Shoreditch.
More and more people are looking for – and finding – inventive ways to get their food businesses up and running, and my hope is that projects like Kitchenette and Virgin's Foodpreneur Fest will push them on.