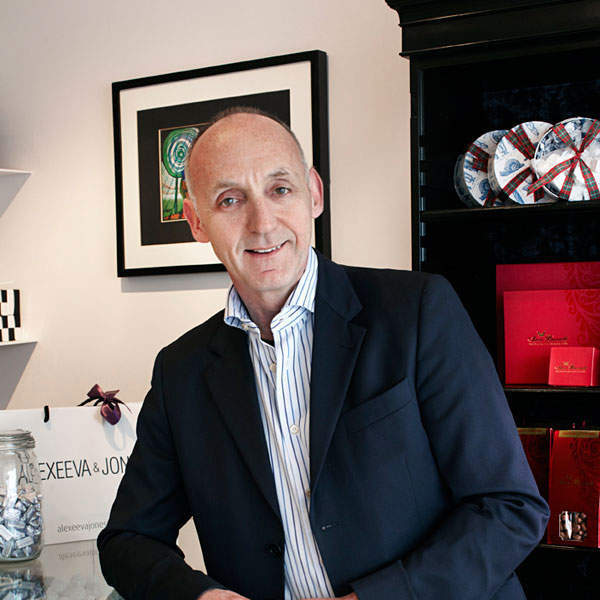 We often hear about the lives of chefs or food-producers but rarely do we hear about the people who bring our favourite artisan products together – the grocers, boutique owners and general collators of tasty things.
Over the next few weeks we will be giving you a little insight into life behind the shop counter – from meeting producers to dispatching orders. First up, Gareth Jones of Alexeeva & Jones, a luxury chocolate boutique in Westbourne Grove, tells us how his day unfolds.
6.00am The alarm goes off and it's all go at home immediately. I quickly run through emails responding to anything urgent. My wife Natalia (the Alexeeva of the business) and I have an eighteen-month-old daughter and we always try to have breakfast all together before I dash off.
7.45am I head out of the door to get to our shop, which is on the corner of Portobello Road and Westbourne Grove. It is such a vibrant, buzzy area – there is something intriguing going on around every corner and there's a wonderful community feeling.
9.00am The first job to be done before anything else is to go through online orders that have come in overnight. We dispatch chocolates all over the world; this week saw orders for delivery to Israel, France, Switzerland and even Australia.
10.00am The morning is a good time for me to do some calls, and there are a couple of chocolatiers who have been in touch about stocking with us so I follow up with them. We currently stock 23 brands of luxury chocolate from around the world, but as Natalia would say, 'Bringing our customers the finest chocolates is a never-ending job,' so we are continually speaking to individuals and companies to expand our range of chocolates of the highest quality.
11.00am It is our two-year anniversary in October, so we are working on an event to host during Chocolate Week in celebration of this. (I can't believe how quickly these last two years have gone, since we opened the shop.) I spend some time going through RSVPs with my team.
Word seems to be getting round quickly and spaces are filling up. The event will be a rare opportunity to hear Bertil Akesson, plantation owner and multi-award winning chocolate maker, speak about his experiences as a bean-to-bar chocolate producer and to taste some of his highly-awarded chocolate bar range.
12.00pm The shop often gets busy before lunch so Maria, my fantastic manager, and I are kept busy serving customers for the next couple of hours. We get a mix of locals and tourists coming into the shop, some who have stumbled upon us and some who have come specifically as they've heard about our range.
Some are looking for chocolates to take to a dinner party or for a present, others just want to treat themselves. Some people really want to learn about the chocolatiers so we end up talking at length all about their bean-to-bar processes and artisanal skills. Others just want to whiz in and out and walk away with something delicious – they trust us to put together a tasty selection for them.
2.00pm After the rush dies down slightly I take the opportunity to grab a quick bite to eat before the afternoon appointments start.
2.30pm Today we have a meeting with the team from Dalmore whisky as we are working on a pairing menu with them that will launch next month. Five of their malts are being paired with our chocolates – a real winter warmer for those icy days ahead. In the background, the shop has had a constant trickle of curious customers.
4.30pm Next we have a meeting scheduled with the Rugby Portobello Trust charity. We have been working with three fantastic local ladies, Sophie Conran, Bec Astley Clarke and Nikki Tibbles, each of whom have created hampers which we are selling in aid of the charity. Their Christmas fair is coming up, and we are going to take a stand so there is lots of planning to be done for that.
5.30pm Before I head off we check that a couple of bespoke orders are on track, one for a big event at one of the prestigious City Livery Companies and one for a charming lady organising her daughter's wedding in Bahrain.
6.30pm There is a reception at one of London's landmark hotels with a regular corporate event client for a new product introduction. I meet some very interesting people at a highly enjoyable – and potentially very productive – event.
9.30pm I head home. Over a welcome glass of wine, Natalia and I catch up on the day's business and what our little daughter's been up to today.
297 Westbourne Grove, London A11 2QA