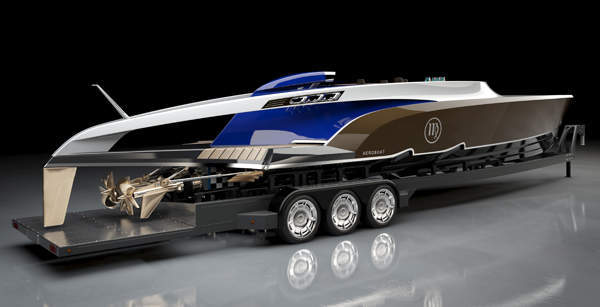 Author: Aoife Moriarty


For those looking for a sleek new way to navigate the coastline, British yacht designers Claydon Reeves may have just the ticket.
The Hampshire-based company has released designs for a new 50ft day yacht, with an exterior based on WWII's most famous UK fighter plane, the Spitfire.
Each yacht will be created to the client's specific needs, with the designers planning for a limited edition of 14 Aeroboats. The boats will be built solely from British-sourced carbon fibre and lightweight wood veneers at a shipyard on The Solent.
Interiors are modelled on sports car design, featuring leather stitching and wooden dashboard. The yacht will comfortably hold up to seven passengers, with a double berth cabin and small bathroom below deck.
Central to the overall design is a Rolls-Royce Merlin V12 engine – used in iconic aircraft for over 80 years. With engine horsepower of between 1100hp and 2500hp, the Aeroboat will reach speeds of over 50 knots – meaning breakfast in St. Tropez and dinner in Monaco is on the agenda.
With a cost of between £3 and £3.5 million, the company is marketing the model as both an affordable entry-level yacht and a perfect superyacht tender for more experienced seafarers.
(Images courtesy of Claydon Reeves)
British design company Claydon Reeves was founded four years ago, with ambitions to 'breath new life' into the yacht design industry.
Co-founder and Aeroboat designer Mike Reeves stated: 'We are determined to revolutionise yacht design. The Aeroboat is based on innovative, modern materials, fresh design thinking and growing demand for eye-catching shapes and individuality on the water.'
For more information or to place an order, go to: www.claydonreeves.com.