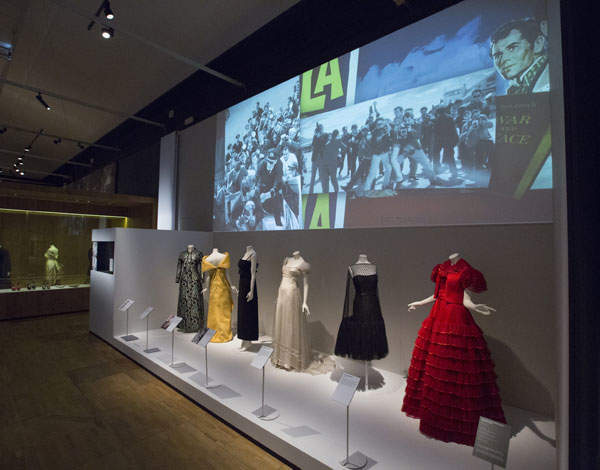 It is during one of these early spring days, when it seems like it is always about to rain, that I miss being in Italy. So during the Easter weekend, I decided to get as close as possible to my birth country and visited the Victoria & Albert Museum's latest exhibition, TheGlamour of Italian Fashion 1945-2014, followed by a special Italian afternoon tea at the Bulgari Hotel in Knightsbridge.
It brightened my otherwise overcast day. The exhibition looks at how Italy's fashion industry has evolved since the end of the Second World War, when the first catwalk shows held in the Sala Bianca in Florence put the country firmly on the fashion map.
With more than 100 dresses and accessories on display, the show is a pleasure to see, as visitors follow the Italian style through the 1960s, when Rome, Florence, Milan and Capri became must-go destinations for Hollywood stars and chic international travellers.
There are also several pieces from the 1970s and 1980s, when ready-to-wear collections blossomed and some of today's world-leading fashion houses were created. And of course there are the 1990s when Benetton anticipated fast-fashion firms like H&M and Zara.
There are classic clothes that one can never get tired of, like an Armani suit or a Max Mara's camel coat, and dresses that belong distinctively to a certain time, like a pair of irreverent Miu Miu high-knee glitter boots that are so 2005. There was also a Krizia puma jumper similar to one that I remember seeing in my mum's wardrobe as a kid and never cared for. (I hope you didn't throw it away in the meantime, mum.)
The show also highlights the link between the Italian fashion industry and the country's network of highly-specialised and mostly family-run manufacturing firms and tailor ateliers, renowned for their production of wool, leather or textiles, as well as for their weaving, dyeing and stitching expertises.
But what makes the exhibition great is its ability to bring back memories from an Italy that doesn't seem to exist anymore (or maybe it's buried under the tentacles of our byzantine bureaucracy), with its glamour, creativity and ability to represent an ideal lifestyle without too much effort.
So, as I left the museum I felt a little heartbroken and needed some bubbles. Conveniently, the Dolce Vita tea at the Bulgari Hotel starts with a special cocktail made using Moet & Chandon champagne, Barolo Chinato and Poli Miele, a Grappa-based honey liqueur.
Perhaps the choice of using champagne rather than Italianissimo prosecco highlights the fact that so many Italian fashion houses, including Bulgari, have been bought by French luxury groups in recent years. But it was refreshing nonetheless and the cocktail's bitter but fruity flavour matches nicely with the tea.
Together with the drink came an assortment of finger sandwiches and tartlets – from the traditional Scottish smoked salmon, cucumber and egg mayonnaise sandwiches, to the mini-quiches with courgettes and thyme or ratatouille and goats cheese.
The scones were scrumptious, served still warm from the oven and accompanied by a selection of French jams and a clotted cream so thick you could gently fold it over the pastry. They weren't the only sweet treats on the cake stand though, with a passion fruit and chocolate macaroon, and a vanilla and strawberry tart among my favourites.
However, while the champagne, the quiche and the macaroon were all lovely additions to a classic afternoon tea, I felt that they added a French, and not an Italian, touch to the experience.
The Dolce Vita afternoon tea is available every day from 1pm-5pm until 27 July. It includes a queue-free access to the V&A exhibition and costs £48 per person