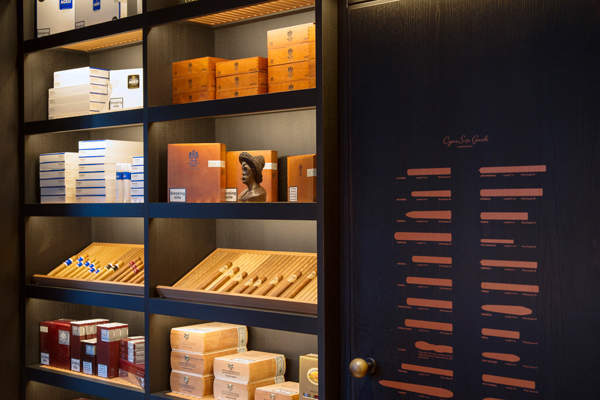 At first glance, 1A St James's looks more like a wood-panelled Apple store than a cigar merchant in the heart of Clubland. Dunhill's recently and spectacularly revamped tobacconist is gleaming and precise, with discreetly decorated walls and the occasional single cigar arranged on a plinth. A place to pick up a packet of fags, this is not.
Under the watchful eye of manager and distinguished cigar expert Robert Emery — the last tobacconist ever to receive a Royal Warrant — 1A St James's has become a uniquely appealing space.
Retractable glass walls separate the main shop floor from the 'Tasting Lounge', where around a dozen cigar aficionados can be accommodated in comfort — armchairs, coffee, newspapers and even vintage Dunhill playing cards are all on hand to complete this capsule gentlemen's club. (1A St James's is, in fact, built on the site of the Cocoa Tree Club, a debauched chocolate house that counted Lord Byron among its regulars).
'We've tried to reinvent the cigar merchants,' Emery says in the stock office-cum-cigar safe, the walls lined with burnished copper humidors for customers who prefer to keep their cigars safely in town (as did Winston Churchill, for decades a regular Dunhill customer). 'Our customers are looking for a different style of service — we've brought Dunhill's unique expertise into a modern, welcoming setting.'
I was visiting 1A St James's for an event to celebrate the first birthday of its new look. Also there, on loan from wine merchants Berry Bros & Rudd (two doors up) was resident whisky expert and raconteur Ronnie Cox.
Cox is ambassador for the Glenrothes, a superb Speyside distillery owned by Berry Bros and one of the few whisky brands to sell by vintage rather than age. As the room filled with the fug of Dunhill's own 1907 Toros, he prepared his bottles, looking like nothing so much as a mountebank with his stand of remedies. In fact, this wasn't far from the truth.
'Each of the whiskies you'll drink tonight,' Cox explained, 'I have chosen to evoke a certain emotion. The Alba Reserve is uplifting. When I have to go out to dinner I take a tepid shower, pour two fingers — and in Scotland you measure with the fingers upright — and listen to the Immigrant Song from Led Zeppelin III.'
Ronnie's choices, like his stories, were esoterically delightful. We initially met the Alba — soft and creamy with unmistakeable coconut notes, it also has the unusual distinction of being certified kosher — sharing a glass with the King's Ginger, a Berry Bros liqueur which reportedly 'revivified' Edward VII during his breakneck 40mph drives up and down St James's.
Tasting it alone offered more nuanced berry flavours, which blended nicely with the peppery start of the 1907 (handmade in the Dominican Republic but featuring a Honduran wrapper).
As we moved on to the 1998, one of Glenrothes' 'Core Vintages' and a perfect storm of caramelised tropical fruit and understated oaky depth, the cigar matched it note for note, delivering a rich tobacco hit that made this pairing the highlight of the evening.
Alas, by the time Cox guided us to whisky number three (the 2001, a well-balanced and slightly spicy number), the 1907 had reached full potency and threatened to overpower its partner. Perhaps in other circumstances the whisky could have held its own, but with some forty cigars smouldering in unison the room was becoming more and more like a sensationally flavoured smokehouse; I only wished I'd thought to take along a side of salmon.
By the time we came to our fourth and final bottle, the honeyed and exceptionally satisfying 1995 ('I suppose that's about when you were born,' said Cox resignedly), the flavours came a distinct second to the gentle, absorbing ripple of conversation, every laugh or exclamation visible in the eddies of smoke above our heads.
I think I glimpsed the future of the industry — and this magnificent, antiquated slice of London — in those blue clouds, but that could just be the whisky talking. Either way, 1A St James's offers a rare and beautifully crafted treat for those who, like Kipling did, still find solace in the old cigar-box.