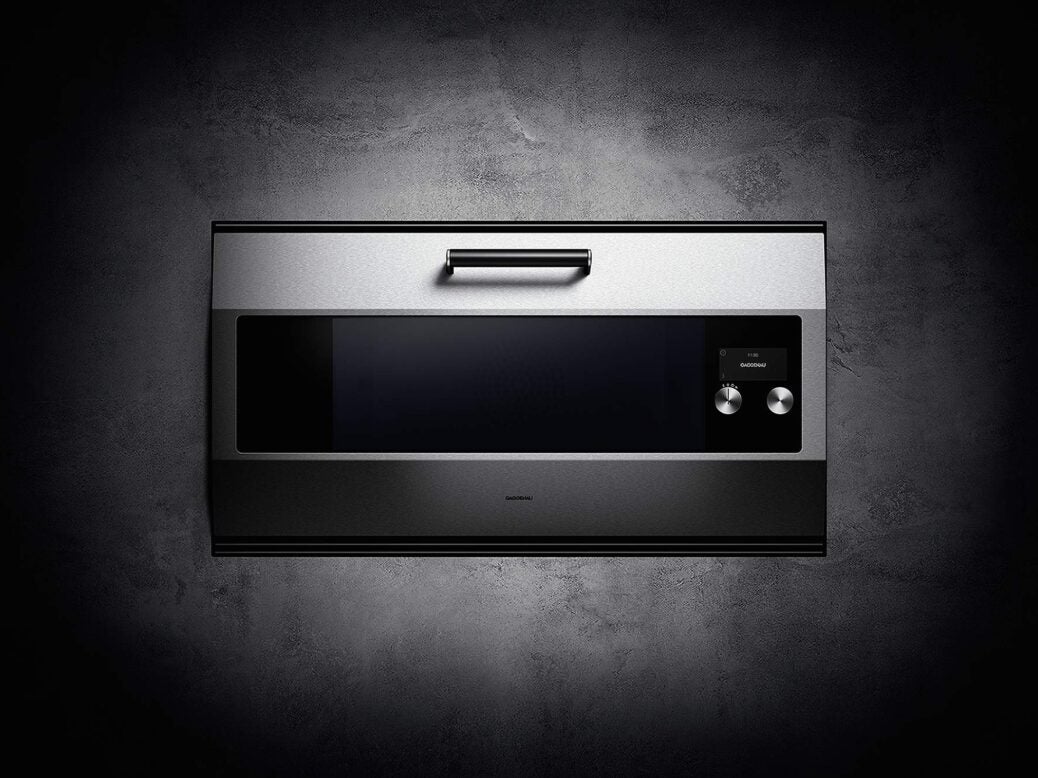 In the year Gaggenau celebrates its 333rd anniversary, its most iconic appliance turns 30. To commemorate this landmark, Gaggenau is launching a remodeled version of its renowned 90 cm wide oven that offers modernised design and functionality. Though the new model showcases upgraded technology and quality standards, it stays true to its origins; linking Gaggenau's past and present with its future. The new oven has been renamed EB 333 in tribute of Gaggenau reaching this remarkable anniversary.
The oven EB 333 perfectly embodies Gaggenau's design philosophy of Traditional Avant-garde where timeless craftsmanship meets innovative design. The most striking new design feature of the 90 cm wide oven is its door: a vast, single piece of 3 mm thick stainless steel, creating a powerfully sleek and sophisticated façade. The door also enlists new technology that provides soft opening and closing to enhance the overall user experience.
Further standout features include a revised cavity design that aligns the EB 333 with the capabilities of the latest Gaggenau ovens 400 and 200 series. The new cavity also houses an updated lighting concept, heightening the aesthetic of the appliance holistically. The oven includes a new control module with a TFT touch display to improve functionality. In addition, exclusively designed black rotary knobs are available to purchase as a special accessory for the EB 333 as an alternative to the stainless steel variant.
Since its first introduction in 1986, Gaggenau's 90 cm-wide oven has provided a professional cooking experience in the private kitchen, beloved by top chefs and keen amateur chefs alike. The concept of this unique, stand-alone oven has remained almost untouched over three decades. The EB 333, like its predecessor, will continue to be crafted almost entirely by hand using selected materials in Lipsheim, France.
Sven Schnee, Head of Global Brand Gaggenau, says: "In this momentous year, the launch of the EB 333 feels like the most fitting way to celebrate Gaggenau's heritage and its future simultaneously. It is our most iconic design piece and perfectly combines Gaggenau's passion for modern innovation and precise craftsmanship. The oven EB 333, more than any other appliance, represents our rich past, meeting with our present and our future, which has been 333 years in the making. Gaggenau continues to put the kitchen at the heart of the home and the EB 333 oven is the soul of the kitchen."