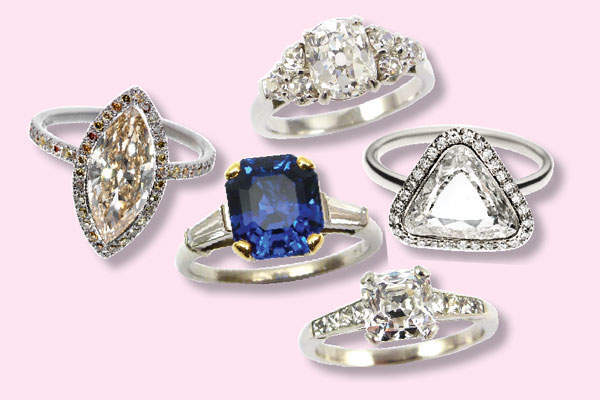 Being female, it hadn't occurred to me what an alien world most men enter when they embark on one of life's great rites of passage — the buying of the engagement ring for the best-beloved. For most women, of course, it's a familiar world, even if they've never bought a high-ticket number in their life.
They think about jewellery from an early age — most small girls love adorning themselves in one way or another and experiment with everything from cheap little rings and bracelets found in Christmas crackers to ribbons and glass beads and anything in their mother's jewellery box. It came to me how tricky the manoeuvre must be when a friend asked for advice on a ring to present to his nearest and dearest.
He knew and loved her well, so he was sure she wouldn't want a socking great conventional stone that spoke primarily of wealth and status. There must be, he mused, a more thoughtful, intelligent and pertinent way to go about choosing a ring than simply walking into a swanky shop and going for the biggest rock you could afford. She would want something interesting and intensely personal.
Probably she would like it to be made by an artisan who was deeply involved in the design and making. Where should he go?
It's a long time since I was in the happy position of being proffered eternal devotion, but this is what I'd hope my dearly beloved would do if we were young again.
I'd be thrilled if he went to a few of my favourite antique dealers. SJ Phillips on New Bond Street and Bentley & Skinner on Piccadilly both have exquisite collections of vintage jewellery. Humphrey Butler is a below-the-radar private dealer in vintage jewellery and he always has a terrific selection of rings. I always drool over the offerings in Bonhams' regular vintage jewellery sale catalogues, though the only time I bid — £1,100 for a vintage tourmaline riviere necklace estimated to go for between £600 and £800 which actually went for £19,000 — rather put me off repeating the venture.
If he wanted something more modern or something (as many do) for which he could be personally involved in the design process, then I have a few favourite jewellers. Pippa Small is one, and that's the first address I gave my friend — he went no further. He fell in love, in his own words, with her work.
Pippa Small comes with perfect credentials in that she not only makes distinctive, heavenly jewellery of the sort most women want to put on instantly, but she also comes with an appealing ethical back-story (she's an anthropologist who has done work projects with the San bushmen, the Kuna of Panama, Batwa pygmies of Rwanda and the Turquoise Mountain project in Afghanistan).
Between them they chose a Herkimer diamond (which is not actually a diamond — it's quartz crystal) from upper New York State, which pleased him since his soon-to-be-wife-to-be had deep connections there, and she set it in white gold in a way that enhanced its individuality. Pippa loves Herkimer diamonds: 'They grow in beautiful irregular shapes, and though they glitter and sparkle they have a lack of pretension around them that I like.'
The ring was a huge success (she said yes) and altogether, says my friend, 'on so many levels it was a lovely experience — it felt correct and socially responsible without in any way short-changing the loved one'. She loves making very personal pieces, once incorporating a Kalahari pebble into a ring for somebody to whom it was infinitely more precious than any diamond. Hermiker diamond rings start at £2,500.
There's also for some years been a sophisticated niche market in rough diamonds — they could be said to be part of the long-established stealth-wealth trend. As jeweller Stephen Webster once put it to me, 'They're kind of cool — the shapes are cool and there's something special about using stones that are just how they come out of the ground and aren't interfered with.'
As designer William Welstead, who first showed me rough diamonds, points out, 'They are very obliging in that they allow those who don't "do" dinky jewellery to wear something really quite large without it looking ostentatious.' He always has a supply of them and will make them up into an engagement ring, but just at the moment he has a cache of antique old-cut diamonds that came from the Maharajah of Kohlapur's collection. They're 18th-century old flat Indian Moghul cut diamonds; a ring ranges in price from £8,000 to £28,000 depending upon size, cut and setting. Pippa Small is also well known for her rough diamonds and will make up a ring using one at a price starting at about £5,000.
Marie-Hélène de Taillac, some of whose wares are sold at Browns Fashion (though it's best to visit one of her own stores, preferably the one in Paris), has a very faithful following. She uses unusual stones to great effect, often setting them in white or yellow gold, and has a knack of giving a lot of drama for your buck.
There's no getting away from the fact, however, that some women have more conventional tastes — just look around you. If you think the potential fiancée is hankering after a great big stone you could consult Graham Tom, who sells loose stones (so you can choose as good a quality as you can afford), has no middlemen (so prices are good value) and whose designer (ex-Cartier) will help devise something specifically for you. (Contact him through diamondslondon.org.)
Or there's Neil Duttson, a breezy entrepreneur who will come to you wherever you want to see him — your house, office, a hotel, a restaurant. You discuss what you're after and your price bracket; he unwraps his hoard of diamonds and you get to see, touch, discuss and perchance design your very own ring, earrings or bracelet. He does have some ready-made designs, but he also has designers he can recommend who will create something special out of his stones.
Most of the people I've consulted, however, think it is the sense of being given something more thoughtful and personal that counts. Theo Fennell, for instance, is often asked to personalise some of his existing rings by engraving entwined initials or the fiancée's favourite flowers on the side, adding birth signs or using birth stones for the ring itself. On one occasion he melted down gold from the British sovereign and the Canadian maples (representing the couple's countries of birth) and welded them together to create the shank of the ring.
William Welstead tells me that while a few of his customers are men who seem to know exactly what they want, lots are nervous about the whole process. They're worried about being ripped off and have almost no idea where to start. In which case, says Welstead, they're best not to go down the surprise route but should rather bring their fiancées in, choose a stone together and involve them in the whole process. Theo Fennell agrees: 'By and large I find that if the couple sit down in a reasonably democratic spirit and talk through the design together it augurs well, not just for the ring but for the future of the marriage.'
The advice that both Welstead and Small would give is entirely different from that which you'd get from the big, swanky Bond Street stores. There the conventional wisdom has it that you should choose as pure and large a diamond as you can afford and you'll be regaled with the merits of the 'four Cs' (carat, clarity, cut and colour, which determine its commercial worth). Most men come away with a discreet little stone much like a million others. Both Welstead and Small believe you should go with the heart. Commercial worth and the perfection of the stone are less important, in their view, than choosing something utterly gorgeous and entirely individual.
diamondslondon.org
duttsonrocks.com
mariehelenedetaillac.com
pippasmall.com
theofennell.com
williamwelstead.com