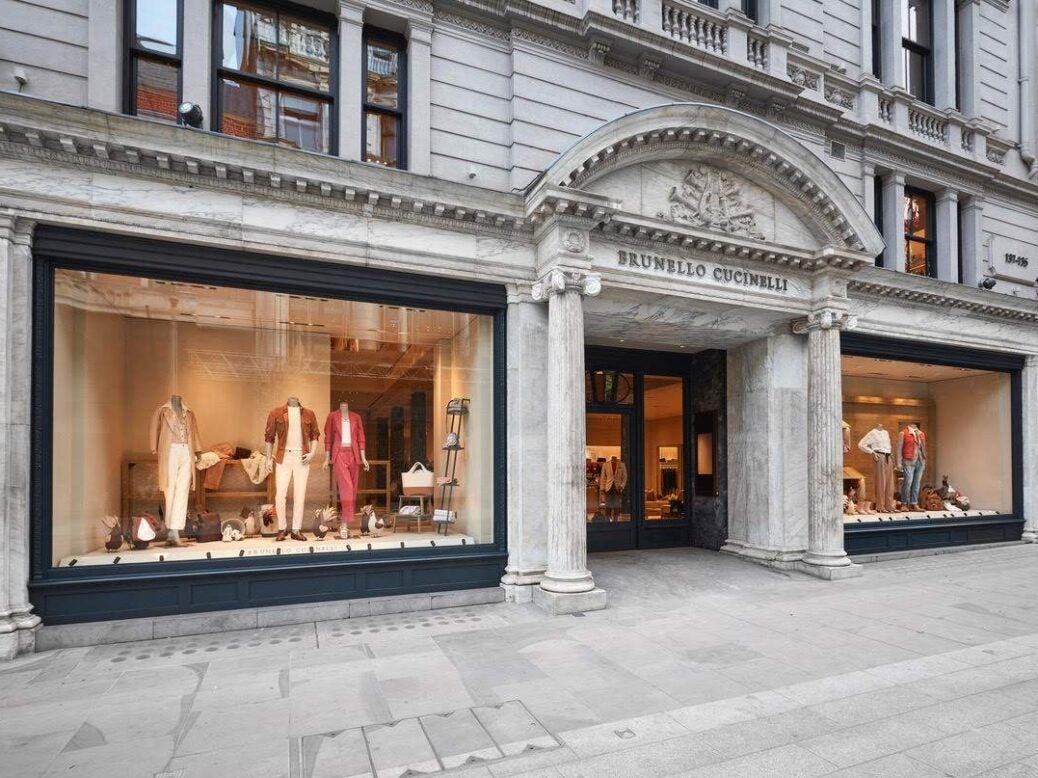 The historic building on New Bond Street is a perfect fit for the Italian aesthete, writes Ellen Lister
Beauty is the symbol of the morally good'. There aren't many luxury brands that quote the philosopher Immanuel Kant – not to mention the prophet Isaiah and Italian poet Dante – on their websites. But most luxury brands aren't Brunello Cucinelli.
Whilst the men's and women's garments crafted by the Italian designer are undoubtedly sophisticated and luxurious, it is clear that an attraction to a higher, artistic purpose, lies behind his fashion and lifestyle offering.
It is fitting then, that Brunello Cucinelli has chosen to open his new boutique in London's New Bond Street, on the old site of the Grosvenor Gallery, one of the most important art galleries of the Victorian era. The site of the new store even has literary links. In Oscar Wilde's A Picture of Dorian Grey, it is suggested that an important artwork should only be displayed where it can be appreciated – in this case, it should be the Grosvenor Gallery, rather than the Royal Academy of Arts. Now Cucinelli's collection, with its expert Italian craftmanship, can be appreciated from the same historic spot.
Inside the new destination store are two floors that welcome customers and visitors with a cosy and relaxed ambience. An interior of traditional furniture and natural materials reflects the concept and palette of the brand: stone, chestnut, and soft plaster pink walls are matched with the contemporary feel of metal.
The ground floor is devoted to the men's collection. Customers can roam freely between corners of cashmere knitwear, or browse a wide range of casual and formal offerings for the season. For a more bespoke offering one can access a separate area, 'Sartoria Solomea', where suits are tailor made upon request.
Up a large stone staircase, the women's collection – including knitwear, footwear, bags and accessories – is displayed in an airy, light-filled space around a comfortable café inspired by the Italian kitchen. A grand piano stands framed by large windows overlooking New Bond Street, whilst a small library filled with classics and philosophy books beckons in another corner.
Such a beautifully designed space is well suited to a brand whose founder and CEO has spoken about the importance of harmony, balance and 'making profit with ethics, dignity and morals'.