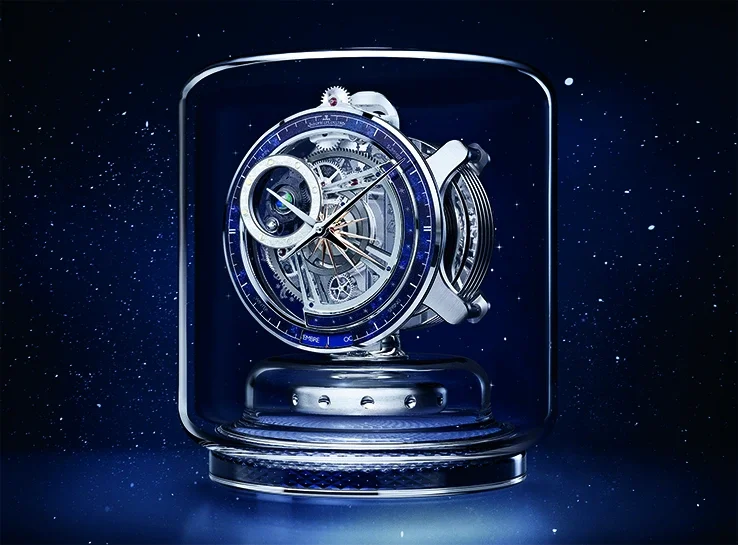 The horology world has woken up to the design potential of clocks, with brands flexing their creative muscles to produce innovative new pieces
A few years ago I got lost while wandering between meetings at Baselworld, the grandiose (and now defunct) trade show for the Swiss watch industry, which filled out the many halls of Herzog & de Meuron's sprawling exhibition centre in downtown Basel. In a far-flung, badly lit corner of a secondary hall, amid peeling carpets and quite possibly tumbleweed, I found the clock section. 
It's possible that the exhibitors had been standing there with their cuckoo clocks (genuinely) for years, waiting for someone to stumble past. Whatever dynamism and investment had swept through Switzerland's luxury watch industry at that point, these clockmakers had seen little of it.
Waiting in the wings
Things have been changing. Not least the evidence of this was November's Grand Prix d'Horlogerie de Genève (GPHG), the watch industry's high-profile annual awards gala, which for the first time included a prize for clocks.
The gong was taken by the jewellery house Van Cleef & Arpels for a dazzling one-off automaton installation. Featuring robotic bejewelled songbirds and lapping water made from shards of semi-precious stones, it was the kind of thing that could have been in a category of its own.
But the recognition of clockmaking itself reflected not just a surging interest in the area, but also the wave of creativity that has been transforming this traditional discipline. 
The moment of change came in 2014 (around the time I was discovering cuckoo clocks in Baselworld), when the avant-garde watch brand MB&F released a startling clock/sculpture which seemed to spring straight from the pages of old science-fiction comics.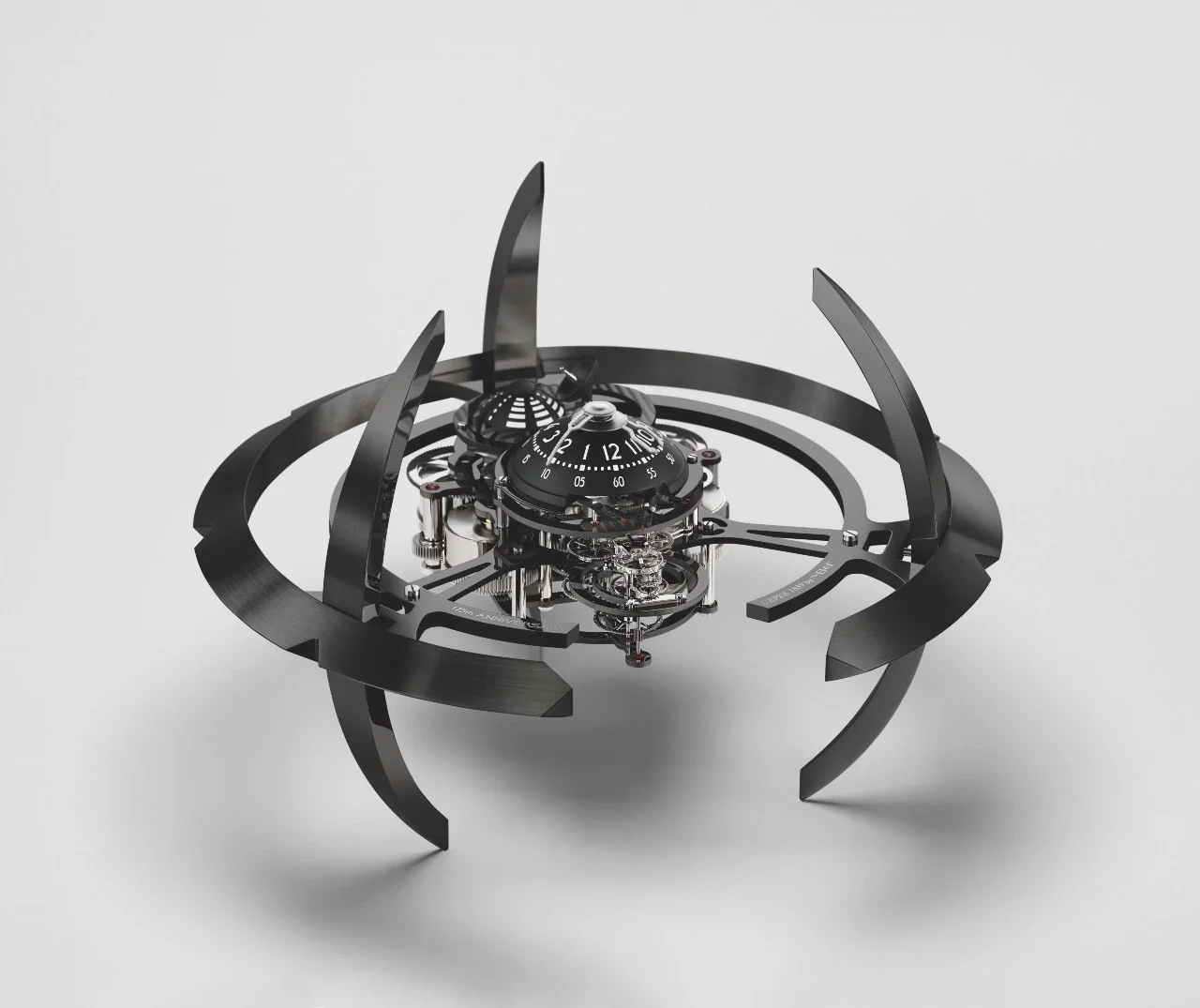 Named the Starfleet Machine, it resembled the space station from Star Trek: Deep Space Nine on your coffee table. It was mechanically ingenious and displayed overtly beautiful craftsmanship, and if reading the time on it was something of a challenge, no matter – the stated aim of MB&F's founder and chief visionary, Max Büsser, is to make 'kinetic art that happens to tell the time'. The Starfleet Machine simply did this on a grander scale than a wristwatch. 
Designer clocks: from traditional to fantastical
To pull this off, Büsser partnered with L'Epée, a clockmaker founded in 1839 that was falling on hard times, with a dwindling audience for its highly finessed but very traditional creations.
Büsser's idea pulled L'Epée in a new direction and put the notion of clocks as beguiling objects of contemporary design – in which timekeeping is merely a side-effect – before a new audience. For the watch collector who has it all, or the interior designer needing to spark up a space with mechanical razzle-dazzle, clockmaking's new wave is presenting a growing array of options. 
L'Epée and MB&F have continued a fruitful, sci-fi-inspired partnership. Its most recent clock is the Orb, which features a football-sized sphere formed from a quartet of curving petals, which open up to reveal a beating eight-day movement constructed in a cylindrical arrangement within.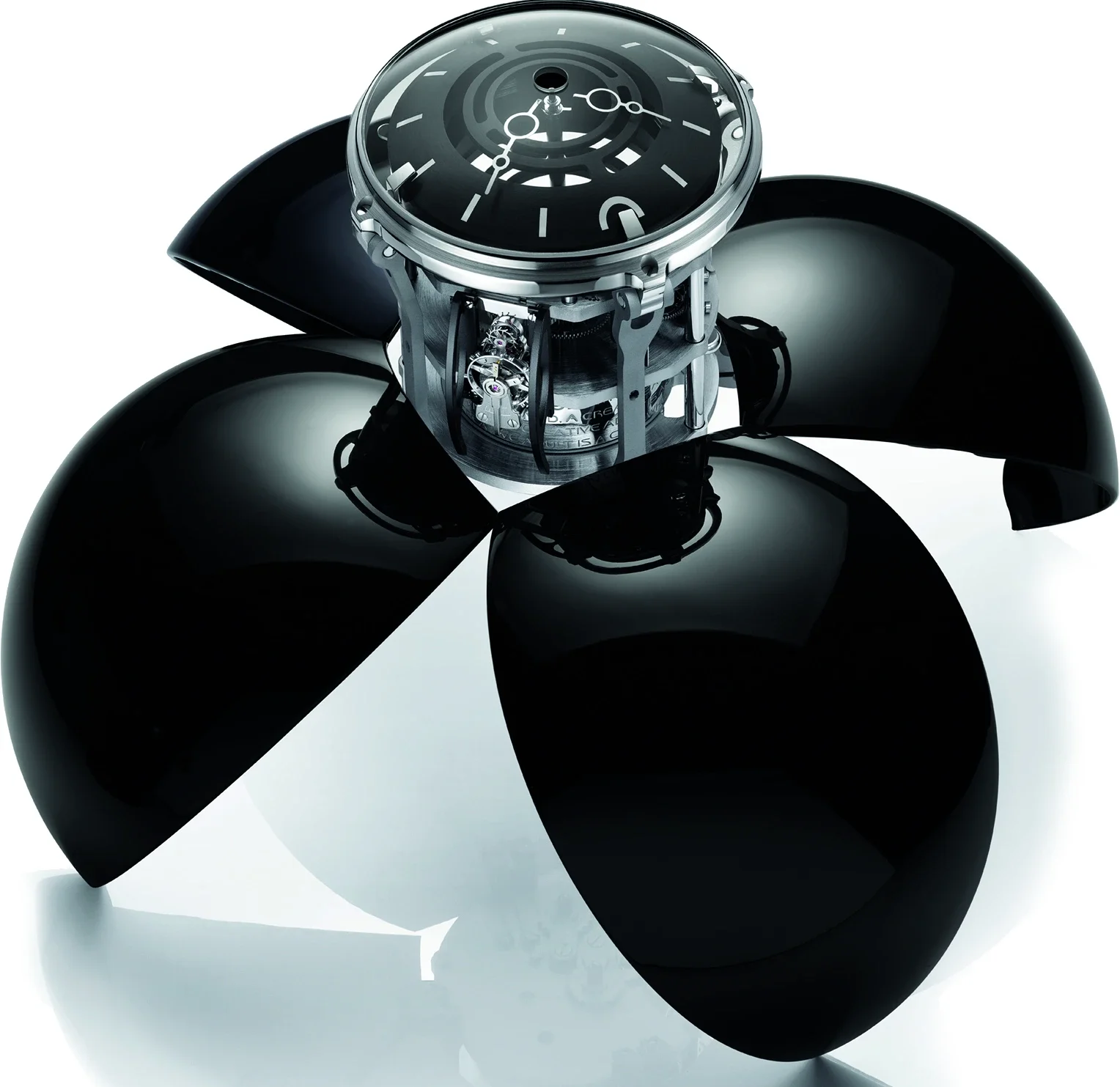 L'Epée has also struck out with its own exuberantly novel creations, such as the thoroughbred boys' toy Time Fast II, in which timekeeping takes the form of a 1950s-style V8 sports car.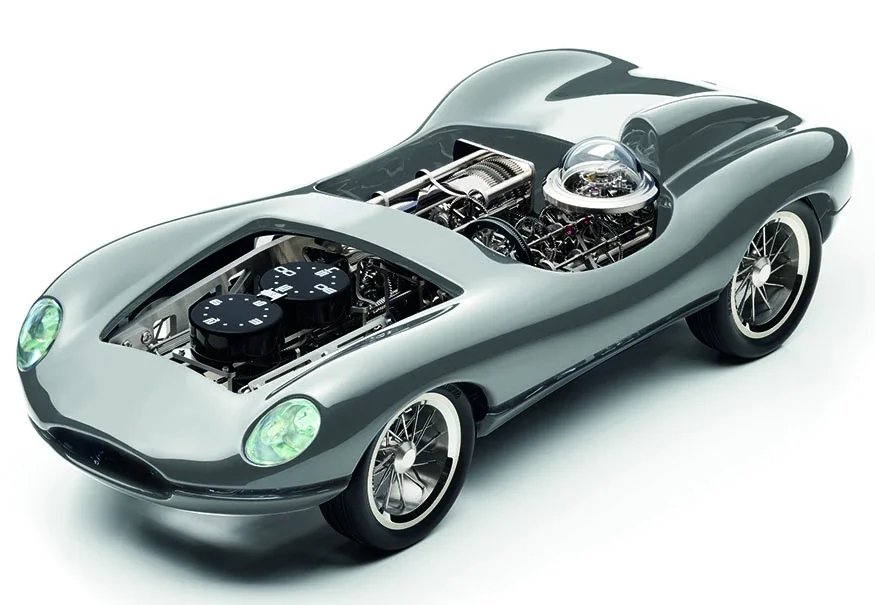 Besides timekeeping (displayed on rotating discs atop the engine), it features a second movement that causes pistons within the engine to spring into life, as in a V8. 
Brilliant? Or bizarre?
Taking a different tack is Utinam, whose KB2, a minimalist, retro-modern take on the pendulum clock, comes in joyful primary colours.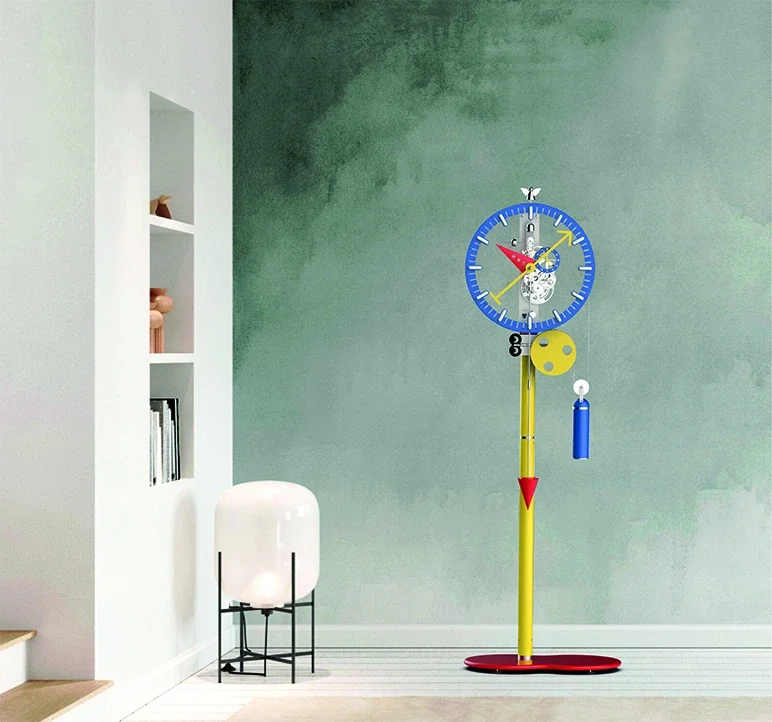 When the mechanism comes alive – the pendulum swinging in open space, the mechanism jogging slowly and serenely round – the KB2 takes on a kind of hypnotic, beautifully balanced allure.
Balance is at the heart of another bizarre object, the UFO from high-end watch brand Ulysse Nardin. In a kind of elongated bell jar, the clock features three rectangular dials (for different time zones, though how you'd know which is which I'm not sure) atop a stacked tower of moving parts.
Below is a weighted aluminium base: give the clock a knock and it will rock vertiginously this way and that without falling over. You might want to keep it away from the edge of the shelf, mind.
One or two watch brands have been in the clock game since the get-go. I'm rather taken with Cartier's Santos 100 desk clock, an elegant take on its Santos wristwatch design – though it barely compares in beauty to the Mystery Clocks that were a Cartier speciality a century ago. 
Designer clocks keeping up with the times
But the definitive watchmaker-as-clockmaker is Jaeger-LeCoultre, which never stopped making versions of the miraculous Atmos clock it invented in 1928. The Atmos is a conception of astounding singularity: tiny, everyday fluctuations in atmospheric air pressure are what drive the movement, via a bellows-like gas capsule whose minute thermal expansions and contractions enable the mainspring to be wound. Consequently the Atmos can, in theory, run for decades without need for any other intervention.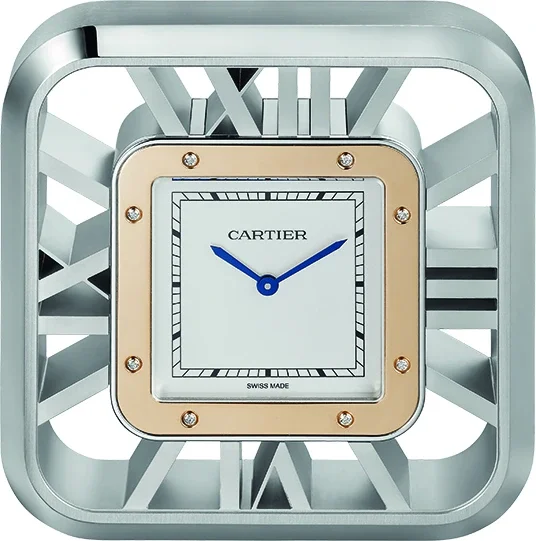 Atmos clocks of every style have been produced, but in 2022 Jaeger-LeCoultre went both minimalist and maximalist. The Atmos Infinite turns the famous mechanism, with its large circular bellows and horizontal pendulum which turns slowly back and forth, into a pure sculpture, seemingly afloat in space within a glass jar.
The Atmos Tellurium, on the other hand, is as complex as Jaeger-LeCoultre's most high-flown astronomical watches: it displays the orbit of the Earth around the Sun, of the Moon around the Earth, the phases of the Moon, the signs of the Zodiac, a perpetual calendar, and the time – also inside a pristine glass jar. Just don't drop it.
Main image Atmos Tellurium / Jaeger-LeCoultre
Order your copy of The Spear's 500 2023 here.
More from Spear's:
The five most expensive watches ever sold