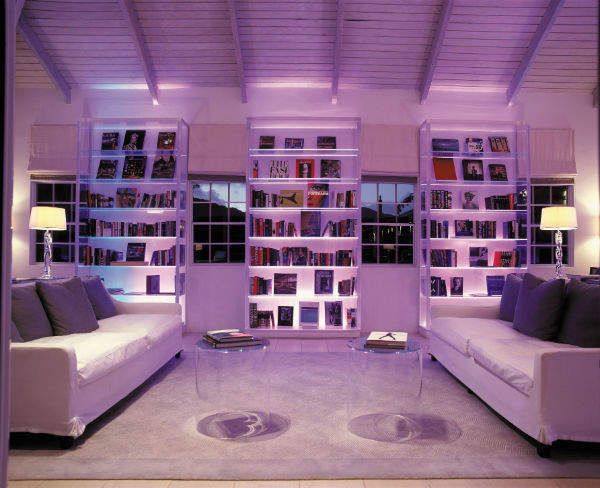 Author: Laura Walkinshaw


"You could argue that a hotel should be a home from a home but better," says Philip Blackwell, the founder of Ultimate Library, as we sit in a room that is covered, wall to wall, in beautiful, leather-bound books.
It was this statement that led the former CEO of Blackwell's – the famous Oxford bookshop his father's grandfather founded in 1897 – to set up Ultimate Library, a bespoke book collection service, after discovering on his travels around the world a total lack of high-quality libraries in top-end hotels.
Six years on, armed with a team boasting seven decades of book buying experience between them, Ultimate Library has created reading libraries for some of the most luxurious hotel brands around the world, including General Hotel Management, Aman Resorts, Four Seasons and Firmdale Hotels.
"There's a growing trend we see towards intelligent luxury, and hoteliers have responded to that," says Blackwell. "In reality, the only time people get to read for pleasure is when they're on holiday, particularly the sort of people who stay in these high-end hotels, so if you can create a beautiful library in the place in which they probably only get to read in the year, that's good."
(Pictured: The Montpellier Chapter, Cheltenham)
The process works by firstly finding out how much space the library will fill and where it will be located, both in the hotel and geographical location – "that will determine a lot of the reasons why people go there, therefore providing books that give that sense of place is very important", says Blackwell.
"In an ideal world, you would be able to run your fingers along the spines of the books and you would get a very personal view of the owner, but you'd also get a very strong sense of place," he says. "You'd be able to anchor it in the place it's in."
Next, the team analyses the kinds of people who are likely to stay at the hotel, their interests, how long they will spend there, where they come from and their language. Finally, Ultimate Library looks at the décor and how the books will complement the interior design brief of the hotel.
"We understand and can advise on library set up and layout, and much more importantly we understand where to go and buy fabulous books that will give that layer of intelligent luxury. We build a library that doesn't look like it was bought off a shelf in April 2014 – it looks like it has been built up over time and has a sort of depth and longevity to it."
(Pictured: Six Senses Zighy Bay, Oman)
But what started out as a business that focused on the hotel sector has progressed to creating personal libraries for private residences, too.
"Quite often we'll do a library for a very upscale hotel, like an Aman Resort or a Four Seasons, and people who are staying there will say, 'Gosh, this is a beautiful library, who did this? We'd love one for our new house in Palm Beach, our villa in Bali, our ski chalet in Gstaad…'," says Blackwell.
This is where the expertise of Bernard Shapero, founder of Shapero Rare Books, in Mayfair, comes into play, as while the antiquarian bookshop mostly sells bespoke individual books to collectors, it also works with Ultimate Library to create libraries that encompass a mix of the old and the new.
Acquired by Blackwell Ventures, Shapero Rare Books sells rare books, vintage photographs, maps and decorative prints for anything from £50 to millions of pounds. In 2011, the first bible available on the market, printed in 1461, was sold to a modern collector for just under £1 million, while this year the bookshop sold the first printed atlas, from 1473, for £2.5 million.
One of the most recent library collections created in collaboration between the two was for a home outside of London for an owner with a strong interest in naval history, the Napoleonic era and Winston Churchill.
(Pictured: Magdalen Chapter, Exeter)
Featuring a mixture of classic titles, more recent titles and beautiful rare editions – from full volumes of Marlborough: His Life and Times to biographies such as Churchill: A Biography by Roy Jenkins, which cost only £30 – the result was "a very interesting collection of the old and the new, the expensive and the affordable," says Blackwell.
"Very few people have a library full of books that cost £100,000," adds Shapero. "People tend to have a library at home where they're half filled with new books, which they've been reading and enjoying or studying, and then the other half may be filled with antiquarian or rare books, which they collect. Not everything has got to be the rarest and the best."
While buying an original artwork would be classed as making a statement, Shapero says book collections are very private.
"Buying a painting has always been so much more of an obvious and conspicuous consumption," he says, "but books are terribly personal – both new books and old books. It's not flashy – it's not 'come over here and be impressed by my fourth edition Shakespeare'.
Blackwell adds: "There's a discreet intelligence and people who know will know."
(Pictured: Carlisle Bay, Antigua)
The staples of a book collection
Diderot & d'Alembert encyclopedia (around £75,000). Compiled for royalty in the 1780s in Paris, the 35-volume book is "one of the greatest of all time", according to Shapero.
A first edition of Adam Smith's The Wealth of Nations (around £100,000).
Fourth edition of William Shakespeare's plays (around £100,000). "The first would cost several million, the second is just a copy of the first, third would be good but the fourth is probably the most affordable at around £100,000, but it contains all of the plays so it's the most complete of the editions," says Shapero.
Bloomsbury's The Flavour Thesaurus (from £18.99).
Other Men's Flowers (from £20) – "an anthology of all of the greatest poems that give you comfort", says Blackwell.
I Am Pilgrim by Terry Hayes (from £12.99). "We've been putting this book in libraries for the thick end of the year now," says Blackwell.