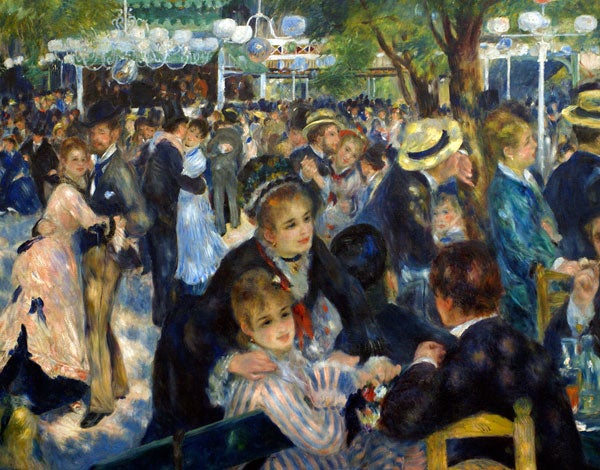 Back in the 1980s Japanese collectors had an insatiable appetite for Western masterpieces — and then the bubble burst. Richard Smart goes on a Gauguin hunt
Vincent van Gogh's Sunflowers practically wilts behind the glass, 42 floors up in a skyscraper in Shinjuku, the Tokyo district that inspired the set for the movie Blade Runner. Few come to see it these days. Tourists have glitzier galleries to visit in other areas of Tokyo; van Gogh fans among the growing army of elderly have already seen the painting on multiple occasions.
Sunflowers was a source of pride for the Japanese. When it was bought by Yasuda Fire and Marine Insurance, the nation was undergoing a bout of self-confidence that with hindsight turned out to be hubris. Growth was never going to last for ever. Yasuda tripled the previous record for an artwork with Sunflowers, paying £24.75 million for the painting.
It is today in the Seiji Togo Memorial museum, owned by Japanese insurance company Sompo. Beside it sit Cézanne's Pommes et Serviette and Gauguin's L'Allée des Alyscamps, Arles. Explaining the abandonment, art dealer Hideto Kobayashi says: 'There's not much art there.' Kobayashi had once bought the Cézanne for 200 million yen. By the time it reached the museum in 1990, Kobayashi says its price had reached 3.7 billion yen (£15 million).
There was plenty of activity in the Japanese art market back then, with Japan enjoying the fruits of easy money as the central bank tried to deal with a recession. That made loans easy to secure, at least until the economy melted down, and billions of dollars went on art. Yasuda representative Atsushi Inatomi brushed off worries that Japan was spending too much. 'We have sizeable assets,' he told the New York Times. Many others bought simply to resell later as values kept going higher.
The good times lasted until 31 December 1989: the Nikkei saw out the 1980s at a record level. Shares began declining upon opening in 1990 and by that August had lost half their value. Bankruptcies followed and the realisation set in that this was no ordinary crisis. Yasuda was not spared, though the van Gogh remains in Japan.
Today, Western art in Japan is scattered. There are large galleries in the capital, but they tell half the story. Dalí's Dream of Venus sits in a Hiroshima gallery; seven of Rothko's Seagram Murals have their own room in an obscure Chiba museum; in northern Japan, head to Akita for works by Picasso, Goya and more; Chagall and Monet have works just down the road in Yamagata; the list goes on.
In private, more works have gone Japan's way. 'There were a number of very big deals done, not by the auction rooms,' an informed source in Europe tells Spear's. 'The tap was turned off in about 1988 or 1989.' Finding traces of those works is nigh-on impossible. 'If the Japanese wish to be private, they really do wish to be private,' the source says.
There are many reasons for this. Some of the buyers were in organised crime and looking to clean up their dirty cash, others were simply looking to keep the taxman at bay. The Japanese also have a tradition of keeping their own art under lock and key. At the Shosoin treasure house in the city of Nara, 9,000 works of cultural importance, many from the eighth century, are kept out of the public eye. At an annual exhibition, a small selection are shown to the public, but most will never be seen.
Auction houses did plenty of business with Japan in public. Kobayashi was involved in a $160 million deal for two works in 1990: van Gogh's Portrait of Dr Gachet and Renoir's Bal du Moulin de la Galette. The buyer, Ryoei Saito, the president of a giant paper company that dominated his prefecture of Shizuoka, wanted them at any price. 'It is my principle to get what I want, at no matter what cost,' he told media at the time. Later, he said that he wanted to have the paintings cremated with him. A public outcry made him quickly reverse course on that plan.
Kobayashi had little to say about Saito but confirmed he was not alone. 'About a third of the notable Western art in Japan is in [private] collections,' he said. 'Some of this may end up being made public eventually. People may make galleries to show their collections.'
Many works, however, were sold off. Saito ended up mired in scandal, accused of bribing a politician in a dirty land deal. His company was swallowed up by a competitor. The van Gogh and Renoir were sold off for about half the price Saito paid.
Tomonori Tsurumaki was among Saito's contemporaries. A real estate dealer whose assets included a racecourse, Tsurumaki forked out $51.6 million on Picasso's Les Noces de Pierrette in 1989. He also met financial difficulty, sending Pierrette on a strange journey. The painting was passed to a building company, Hazama, which in turn got into debt and used the work as collateral for a loan from a company called Lake. The house of cards continued to collapse, and with Lake's fortunes going awry, the business was sold to GE Capital of the US in 1998. From there, the painting found its way to a Mitsui bank vault — and then disappeared.
Disappeared, that is, until 2015. Dmitry Rybolovlev, a Russian billionaire, was last year reported to have bought the painting from the Swiss art dealer Yves Bouvier as part of a €1.9 billion, 37-work deal.
Not all art in private hands left Japan. Many private galleries remain in business, even if they see sparse crowds. And the bubble did not just create losers. Some still hold their collections.
'While there was certainly a lot of speculative buying in the Eighties… there were and still are very important private and private museum collections in Japan,' says the source in Europe. 'For whatever reason — probably the economy — they have kept a conspicuously low profile. But I can state from my personal experience that we are still selling there.'
Kobayashi says that despite changing times, some paintings remain in Japan because they are smart investments: 'The yen is worth more today. A dollar was worth 150 or 160 yen back then, now it's about 125 — around a 25 per cent difference. That means… anything you own is worth 25 per cent less now [if selling in foreign currency]. Even though the value is going down in terms of currency, people are paying more today for works, as we saw with Cézanne's Card Players [allegedly sold to the Qataris for $250 million]. So if people bought Warhols or Picassos, the sort of pieces that could find their way into prestigious museums, they are still OK today.'
Rumours abound in Tokyo of buildings converted to house art collections for wealthy executives. But no amount of prodding can pry out names of paintings or owners. This is far from the heady days of the bubble era, though. 'You have to build a fund and keep buying and selling art, pushing up the prices until they stabilise to create collections,' Kobayashi says. 'Japan cannot do that any more because of the weakness of the economy.'
Others are now in on the game: buyers in Russia, China and Qatar are breaking records. Are today's biggest-paying collectors going to last? 'I am a little bit more sceptical about the Chinese market than most of my colleagues,' says the source in Europe. 'One of the biggest buyers [for Warhol etc] has just been had up and is actually fronting for someone else, and very likely to go to jail himself! But that is a whole other issue.'