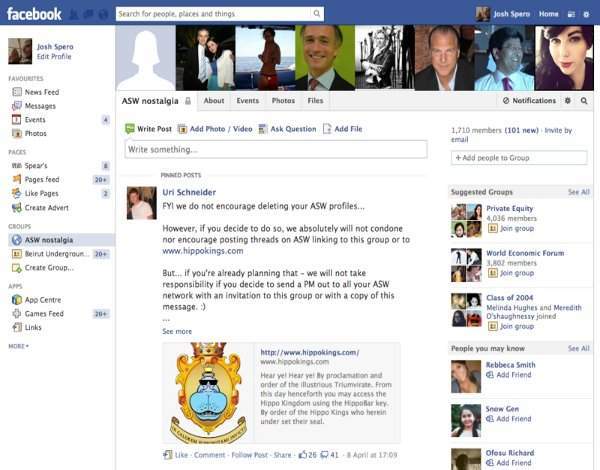 After exclusive social network A Small World began a purge of its members, Melinda Hughes talks to some of those thrown out and explores the raging egos, furious rivalries and anti-social behaviour behind the exodus
In April 2013, A Small World, the self-styled elite social network (or 'global community'), decided it was going to be a little less social by chucking out some of its members. It really was as sudden and as blunt as that; their email to the lucky few not removed said: 'We have decided to terminate the accounts of anyone who undermines the unique spirit of openness that serves as the cornerstone of ASW — and sets our community apart… The reality is simply that our growth has inadvertently allowed certain members to degrade this trust, and those are the people we're exiling, effective immediately.'
An overhaul ensued and thousands of members were kicked off the site to bring numbers down to 250,000. A new 'Members Privilege Programme' was introduced in May, with discounts on hotel rooms, fashionable clothes and spa treatments, a free luxury airport car service, cutting-in privileges in nightclub queues… And for the first time, there was a membership fee ('70), to pay for these discounts and freebies. A Small World wants to see the colour of its members' money as a guarantee of interest and responsibility.
But there have been roars of discontent from those thrown off, who allege expulsion by algorithm rather than actual offence, a subversive Facebook group set up in riposte and harsh emails from A Small World's staff churning up further ill feeling.
Social Siberia
Core members of A Small World whose posts had been reported as abusive (whether they were or not) found themselves in social Siberia. Israel-based Uri Schneider, an active member who organised ASW parties including the Middle East Peace Party, was surprised at his expulsion.
He joked on Facebook that 'if we open a group on Facebook called ASW Nostalgia it will be the last nail in ASW's coffin… Within five minutes Antoine Sorice had done just that and ASW Nostalgia was formed. Within an hour, the group had clocked up a thousand members.' Schneider and Sorice, along with Alexander Schaumburg-Lippe, administer the group, whose manifesto is 'Anything except politcally [sic] correct and non offensive bullshit'.
This group, which now has over 1,700 members, quickly acquired a nickname. Having clearly infuriated the management of A Small World with the group, which complained about and ridiculed A Small World, Schaumburg-Lippe received a scathing email from them: 'We wish you farewell. We do hope you continue to enjoy talking about ASW in a group that oozes the charm and sophistication of a hippopotamus in heat.' Members of ASW Nostalgia now affectionately call each other hippos.
Not for the faint-hearted
The Facebook site is not exactly a garden party with tea and cucumber sandwiches sans crust: it's more like a self-help group crossed with a raucous yacht party at Cannes-time crossed with a fight club. For every video of Mohammed Ali training, there is a photo of a gleaming new Bugatti and an offensive internet meme (a woman throws her arms into the air and the text reads 'I have tits – give me free stuff'). One post asks: 'As aSW was not a dating site, how many members did you sleep with?'
There is also plenty of mockery of ASW. One member posted a story called 'How to spot a gold digger like it's your job' with the note, 'Added bonus with your new ASW card…'. Another wrote: 'Newsflash, newsflash, newsflash: ASW has about 12,000 members. You do the math ;)' referring to the initial paucity of ASW members who wanted to pay for the service.
Not all members of ASW Nostalgia are happy with this. One complained: 'I think many of the things posted in ASW nostalgia are really inappropriate and does not live up to ASW standard. What happened to the real ASW?! Disappointed former member.'
Pictured above: A screenshot of the ASW Nostalgia group, which now has over 1,700 members
In reply, another member wrote: 'I have noticed a rythym on here..there are brilliant days when the posts are brilliant and the discussions fascinating, on those brilliant days after some hours there are usually , ahem, one or a few usual or shockingly unusual suspects who have fights, they get over it and become best friends or keep hating each other , then there are a few stupid days where people post pictures of jet bathrooms and donkeys in spanish squares, then it gets good again..just when I'm ready to sign off a great day happens..so patience..' (All sic.)
Antoine Sorice defended ('Well actually that is not quite correct, but I understand why it may appear that way. The appropriate stiuff get's deleted immediately by nostalgia's webmasters…') as did Alexander Schaumburg-Lippe ('Well, the quality waxes and wanes, and we certainly had better times in the beginning. But that was to be expected. We had an outburst of creativity for a while, and now a lot of people have fired their best shots. I'm not discontent with what we have, though'). (Again, all sic.)
What has happened, in short, with the memes, the mockery, the offence and the defence, is that ASW Nostalgia has become a lot like… ASW.
A Smaller World
Formed in 2004 by Eric Wachtmeister, A Small World was an innovative online community. It was fun, fast-moving and in between postings such as 'Who has a seat on their jet to St Tropez?' there were political threads, often controversial and provoking heated debate. On the whole, it was good, clean fun and you were only one click away from supermodels, aristocracy and celebrities. It also proved a useful tool when travelling as there were often get-togethers in cities all around the world.
However, as soon as the floodgates opened in late 2005, with ten invitations issued to each member, things quickly got swamped. Like a hot restaurant in London, the fast crowd moved on. All that was left were heavily monitored threads about watches, parties and Ferraris posted by wannabes and City traders.
Pictured above: A Small World's new registration page
By 2006 it had lost its exclusivity, but the ASW brand was nevertheless strengthening and Wachtmeister sold it to Harvey Weinstein, who recently said that it was his worst investment ever: 'I managed to take a brilliant idea and turn it into a disaster. Boy did I screw that one up.' In 2011, he told The Daily Beast that 'I clearly was in way over my head' and 'the other social sites kicked my butt. I sold the company for a loss to a techie who immediately improved services and has turned the company around.'
That techie was Swiss entrepreneur Patrick Liotard-Vogt (a hirsute cross between Michael Bolton and Mick Hucknall), who had been chomping at the bit to gain control of ASW. The relaunch, with its new business model, has happened under his watch, and according to Steerpike in the Spectator, it is now combining philanthropy with its social hauteur: an event at the Gstaad Palace Hotel with Weinstein, Carey Mulligan and Otis Ferry raised nearly $100,000 for the Alzheimer's Society.
Fear and loathing
As the Facebook page became more popular and more outrageous, ASW's management became more forceful in their criticism and more enticing in their persuasion.
Serena Alvarado, ASW's events director, emailed Uri to complain: 'You started a hate group on the internet. As the founder of a hate group, you are responsible for the slander written of the members in this group, the sexist, disgusting comments people are posting. Hate groups are responsible for terrible crimes and tragedies in our culture. You should be ashamed of yourself. I am embarrassed for you and your wife and child. The world would be a better place without people like you spending your time and energy being nasty and hateful about other people.'
I find it surprising that ASW is quite as concerned as it is: while it's clear that they don't want their brand tarnished by association, ASW Nostalgia is only a chat forum with intermittent member meet-ups – the proper ASW offers global networking parties, large scale events, an online magazine and exclusive ties to luxury marketing, as well as the new benefits.
Pictured above: One of the images a Hippo posted on the Facebook group
Then, according to Uri Schneider, the new CEO of ASW, Sabine Heller, called him to complain and cajole. Heller, Schneider posted in the group, 'demanded that we change the [group's] name or shut it down – calling it trademark infringement etc'. She also conceded, he says, that an 'algorithmic mistake' could have led to blameless members being expelled and would accept people back 'based on our recommendations of who is worthy'. And most placatingly, 'She offered me an official ASW "events ambassador" title or something among these lines. 🙂 As if I'm not busy enough with this group already ;)'.
There followed over 1,100 responses to Schneider's post, a mixture of disbelief and annoyance at having been thrown out of ASW tout court, insults aimed at Heller and glee at the trouble caused by ASW Nostalgia. The hippos were enjoying muddying the water too much: the group continues in full spate.
More competition
Meanwhile, a new exclusive online community has been launched by Erik Wachtmeister, the founder of ASW. Best of All Worlds, whose homepage doesn't even hint at what it might be or how you can join, wants to 'empower global social discovery within an intimate and trusted community. Not endless online noise. Discover people, common passions, and compelling information for tomorrow, not yesterday, in worlds of shared interests and friends.' BOAW aims 'to return relevance, trust, and usefulness to the online world' and is free to join, upon invitation.
Sabine Heller is dismissive of BOAW, according to the New York Post: '"We're probably hitting the kids of the people [Wachtmeister] is hitting," said Heller, noting that the Count's "vibe" is minor royalty and vulgar displays of wealth. "Our sensibility is warmer. We're not interested in, like, cigars and yachts or whatever."'
Wachtmeister was correspondingly feisty: 'They're more nightclubs and offers and discounts from third parties. We're a little more mature.'
Pictured above: The landing page for Best of All Worlds
Wachtmeister, learning from ASW's mistakes, scored a minor coup sure to enrage his old site and delight the Hippos: he has offered them their own forum and membership of BOAW with no boundaries on expression. (He may come to regret this, given the muck chucked about in ASW Nostalgia.)
So what of the original exclusive social network? Well, with its new charge it's no longer really a social network at all: ASW has mutated into a global concierge service with social benefits which might give Quintessentially a run for its money. The field of concierge service: now that's a small world.