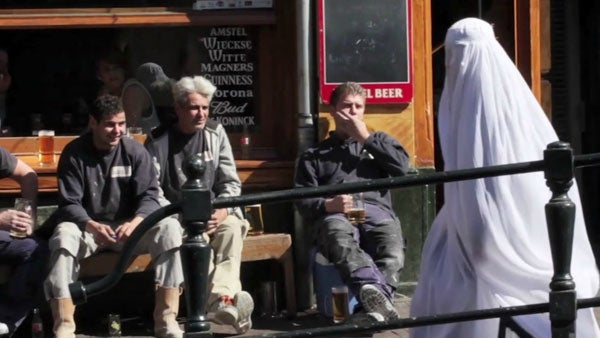 Above: 'Matisse's La Danse' (2013) by Tammam Azzam – Courtesy of Ayyam Gallery
'I cannot see the point of going onto the street with your image if you have nothing to say,' says Polish street artist Yola on whether she sees her work as political. She's speaking at #Art4Peace, a small exhibition of well-known street artists running in Shoreditch as part of International Alert's Talking Peace Festival.
Her 'Lovers' work, or rather a photo of her original London poster of a Mexican poet and an ex-nurse, sits alongside other street art images and physical representations commenting on conflict and peace around the world. Some are direct juxtapositions such as War Boutique's 'Peace Shield' (2011), featuring a NYPD riot shield stencilled with 'PEACE'; others are more poignantly abstract, such as Syria's Tammam Azzam's 'Matisse's La Danse' (2013), with Matisse's dancing figures imposed on the urban ruins of the Syrian conflict or his image of a bombed-out building suspended by balloons floating past a smoking World Trade Centre tower in 'New York' (2013). Both pieces grate with the artist's claim that he himself is not a 'political artist'.
Above: 'Lovers' (2012), by Yola
The exhibition is a broad approach to big themes often as difficult to comprehend as they are omnipresent. The use of street art is apt because it recognises how difficult it is to reconcile these arguments, with its artwork in dialogue rather than romanticised odes to peace.
In this sense perhaps the most compelling pieces are Malina Suliman's 'Untitled (Amsterdam)' and 'Untitled (Kabul)' (both 2015), two short films playing in parallel that document the response to three burqa-wearing women in Kabul and in Amsterdam. It's a telling transposition of the alien, and an astute unmasking of the Orientalism so often behind manufactured cultural conflicts. It's also a reminder of The Street as a warts and all social mirror.
As the canvases, installations and televisions inside the small gallery show, street art is perhaps now more defined by the accessing of a countering, rebellious thought space than by any physical street presence. Nevertheless, the heritage of message and immediacy is still there even if it's not political: 'Art doesn't need to say something. With public work especially I think colours alone can be valuable. Just something to break the monotony,' says Belgian-American street artist Nils Westergard.
Westergard, who exhibited political pieces this summer at London's Graffiti Street event, says he was looking to address 'the divide between figures of authority and those they have jurisdiction over. Which is really what got me into painting. Fortunately now it is something people are talking about.'
Street art's impact has always been good at getting people talking but can it really stop humans fighting each other? Phil Vernon, director of programmes for peace building charity International Alert, who run #Art4Peace, suggests art can build peace precisely because that dialogue can go sour: 'It's worth thinking about how art can undermine peace. Last time I was in Freetown in Sierra Leone there was some quite sinister graffiti – it was designed to explain who was in charge of that area, symbols and words being used, it was creating fear basically. So art can be bad.'
Vernon points to Picasso's Guernica as an example of when art can be good, an artist using their vision, voice and reach to critique events. He picks out Nepali artist Sadhu X's image of a young boy in 'Asaha/Hope' (2015), mentioning the nation's unresolved issues following a ten-year civil war and an earthquake: 'Artists can confront people with issues which are important for peace but in a way that allows a conversation to happen rather than in a confrontational way that puts people off who don't like what's being said – it could be two or more people who normally wouldn't talk about that because they're on opposite sides of a divide, it's a soft way in to a very, very difficult subject.'
Above: 'Aasha/Hope' (2015) by Sadhu X
None of the conflicts currently plaguing the world could be described as easy or simple, and implicitly they have many divides. On whether street art can change the world Westergard points at its political heritage: 'In theory a lot of propaganda has been 'street art' – think of those Bolshevik posters plastered everywhere in old Russia. More currently look at Shepard Fairey's image of Obama that played a huge role in his campaign. I think it will play an increasing role as things go on, for better or for worse.'
As Vernon found out in Sierra Leone, it's a medium which can certainly be used for worse, a vehicle for coercive one-way dialogues rather than a window on ideas. Another space where conflict dictates is Afghanistan. In 2009 photojournalist Travis Beard began working with local art students in Kabul eventually being sponsored by Oxfam to run a street art project with colleague David Gill.
'We did technically the first-ever stencil campaign in Afghanistan, that was an anti-war campaign, or "Cost of War" as it was called. That got quite a momentum and we were given more support to put on a second project which was the first-ever graffiti workshop [with UK artist Chu] in Afghanistan, called Wallords [sic].'
Beard says the medium was attractive because they were able to use symbols rather than language to communicate in a multilingual country with high illiteracy rates. The art also went into a responsive, rather than a suspicious space as in many Western cities: 'They didn't have that precursor so when you're on the street spraying, people are just more interested or intrigued or curious about what you were doing rather than were you breaking a law or not. We never really came across any hostility.'
Beyond the initial gestures of the project and the relatively cosmopolitan bubble of Kabul how tangible are its inroads into Afghani society? Beard mentions one of the more ballsy pupils who took their work outside of the 'Kabubble' to Kandahar, working with local schools and eventually founding the Kandahar Fine Arts Association. 'She took it to extremes regarding the environment around her and succeeded.'
That pupil was Malina Suliman, the artist behind the 'Untitled' burqa videos on display at Art4Peace and who recently graduated from university in Arnhem. 'If you look at Malina and another girl Shamsia [Hassani], they really addressed gender issues in their country – the symbolic images such as burqas, they really used it in a powerful and confronting way – for the local Afghan man and be confronted with these images, he'd didn't really have a choice, it wasn't like it was on the television and he could change channel,' says Beard.
Above: A still from the film 'Untitled (Amsterdam)' (2015) by Malina Suliman
That unavoidability is arguably the most important thing about the medium. In media-saturated environments, a message becomes diluted very quickly; this is especially true in areas of social conflict and violence where the appearance of street art can confront and question without provoking trigger-happy sensitivities.
And crucially, it's an outlet for those suffering: 'These youths, adolescents, young adults got to express their frustrations about their country, whether it be the foreign policy influence in their country or what their own government was doing, what the warlords were doing, the drug problems, the health, the educational problems; they could address that through the artwork – personally I hope that it did make a difference,' says Beard.
He highlights that Suliman was able to study abroad: 'It's proven fact there is progression, a girl from Kandahar with a family like hers wouldn't normally be allowed to leave the country, wouldn't normally be allowed to do a scholarship in a foreign country – yet she was allowed.'
Back in London, outside the exhibition where Suliman's work now plays, Phil Vernon wants to bring the power of art to bear on the more current phenomenon of disaffected youth turning to the existential ersatz of jihad and Islamic State. Vernon mentions the plight of young males in Tunisia (being documented in a photo exhibition outside the Old Vic) from where, it is estimated the largest number of Islamic State fighters come from.
'Where are the outlets for these people? Art can provide an outlet. I might be the artist, that's an outlet for me, I might be a member of the artists' group, that's an outlet for my group – it gives us a chance to express what we think. It's tremendously important as an opportunity for expression; it gives people a little bit of agency where they might have none. If it's art or ISIS we would want it to be art.'
Interestingly, Vernon mentions Aristotle's Polis and how he saw the city and its streets as a place of vice and of virtue: 'It allowed men to have a political life – in larger spaces economic development and education can take off. You have to organise when you're in a city, you have to find political mechanisms to resolve differences in ways which are not violent.'
Through a recognition of culture's many facets and their own disillusionment with steel-tipped diplomacy and policies stunted by ignorance and ideology, street artists can replace violence with dialogue in some of the world's most tender spaces. If they can turn such gestures into normality then the likes of Vernon, Yola, Beard and Suliman really can show that the pen, the paintbrush and the spray-can are mightier than the sword.
International Alert's #Art4Peace Exhibition runs 12-8pm daily until 20 September as part of the Talking Peace Festival at Shop 12, Dray Walk, The Old Truman Brewery, London E1 6QL
The art will then be auctioned off at the Ivy on 2 October at The Club at The Ivy, 9 West Street, London WC2H 9NE