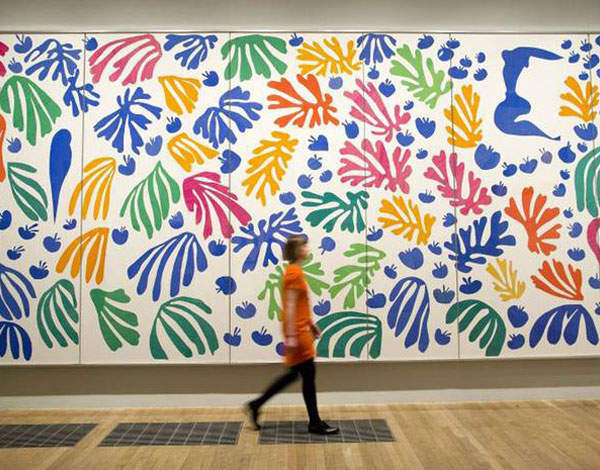 It's been a substantial year in art, not least in the continued growth of the market: sales from Christie's and Sotheby's alone in the first six months of this year were 88 per cent of the 2013 total, and that was before Christie's record-breaking $853 million sale in November. Deloitte and ArtTactic's Art & Finance Report 2014 predicted another record year, and they're surely right.
The auction houses are looking to tap new markets online with Sotheby's and eBay partnering, while the rise of online valuers, challenging the big firms, is also shaking up the establishment. As it branches into luxury goods, Christie's is no longer being described as a 'cross between a museum and a gentlemen's club'. And we heard from Melanie Gerlis about whether art can be considered an investment.
Sir Nicholas Serota topped the Art Review Power 100, marking a year of considerable success for Tate, who scored smash hits with Matisse's cut-outs and a recreation of Malevich's 1915 Petrograd show 0.10 within a timely exposure of the modernist master. Unsurprisingly, Tate are planning a big 2015 following the revamping of Tate Britain and the ongoing expansion of Tate Modern.Earlier in the year Spear's highlighted the importance of philanthropy and commercial partners for the art behemoth.
The role and passions of individual HNW patrons was also examined by Josh Spero in his article on Ziba Ardalan and ten years of the contemporary gallery she founded, Parasol Unit. Away from the contemporary scene Josh (a trained classicist) also looked at the antiquities market in an interview with Lorne Thyssen-Bornemisza.
Across the pond Spear's arts editor Anthony Haden-Guest asked if tech art's natural home is Silicon Valley and interviewed artist-cum-funambulist Philippe Petit: "'I can walk thousands of feet above concrete,' he said. 'It doesn't bother me. But water terrifies me. It is not my element.' Philippe Petit, it emerged, cannot swim." Anthony also looked into the world of fakes and the enviable if amoral ability of Salvador Dalí to make money from signing bits of paper (allegedly 350,000).
The art world is in rude health but not everyone is benefitting, with galleries and therefore artists being priced out of Mayfair. There are also challenges in the form of slowing Asian markets and a lack of regulation.
Thankfully, away from the profit and the loss we have been treated to a year of exciting and interesting exhibitions. There was also Turner at Tate Britain, the V&A's Russian avant-garde theatre show, John Smart at Philip Mould and plenty besides.
Turner, Malevich and Matisse all shone but perhaps the standout show was Tate Britain's humble, enchanting and utterly fascinating Folk Art exhibition.