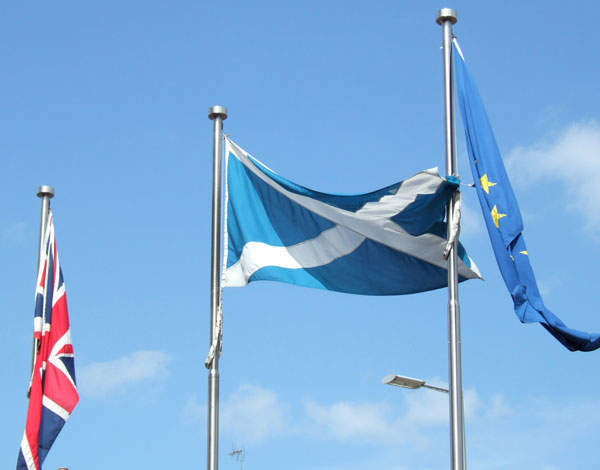 I'm not much of a fan of sociology as a discipline. Question: 'How many sociologists does it take to change a lightbulb?' Answer: 'Sociologists can take light bulbs out just fine, but can't screw light bulbs in. They only know how to spin things to the left.'
But there is at least one interesting sociologist out there who has added to the sum total of human knowledge. Benedict Anderson wrote Imagined Communities in 1983 (before adding to it in a 1991 edition). His argument is about nations: he says that they exist first of all in the minds of their citizens, that they are constructs of the imagination. The historian Linda Colley, in her book Britons, applied this argument to Britain, arguing that it was a deliberate construct dating from the 18th century.
These academics are interesting because, as the Scottish independence referendum looms, it's increasingly clear that politicians agree with them. Both Alex Salmond and David Cameron are busy trying to shore up the emotional foundations of their preferred 'community', wrapping themselves respectively in the Saltire and the Union Jack.
Salmond has successfully made the emotional case for Scottish independence. Although it looks likely that he will lose the battle in September because the economic case for independence doesn't currently stack up, he will eventually win the war of national identity, because Scots now perceive themselves as Scottish, not British.
Cameron, by contrast, will have won the argument but will lose the war. The hard economic case against separation has been successfully made, but the emotional argument has hardly been attempted, either north or south of the border. Cameron is investing heavily through the PR campaign 'Great Britain' in the emotional concept of the Union abroad, but he might do better to run the same campaign at home.
The national myths that bind a nation need constant maintenance, and today that is an increasingly professional business. Numerous countries employ reputation management firms that work on boosting what is fashionably known as their 'soft power', the image that the countries project abroad.The same myths are professionally projected at home, often through the medium of political campaigns. The most successful politicians all share one characteristic: they convey a clear image of their country as they see it. That image is arrived at not by accident, but by craft. Sometimes a single phrase is enough to convey this picture — Ronald Reagan's description of America as a 'shining city on a hill' concealed a complex mix of religious and patriotic myth-making.
This is nothing new. The Medici employed Rubens to mythologise their rule, Velázquez repainted his portraits of the Habsburg monarchs of Spain to shrink their chins, the ceiling of van Dyck's Banqueting House is a complex iconographical vision of Stuart rule, Elizabeth I was a born propagandist who remade her person to embody the state.
Sometimes this myth-making has been less healthy. I recently watched Leni Riefenstahl's extraordinary hymn to Nazism, Triumph of the Will, with one of my children as part of his history studies. It is a grim reminder of why Hitler came to power in the first place: he captivated Germany with his vision of an 'imagined community'.
So what lessons does this history have for us today? First, that we cannot take identity for granted — like all good relationships, it has to be constantly maintained or it starts to degrade. Scotland is holding a referendum on independence because England stopped showing that it cared. The English took the existence of Great Britain for granted, and to some extent are still doing so even now.
Second, that a country's national image matters both at home and abroad. Soft power — the perception of its sporting, cultural, social and economic capacity and talents — massively influences the way we see other countries.
Third, that when we look from the outside at our own country or others, we should start to evaluate whether we are being manipulated. Is the government pursuing a reputational management campaign, and if so what is it trying to achieve and why?
Finally, we should take this as a reminder of the power of PR, for good and bad. I loved the BBC series Twenty Twelve mocking a fictional Olympics, and particularly the absolutely fabulous publicity person.
But it's worth recalling that Vladimir Putin spent an estimated $51 billion on the Winter Olympics in Sochi, and he did so for a very good reason. Whether he'd have invested the money if he'd been able to predict events in Ukraine — and the effect they've had on his reputation — is another question.