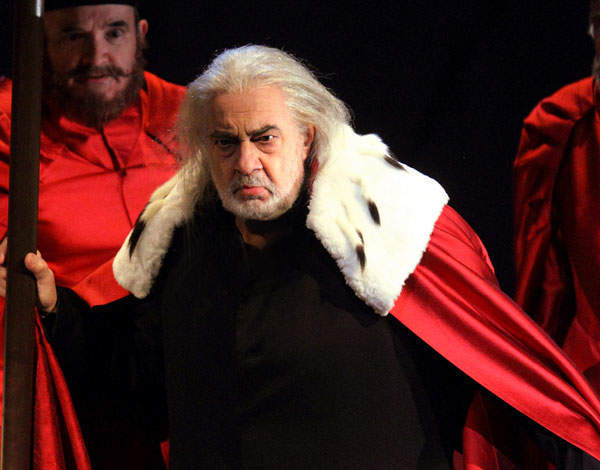 It is always a thrill to go to Covent Garden, more so last night to see one of the great stars of opera history grace the stage: Placido Domingo.
The French boyfriend, Monsieur Legris, and I trotted off to the first night of I Due Foscari. Monsieur Legris remains adamant that most opera libretti are quite ridiculous and badly written; this opera would only reinforce his opinion.
The story is adapted from Byron's play yet the libretto makes little sense; there is no explanation as to what Jacopo Foscari, the doge's son, has actually done and things are even more confusing when two of the main roles are both called Jacopo.
This production from Los Angeles Opera incorporates Domingo's latest career move, that of high baritone roles; the role of an ageing Venetian doge suits him rather well. His voice is still that of a healthy sounding tenor with plenty of bloom and focus yet he manages just enough darkness to portray a powerless ruler whose son has been banished from Venice.
The staging by Kevin Knight has plenty of atmosphere, and costumes by Mattie Ullrich have great impact paying homage to Renaissance Venice with a twist.
However the direction by Thaddeus Strassberger is frustratingly static; the underused chorus process in and out with no motivation to leave or execute their moves, which is a shame as the Opera House chorus is packed with hugely talented singers. There could have been no end of vignettes and crafted scenes to create a Venice of stifling intrigue and suspicion, yet all the chorus did was process on and off, then on and off, and on and off once more.
I thought all was lost until the tenor Francesco Meli started singing from within a cage suspended above the stage. What a stunning voice, possessing grace, finesse, a beautiful timbre with line and expression. He is well suited to the role, particularly as this early Verdi is closer in style to Donizetti than to his later works. Given that half the time he was singing either in a cage or trussed up, he did a superb job.
The voice of Maria Agresta as Lucrezia (Jacopo Foscari's aggrieved wife) was a little gripped in her opening aria but she really opened up in her duet with Domingo, presenting a rich and full sound. Her final cabaletta at the end was absolutely stunning.
Given that her husband is incarcerated with a death sentence hanging over him, she sure has a lot of costume changes. This, coupled with a rather bizarre mad scene where she kills her child, made this already very difficult role even more of a challenge.
There was another glimmer of beauty in Jette Parker Young Artist soprano Rachel Kelly, who has a lovely voice and a stunning stage presence. I predict a huge star in the making. I also loved Maurizio Muraro's evil bass as Jacopo Loredano.
With Pappano conducting, all that could be drawn out of Verdi's score was, a great hurdle to conquer as the music is dramatically tricky to reconcile with the stage action. He brought out a wonderful darkness and richness in the orchestra. Pappano, ever the genius, delivered where the direction fell short.