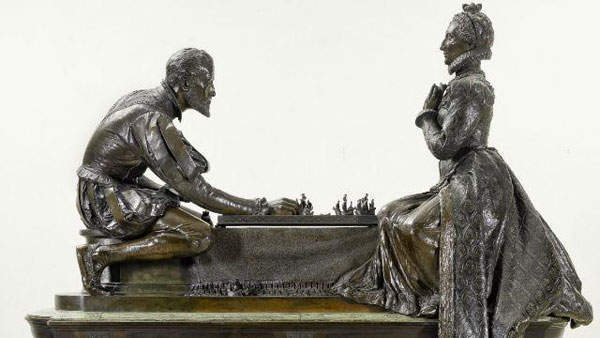 There's an elephant in the room at Tate Britain's latest show. It was made of lead and tin-glazed earthenware by Thomas Longmore and John Hénk (pictured top left) and although it's in a room themed on the Great Exhibition of 1851, it was actually made in 1889. Which would be fine, art doesn't have to be beholden to history in its presentation, except this is clearly an exhibition as much about history as it is about art.
Sculpture Victorious is a tour of the 'beauty and power of Victorian sculpture', and while it does provide an insight into a fecund period of British art production, it does little to place it in a useful context and at times is as confusing as it is inquisitive.
The collection does feature some beautiful works from a number of nineteenth-century British sculpture heavyweights that will enchant anyone regardless of their knowledge of the period or the artists. Notable are Thomas Wilkinson Wallis' 'Partridges and Ivy' (1871) (allegedly carved from one piece of wood), Hamo Thornycroft's 'Teucer' (1881) and Frederic Leighton's 'An Athlete Wrestling with a Python' (1877).
The dominant theme, though, is public sculpture. Throughout Victoria's reign political will combined with technological advancement to punctuate the empire with images of the Queen and then more subtly to compliment the message with images of neoclassical myths, St George and other English heroes of that great Victorian invention, the Middle Ages.
Such is the prevalence of these images in our cities and squares (Tate Britain has two lions and a Britannia on its roof) that one wonders why the public images here warrant a ticketed exhibition. As part of our national subconscious perhaps they have become too camouflaged, sliding back into the recess left between awkward jingoistic grandeur and valid historical narrative.
Tate Britain curator Penelope Curtis spoke enigmatically at the opening about 'a fast moving present but a slow past and how you document that past and preserve it'. If the aim is to give these objects a clear place in history, then it is sympathetic but sadly unachieved, although it comes close in the exhibition's largest biggest room, dedicated to the Great Exhibition. It's a suitable enough exposé on the tastes of empire but far too loose in its catchment or curation.
This space juxtaposes the American Hiram Powers' 'The Greek Slave' (1844), with John Bell's response 'The American Slave (A Daughter of Eve)'. Bell's piece appeared as a direct response to Powers in 1853, commenting on the validity of Americans depicting white slavery while they still enslaved their black population.
However, the exhibition loses its bearings by not retrospectively extending the question to the systematic exploitation inherent in Britain's imperial agenda. Indeed, it fails to recognise how crassly neutered much of the sculpture is by the political nature of its conception. The marble busts of Victoria might be wonderfully crafted examples of artistic ability but they are still works of propaganda. The squashed bodies on Armstead's 'Outram Shield' (1862), which was presented to the victor of the Siege of Lucknow, testify to a historical narrative of brutality that is largely ignored by the exhibition.
Outram Shield (replica), Henry Hugh Armstead 1862
The closing sculpture of Elizabeth I and Philip II playing nautical chess in Reynolds-Stephens' 'A Royal Game' (1906-11) adds to the sense of waywardness. It's a wonderfully crafted piece but entirely ridiculous. It might be a kind of po-faced satire or it might be a sincere depiction of nationalist narrative, the kind of thing Nigel Farage would have in his dining room. There's a half-baked guess at it being a comment on Britain's declining sea-power in 1911, which seems a little bit too woolly.
A Royal Game, William Reynolds-Stephens (1906-11)
That is something that could be extended to the exhibition as a whole, not because it is outrightly inaccurate but because it does not do enough to distinguish the history, leaving it too tangled with the art. It's messy and it's not fair on either.
A little further north, on Conduit Street, the Fine Art Society is also having a stab at presenting sculpture to the masses with Art Nouveau, Continental Design and Sculpture from the John Scott Collection (the seventh of eight instalments). Scott, having amassed perhaps the world's definitive Art Nouveau collection, is now selling it through FAS, from which he initially bought so much.
Chatting to curators Rowena Morgan-Cox and Willoughby Gerrish at the show's set up it's clear they believe now is the time for this type of art to shine following a glut of abstract Modernism: 'It's something more recognisable,' says Gerrish standing next to Albert Gilbert's 'St George and the Dragon, Victory Leading' (1904).
It's an intricate and beautiful piece that twenty years ago would probably have had a distinctly kitsch sheen in its moral homage to the British Empire. 'There's now an appreciation of the works as standalone art, rather than being built in with that kind of [imperial] feeling,' says Gerrish.
Intriguingly, and through nothing more than the serendipity of John Scott's chosen aesthetic, the FAS show could well be seen as a natural and more helpful appendix to the Tate's rather awkward narrative. That separation of art from history means you won't get as wide a window on British sculpture at the Fine Art Society as you will at Tate Britain, but you will see some wonderful pieces that compliment the Tate show well.
'Arguably I think this is the beginning of modern sculpture. The Victorian sculpture ground to a halt, going over classic motifs over and over again and actually these are more abstract,' says Gerrish. It certainly seems a suitable segue from the iconic forms of St George through to Bayes' 'The Underworld' (1913) to the Art Deco of Miklos' Tete de Femme (1929) and Guimard's flagship Paris Metro Art Nouveau pieces.
And they even have their own elephant in Harry E Stanton's 'Princess Badoura' (1924) (pictured top right) . With such kitsch pastel shades it's almost a reinterpretation of the Tate's Elephant from 35 years previously – except, unlike the Tate piece, Stanton's was actually made for a specific imperial exhibition: the Wembley Empire Exhibition of 1924.
Both these exhibitions deserve the attention of anyone with an interest in 19th and 20th century British sculpture, but if you want a historical sense of Victorian sculpture, wander through Trafalgar Square or any major public space in London, then visit the Fine Art Society for more artistic narratives. Avoid the elephant in the room at Sculpture Victorious.
Sculpture Victorious is on at Tate Britain until 25 May
Art Nouveau, Continental Design and Sculpture from the John Scott Collection is on at the Fine Art Society until 19 March