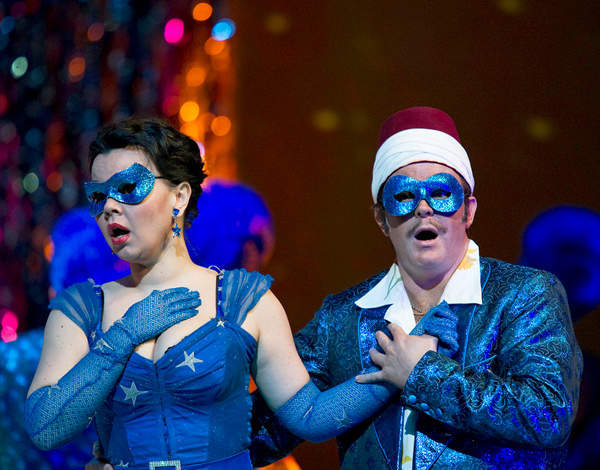 What a joyous romp Il Turco in Italia is. Rossini's opera is rather confusing in synopsis, but let me try. Set in Naples, flirty (married) Fiorilla fancies Selim, a rich Turk; meanwhile, the gypsy Zaida also pines for Selim, her former lover who was insanely jealous and ordered her to be killed, believing her to be unfaithful. She fled to Naples and now makes her living fortune telling. Everything comes to a head at a masked ball.
Rachel Kelly sparkled as Zaida and really owned the stage. I was enchanted by her performance, particularly as young artists sometimes aren't quite ready to take on main roles, but Kelly is an assured actress and possesses a rich mezzo tone with enough agility to feel right at home in the virtuoso singing Rossini demands.
Meanwhile, Ildebrando D'Arcangelo as Selim is a masterclass in brilliant Italian buffo singing.
The same can be said for tenor Louis Gomes, another young artist who I've been following for a couple of years now. This chap is going to be a star, mark my words. He has bags of charisma and is a fabulous singer.
Thomas Allen is rather swanky as Prosdocimo, the writer who is trying to find a plot for his new opera. He swans about in his Panama hat and sunbathes in deckchairs whilst trying to make sense of the complicated romantic entanglements happening around him. Life imitates art here and a sassy translation provides some real belly laughs.
The star of the show, however, was most definitely Aleksandra Kurzak, whose creamy soprano voice hit stratospheric heights with the greatest of ease. Her approach to singing is sheer artistry, never too heavy and paying great attention to dynamics and style.
Her voice is sublime and she's got plenty of cheek and sparkiness to pull off the role of the smouldering adulterous little minx Fiorilla who flirts with Selim while torturing her poor lover, Don Narciso. Narciso was played by the master of comic roles, Barry Banks, and hats of to him for singing his aria while lying on his belly.
This production is full of great moments, some hilarious spaghetti gags and a fabulous male chorus in full Sixties beehive drag, disco-dancing. The bright technicolour sets are by Christian Fenouillat and the hilarious costumes by Agostino Cavalca.
Evelino Pidò conducts with plenty of lightness and humour, also allowing the singers plenty of time. He really looked as though he was having fun.
Monsieur Legris and I got through two bottles of champagne we were having so much fun.
Il Turco in Italia runs at the Royal Opera House until 27 April