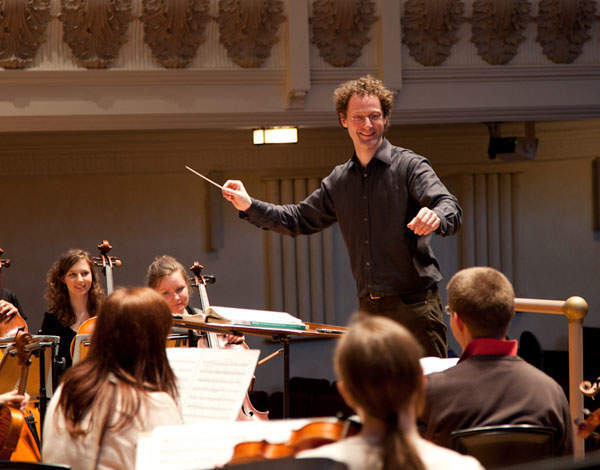 At the end of October I was invited to a concert given by the Orion Orchestra at the Cadogan Hall. I had heard great things about this dynamic orchestra, run by Toby Purser, who are now celebrating their tenth anniversary, having wowed audiences at the Royal Festival Hall with a spectacular 'Night under the Stars' conducted by Edward Gardner in October.
The repertoire was very British, contemporary and slightly madcap. I was introduced to two brilliantly comic pieces I had never heard before; I loved William Walton's Scapino and John Adams' Absolute Jest so much I downloaded them on iTunes when I got home. Adams' piece, set for string quartet and orchestra, is stunning. The Doric String Quartet guided us through his twisted neoclassical homage to Beethoven with the Orion Orchestra in furious pursuit. The piece was utterly addictive and fascinating, like Stravinsky on crack.
Aside from the inspired programming, the orchestra itself certainly made an impact, all of them embryonic prodigies – damn them! These passionate young things are all in their twenties and played with precision and immense concentration as one colorful unit. That's the wonderful thing about British players: the level of musicianship is so high in this country you would be hard-matched to find it anywhere else – and I can tell you why.
Whenever you see a British orchestra perform, be it at the Royal Festival Hall or the Barbican, that orchestra has had a maximum of three sessions to rehearse. Our German or French counterparts would have three times as much. In comparison with the leisure provided by generous state sponsorship abroad, British musicians have to be the best sight-readers in the world and the quickest learners.
After the interval were the Enigma Variations by Elgar; they are just a delight and the orchestra's pianissimo in Nimrod was so daringly quiet I almost sobbed. How Purser managed to bring this out of them is beyond me, particularly given their schedule. I know for a fact the Orion had been in the Cadogan Hall since 9am, played a children's concert at midday, rehearsed for the evening, then changed for a 7.30pm start and played like gods. You can only manage this when you're in your twenties.
Toby Purser's orchestra is the essential stepping-stone in a top musician's career. It's a win-win situation: students gain valuable experience and connections and the audience get to hear fantastic music.
Orion has the sound of one of the London five major orchestras; I could have easily been listening to the Philharmonia or the LSO. And like any orchestra, they have a friends and supporters scheme called Heavenly Bodies. With Lady Solti as their president, Sue Perkins as guest conductor and a future concert with Rick Wakeman, I'm definitely signing up. I don't want to miss out on the party!