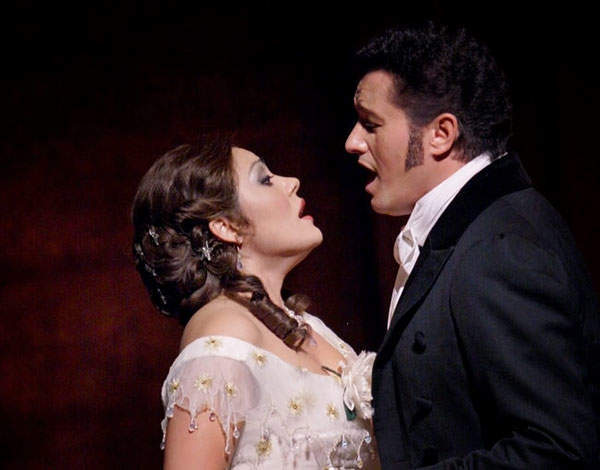 Richard Eyre's production of La Traviata for the Royal Opera House is twenty years old. I'm sure it has survived this long because of its traditional-with-a-twist sets and sumptuous costumes.
This production has seen many Violettas – Renee Fleming, Anna Netrebko and Angela Gheorghiu to name a few – and it is probably the most demanding role in the soprano repertoire, requiring effortless height and a flexible coloratura for the first act then great warmth and depth for act two.
Diana Damrau is superb enough to be counted among such sopranos: an intelligent singer with warmth and focus in her voice, as well as some fantastic top notes and spinning pianissimi. She has everything it takes but she wasn't my idea of a Violetta: she just wasn't graceful enough.
Violetta's allure in society was her exquisite taste and elegant demeanour. Damrau made a few too many grandiose gestures for my liking and at one point there was a very strange move in the act one party scene, which I can only refer to as a belly dance. (Well, she has just had a baby so I will cut her some slack.)
There were, however, some wonderful moments of intense and truthful acting from Damrau, who kept the affliction of TB ever present. It never magically disappeared (as it does with so many other sopranos) and she certainly passed the litmus test of making me cry with her 'Non sapete quale affetto' in act two. I was a wreck. Only a chilled glass of Ruinart Rosé could remedy me.
Francesco Demuro's Alfredo was a wonderful vocal match, possessing an all-Italian squillo (ringing) tenor sound that I love, but his acting came straight out of La Scala in 1952. Wooden doesn't even begin to describe this disservice to opera – there was far too much stand-facing-the-front singing during the love duets – but he was a strident and convincing Alfredo vocally.
There were some whopping highlights to this production. First was that of the most famous baritone in the world, Dmitri Hvorostovsky, whose entrance in act two came straight out of a cameo appearance in an American sitcom, complete with audience applause on entrance. 'How naff,' said Monsieur Legris, who is rapidly becoming a Statler to my Waldorf. Hvorostovsky is simply a wall of sound and resonance with a powerful stage presence.
Nadezhda Karyazina as Flora was also a hit. Not only did she have a lovely timbre but also possessed a solid command of the stage, unusual for a Jette Parker Young Artist, as they often stick out like a sore thumb.
Very special mentions must go to Sarah Pring, who sang the servant Annina with a devotion and gravitas that twisted my stomach in knots, and to Luis Gomes, whose Gastone was fiery, cheeky and superbly sung. This tenor, also a Jette Parker Young Artist, is really someone to look out for. He made a great impression on me and I can't wait to see him in more substantial roles. What a character he is – absolutely a star in the making.
Dan Ettinger conducted with a rather fresh interpretation – lots of accelerating tempi in ensemble numbers and the slowest 'Ah, fors'è lui' I have ever heard – but I rather liked his take on this masterpiece; it gave me food for thought and kept everyone on their toes.
This Traviata is failsafe with all the ingredients an opera should have.
La Traviata runs at the Royal Opera House with two casts until Tuesday 20 May.
@melhugsopera