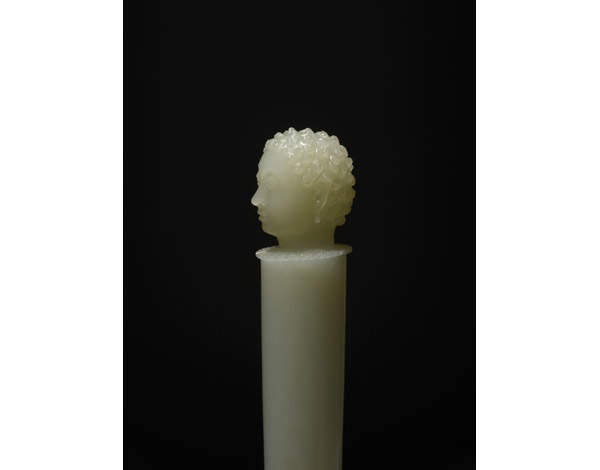 Beyond Extravagance is about right. The title of a lavish new book cataloguing and depicting the jewellery collection of a Qatari royal, it also served to describe the recent party launching the book at the Victoria & Albert Museum.
Guests were presented to His Highness Sheikh Hamad bin Abdullah Al-Thani, the collector and a part-time London resident, by a white-tie clad toastmaster, before processing into the sculpture court where waiters fetched about with magnums of Bollinger and guests cooed over copies of the outsize book.
Pictured above: The Patiala ruby and pearl necklace displayed on a Cartier mannequin, 1931
Dr Amin Jaffer, international director of Asian art at Christie's, edited the book and told Spear's how it came about:
'Sheikh Hamad is an old friend of mine and when I brought him to see the Maharajah show at the V&A he became interested in Indian art, and he started to collect. When it grew to a certain size, we thought it should be catalogued.
'Finally I managed to convince him. We got together a group of top scholars to contribute with the project, to look at the pieces, to analyse them and to write for us.
'It's a rather understudied, complicated field. Indian jewellery is rather hard to date and place, things aren't signed or assayed or marked. Any little helps.'
Pictured above: Raja Sahib Mansingh of Jaswant Garh, by Hamilton Studios, 1936
So is jewellery now coming to be thought of as a proper art form? Some in the art world can still be rather sniffy about it.
'People are recognising jewellery as a form of art. In the Renaissance there was no division between a painter and a designer or metalworker or jeweller.'
And what is his favourite piece in the collection?
'The Shah Jahan dagger (pictured above), because it belonged to Shah Jahan himself. It's an example of the Western influence in India, and the jade carving is of exceptional quality.' Shah Jahan was the Mughal emperor who built the Taj Mahal.
Unless you want to make Sheikh Hamad an offer on Shah Jahan's dagger, the best way to see it is to pick up a copy of Beyond Extravagance at Assouline boutiques worldwide at a more reasonable £165).
(Pictured top: Princess Durrushevar, daughter of Abdulmecid II, the last Ottoman emperor, by Vivienne)