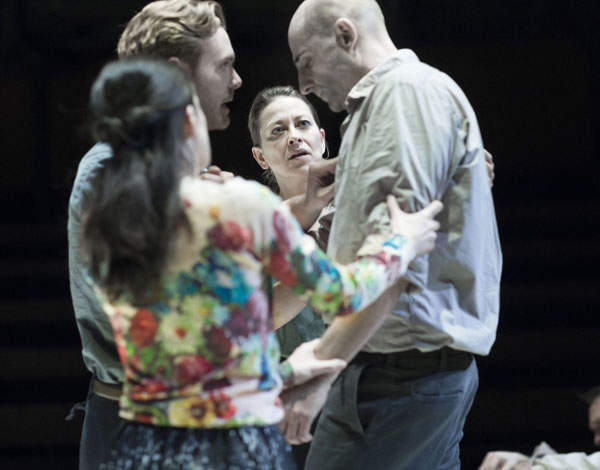 Rarely is the razor's edge sharper than in live theatre, but Ivo van Hove has created a production that is cuttingly raw and relevant,borne with tenacious and powerful acting.
There is danger in staging Arthur Miller retrospectively, placing the play solely in the distance of America's post war boom, but van Hove's minimalist approach, complemented by Jan Versweyveld's bold set design, manages to timelessly bring the Brooklyn Bridge of 1950s New York to the international flux of London 2014.
The trial of immigration, complete with its paper labels, steel walls and sharp tongues is rendered perfectly within the drama of the unorthodox but circumstantial family. It's a world supported by the Atlas of Mark Strong's Eddie, quaking beneath a burden placed upon him only by his good nature.
Miller's language triumphs in depicting the metaphorical ocean between Eddie and his guests, Italian immigrants Marco (Emun Elliott) and Rodolpho (Luke Norris). The three of them discuss the difference between an orange and a lemon, subconsciously unearthing a reversed old-new world dichotomy.
The tenderness presented in the opening scenes only deepens, and the love Eddie holds for his partner and metronome Beatrice (Nicola Walker) and ward Catherine (Phoebe Fox) stretches with his concern and inability to see beyond his fix as a docker asked to harbour a cargo he cannot comprehend, an oppression hinted at by the boxlike set.
Intolerance turns to paranoia, and the role of Michael Gould's narrating lawyer Alfieri provides the audience with a welcome degree of objectivity, allowing the play latitude to expose Eddie's real inner fears.
Nowhere is this better rendered than in his relationship with Catherine. Fox's portrayal of the girl becoming a woman, tumbling faultlessly into tragedy, is genuine and brilliant. She complements Strong's cumbersome love with an emotionally charged reckoning of loyalty that pivots the play sublimely; it is real drama and will rightly ensure this production is long remembered.
There are pitfalls, however. The minimalist approach highlights the acting but jars certain interactions. Norris' Rodolpho too often overreaches in his declarations, feeling the need to fill the space rather than use it.
Likewise, the big closing movement may border too close to gesture, seeking to pay off the absence of props. It's harsh to say such visual impacts are trite but they aren't without melodrama, despite the issues depicted and the production's homage to Greek tragedy.
But these criticisms are small caveats on what is a thought provoking production that provides Miller's script with a sleek vehicle to access a contemporary audience. The small cast is a tuned band that brings an undeniable warmth and flow to the jargon and jokes that thrive in a working community, while stretching a tension that only tightens with each conflict until the shattering conclusion.
The principles, emotions and aspirations brought out by these actors in such stark settings, credits the script and makes van Hove's work a resounding success. Miller's stories are for our time and any other – this production makes no doubt of that. It demands to be seen.
A View from the Bridge by Arthur Miller is on at the Young Vic in London until 7 June