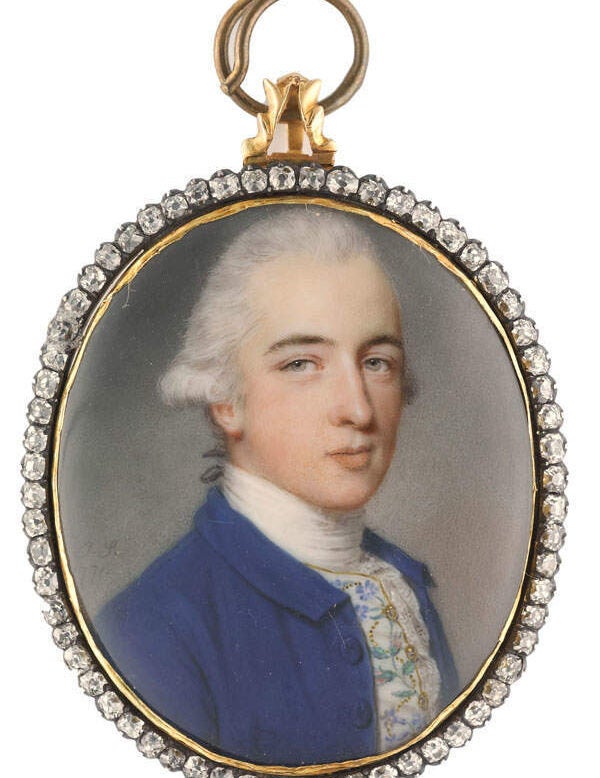 Emma Rutherford cradles an 18th century beauty in her hands: 'She's the most expensive in the exhibition, she's around £55,000,' she tells me. She explains that before selfies and paparazzi these portrait miniatures 'were the equivalent of whatever photo you have on your mobile phone. They're an image that you want to look at frequently, usually of someone that you love.'
Philip Mould, who is showing this private collection of 45 miniatures and sketches by John Smart (1741-1811), claims it is the most important to have ever come on the market. Available piecemeal or wholesale for around £1 million, it offers potential buyers the chance to own beautiful and intricate portraits of the bewigged and bejewelled London merchant classes, each one a unique window on Georgian life.
They are fascinating lives too – the unknown pink-haired lady staring back at us (pictured above left) has her mauve dress subtly pinned to her bodice above her nipple, a suggestive wink to the lover who presumably commissioned Smart to paint her.
Another face, less alluring but no less intriguing, is that of Sir Robert Wigram (pictured above right) – perhaps the subject who best epitomises the age. The self-made man started as a ship's surgeon before moving into ship ownership. 'He ploughs lots of money into the Navy and writes to William Pitt saying, "Give me a baronetage, I've given you loads of cash,"' says Rutherford.
Wigram was a considerable source of income for Smart, employing him to paint his wife and many of his 23 children, for whom 'he clearly runs out of names because he ends up calling one of them Money Wigram and the next son William Pitt Wigram.'
Other highlights include Richard Twining (pictured above), of the tea dynasty, and numerous merchants and civil professionals painted while Smart was in India between 1785-95, all looking slightly sun-worn, the brows seeming to glisten uncomfortably as they sit in their stifling English attire.
Smart's foray into India is indicative of his pursuit of business from the new men and women of society. His main adversary, Richard Cosway, had the aristocracy sown up and was repeatedly left out of pocket for it. Smart suffered from no such patronage problems and it is because of, rather than despite of, the honestly he portrays in the wrinkles, crow's feet and sunburn of his subjects that his reputation has survived so well.
'The market for Smart seems to ride every recession,' says Rutherford. 'In the last 30 years his prices, out of all the miniaturists, are the ones that have been sustained. I think it's partially because you can show a John Smart to somebody who's never seen a miniature in their life and they can marvel at the technical ability of this man.'
Looking at Smart's early miniatures compared to his later ones, it's clear how hard he worked to achieve that level of technical skill and how strong his reputation as an artist remains, even if his reputation as a gentleman suffered from his own rakish behaviour (the catalogue says he treated his wife with 'rude neglect'). But, like the stories behind his subjects, that only adds to the picture these astonishing miniatures paint of a social world not too distant from our own.
'John Smart – A Genius Magnified' is on at Philip Mould & Company, Dover Street, until 9 December