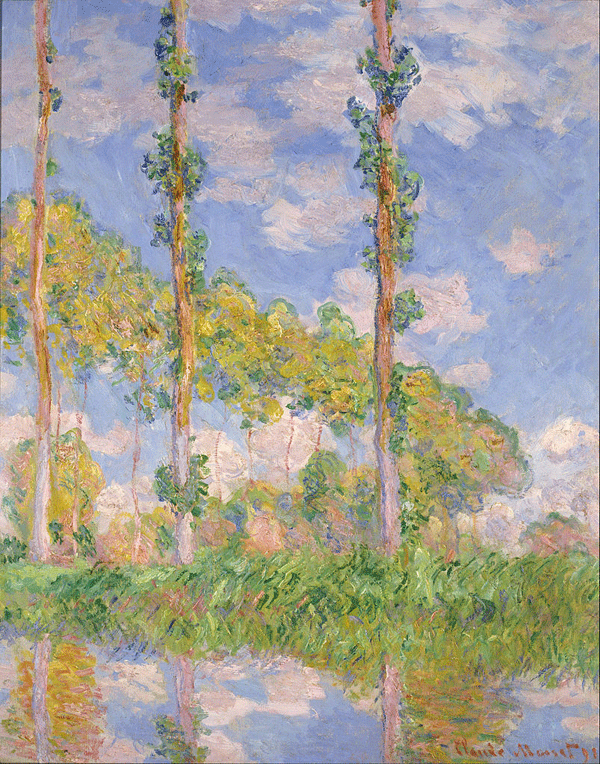 The last time Paul Durand-Ruel held court in London's art scene he hosted the biggest Impressionist exhibition in history. His 1905 Grafton Galleries show totalled 315 paintings, and while it attracted crowds and critical interest, it was an abject failure for the art dealer: he sold just thirteen pictures, all to foreign buyers.
A century of Impressionist-worshipping later and his triumph is assured, his sacred beasts firmly inside the temple. Such is the establishment of these artists that perhaps it seems unnecessary to tell the comparatively ordinary story of the man who bought and sold their work – but this exhibition proves just how important that story is.
There is one piece, more than the Renoirs, Monets and Degas's that is testament to this. It is a small, Boudin called 'Entrance to Trouville Harbour' (1888): it is banal, it is nice and, tellingly, it was the first 'Impressionist' painting the obtuse National Gallery elected to buy in 1905, allegedly because it had not been handled by Durand-Ruel.
Next to it sits the painting the UK-based French Impressionist Fund wanted to present to the National Gallery: Monet's blushing blue Impressionist 'Lavacourt Under Snow' (1878-81). It was not accepted but tragic fate eventually brought it into the gallery as it, and many other Impressionist works were bequeathed by Sir Hugh Lane who died aboard the Lusitania in 1915.
Lane, like the Americans ('They don't criticise, they buy,' said Durand-Ruel), the Germans and eventually the French, had fallen under the aggressively marketed spell of Durand-Ruel. And a heady spell it was, such was the Parisian dealer's conviction in the artists he championed that he bought entire stocks, drew up exclusivity deals and paid them salaries while bankrupting himself many times in the process. It's at once a labour of love and a psychotic obsession, one it is hard to look at without thinking of contemporary attempts to corner a largely arbitrary art market.
However, these exhibits ensure no jury would find him guilty of such malpractice. The first room is ablaze with the eternal blossom of Renoir's portraits, one of Durand-Ruel himself, three more of his children. They're conservative in style, probably suiting his Catholic Monarchist tastes, but no less fresh, enjoying a very assured sunlight. The room is set up to mimic Durand-Ruel's own apartment with the original doors as illustrated by Monet as well as Renoir's 'Dance in the City' and 'Dance in the Country' (both 1883).
The second room addresses 'the product' and Durand-Ruel's business acumen recounting his removal to London in 1870 ahead of the Prussian invasion of France, his meetings with Monet and Pissarro there and his purchase of Manet's entire studio. The departure he made by embracing Impressionism is marked by the picturesque Rousseaus and Delacroixs on the opposite wall, the taste and style monopolised by the institution of the Salon.
By rejecting the status quo it's harder to see Durand-Ruel's motives as financial; thankfully the considerable risks he undertook legitimately allow us to favour this romantic rebel in our imaginations, doing just enough to mask the fact he needed to sell these things for more than he bought them for.
Manet's 'Moonlight at the Port of Boulogne' (1868-pictured top) is that romantic torch: wielding the Impressionist flame through a shadowy subject matter and unidealised setting that does so much with few colours and forges a mesmerising night sky. Monet's light-washed London scenes further define Durand-Ruel's new world, building a recognisable style and underlining the mandate he sought to create by slipping Impressionist work into exhibitions of more established artists.
'Peasant Girls Bathing in the Sea at Dusk' (1869-75), Edgar Degas
That mandate builds through the rooms: Degas' entry broadens the horizon, his 'Peasant Girls Bathing in the Sea at Dusk' (1869-75), predicts Gauguin, with its raw colour, shape and expression, showing the seminal power Durand-Ruel saw in these artists. The ability to cast long shadows is further shown by Monet's Poplars (all 1891). These five canvases appear together, representing Durand-Ruel's preference for exhibiting his artists solo, as retrospectives, telling his patrons they might never see these pieces together again. Thankfully they are together, chiming through a spectrum of seasons in a silent breeze. They are incredible paintings that reveal the sighing heart of Impressionism, the intoxicating artistic hinterland Durand-Ruel had discovered, gazed upon and thrown open.
'Poplars in the Sun' (1891), Claude Monet
And although his pined for pioneers did not initially rush in, when they did they were fittingly New Worlders. In 1886 Durand-Ruel was invited to exhibit in America, establishing the Impressionist name internationally as well as finally securing a pool of buyers recognisable as a market.
The final room commemorates the 1905 Grafton Galleries exhibition he presented in London. Here the landscape so recognisable today is now fully laid out, from the bustling pixilation's of Pissarro's 'Pont Boieldieu, Rouen, Rainy Weather' (1896), to the warm, indulgent sepia tones of Degas' 'Miss La La at the Cirque Fernando (1879), while Manet's 'Music in the Tuileries Gardens', (1862) is a reminder of the Parisian matrix that started it all.
In one sense this last room seems an apology, a late admission of being on the wrong side of history, and yes, with or without hindsight, the British art scene should be sorry – the National Gallery should have bought the Monet all along.
These pictures are some of the most beautiful in any artistic canon; they have been well chosen to show the range and development of the painters. With the retrospective of a century of almost nonstop celebration of these artists it's easy to think Durand-Ruel was unchallenged, that this was a clean birth at which he was fortunate enough to be at the bedside of. However the unromantic fiscal struggles as well as the suffering and ridicule demanded as prior payment to change any consensus prove this was not so. 'Without him, we wouldn't have survived,' said Monet.
Put up any half-decent Impressionists and you'll get a crowd but this comprehension of the movement through the life of its most devoted midwife shows the dedication and love necessary in any art. For good reason art exhibitions do not usually use the people who bought and sold the paintings as themes in themselves but here they have found the exception that proves the rule.
Durand-Ruel didn't invent Impressionism but he perhaps did more that anyone to give it to the world, not only through commercial promotion but by letting the artists do what they did best.
Inventing Impressionism runs at the National Gallery until 31 May