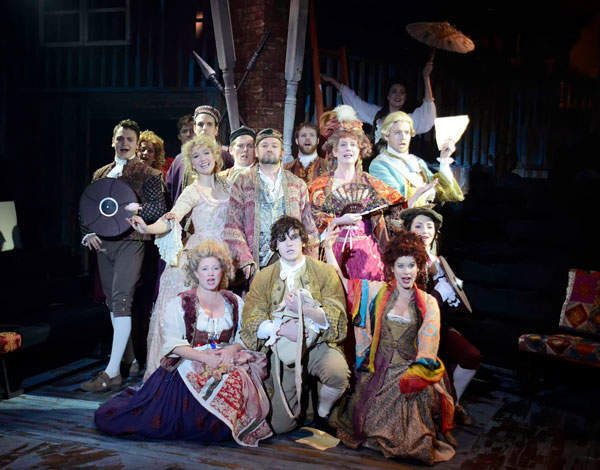 The recent tube strike, combined with torrential rain and the temptation to chase guerrilla-style Prince concerts around London, made my journey to see Candide at the Menier Chocolate Factory a tough one but my, it was worth it. If you are lucky enough to get a ticket, try and see this brilliant show before it closes before the end of its extended run on 4 March.
For those of you who don't know the Menier Chocolate Factory, this hidden gem of a venue near London Bridge has an interesting history and since 2007 has produced award-winning plays, musicals and operas, many of which have transferred to the West End and Broadway.
Candide, sensitively played by Fra Fee, searches the world for fortune as well as his love, Cunegonde, in a plethora of surreal encounters, framed as a satirical commentary on our basic striving for power, riches and happiness.
Read more theatre reviews from Spear's
Director Matthew White certainly utilises the space of this charming theatre by encompassing its audience with impressively energetic singing from the fifteen-fold cast, who are placed in the surrounding galleries. They surprise unsuspecting audience members with gifts of food, serenades and silly hats.
Candide is not an easy production to mount; Leonard Bernstein's music is wonderfully vibrant and melodic but it has many twists and turns. It is mostly performed by opera singers but it has one leg firmly planted in musical theatre, so I marveled at how White's cast handled it.
James Dreyfus gave a stunning performance as the philosopher Pangloss, wonderfully camp, philosophical and loveable, while Scarlett Strallen shone as Cunegonde, singing the notoriously difficult aria 'Glitter and be gay' with shimmering top notes and a hilarious interpretation of the coloratura involving a chest of diamonds and a huge chandelier.
I was worried about how a musical theatre singer could tackle such a difficult piece but she was totally in control, giving a lovely rounded growth from the naïve country girl to a Parisian courtesan working the system.
Jackie Clune gave us a fabulous rendition of 'I am easily assimilated' while pulling off the one buttock gag with aplomb.
What a cast, what a show, what a fantastic evening. Catch it before it closes and if there isn't room in the theatre restaurant may I recommend The Boot and Flogger, a gastro-pub round the corner. That was a find too.
Follow Melinda on Twitter @melhugsopera