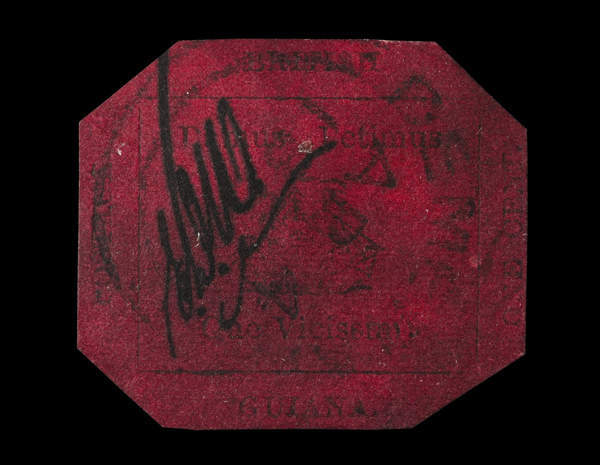 Author: Aoife Moriarty


It's every collector's dream: owning a stamp so unique that it is the only one of its kind.
That's why the world famous British Guiana One-Cent Magenta is expected to smash records when it goes to auction at Sotheby's New York this month.
Measuring less than half a centimetre each side, it was first discovered by a 12 year old Scottish boy in South America in 1873, who sold it for just a few shillings to a fellow collector.
Since then, it has broken records three times as the most expensive stamp ever sold at auction. The pricey ex-postage expected to fetch between $10 million and $20 million next month, which would mark a new world record for a single stamp.
David Redden, Sotheby's Director of Special Projects, said: "I have been with Sotheby's all my working life, but before I knew about the world's greatest works of art, before I knew about the Mona Lisa or Chartres Cathedral I knew about the British Guiana.
"For me, as a schoolboy stamp collector, it was a magical object, the very definition of rarity and value – unobtainable rarity and extraordinary value."
Previously, the highest price paid for a single stamp at auction was approximately US$2.2 million, set by the Treskilling Yellow in 1996.
History of the Rare British Guiana One-Cent Magenta:
The rare stamp was issued in small numbers in 1856 in British Guiana. After a shipment of stamps to the colony from England failed to turn up, the postmaster asked the printers of the local Royal Gazette newspaper to produce a contingency supply of postage stamps: the one-cent magenta, a four-cent magenta and a four-cent blue.
Dissatisfied with their efforts, and to prevent forgery, he ordered that all correspondence bearing the stamps be signed by a post office clerk.
The tiny postage stamp has since passed through some of the most important collections in history, including that of Count Philippe la Renotière von Ferrary – possibly the greatest stamp collector in the world. It was later seized from the Postmuseum in Berlin by the French as part of reparations for the first World War.
The British Guiana Sale takes place at Sotheby's New York on June 16.