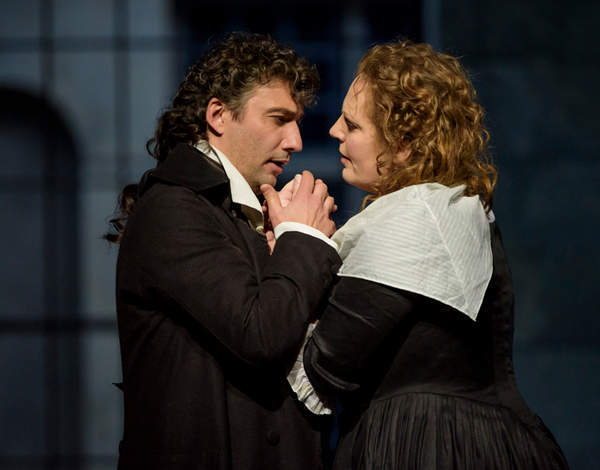 I am overwhelmed and overjoyed with the Royal Opera House's latest offering: Umberto Giordano's Andrea Chénier directed by David McVicar. It is everything an opera should be: chandeliers, fountains, sumptuous costumes and plenty of gilt Rococo furniture. This sweeping melodious opera pulls you into a world of heady romance and frivolous aristocracy plunging towards their dramatic demise in 18th century France.
The word in the opera world was that this was a pull-out-all-the-stops production and I was lucky enough to get a sneak preview of the set one evening. I even managed to chat to the princely Jonas Kaufmann who plays the role of a French poet caught up in the revolution, only to become a victim of Robespierre and the Terror.
Given recent incidents in Paris, this opera has taken on another dimension: the power of the pen in the face of mob mentality, anarchy and ultimately martyrdom.
Kaufmann sings the role of Chénier with passion and a sure, lovely, dark tenor timbre. He is certainly easy on the eye and the ear. He textures and colours his words beautifully and his phrases with care and musicality. He is the ultimate hero and is well-matched by the glorious sounding Eva-Maria Westbroek.
Kaufmann is the star but Westbroek's Italian was impressive, her vocal approach whole, rounded, healthy and full-bodied, and she is a convincing actress. They also made a passionate couple.
As director, McVicar plays it fairly safe (he can be known to stage things quite controversially). Even in situations ripe for debauchery such as a madam showing off her gaggle of courtesans, he chose 'not to go there'. His courtroom scene and the judgment of Chénier are chillingly real.
The music is Puccini's verismo heading towards Wagner; it delightfully embraces you in its melodious twists and turns. Everything about this opera is a winner, particularly the supporting roles.
Rosalind Plowright as the Contessa Di Coigny is a star turn with her 'let them eat cake' neurosis over her new gown while starving peasants are beating the palace doors in. Equally impressive is Denyce Graves as Bersi; she has an incredible metallic voice and huge stage presence.
But it was Zeljko Lucic with his powerful portrayal of the disgruntled servant who delivers a real star turn and won the audience's adulation. He possesses a strong and rich baritone voice and conveys plenty of inner turmoil, guilt and passion.
Pappano conducted this rich score with energy and commitment, and compared to existing recordings I had heard he managed to bring out wonderful themes and undertones I had not noticed before.
This is, in short, one of the best productions I have seen at the Opera House in many years and I urge you to indulge in this feast for the eyes and ears.