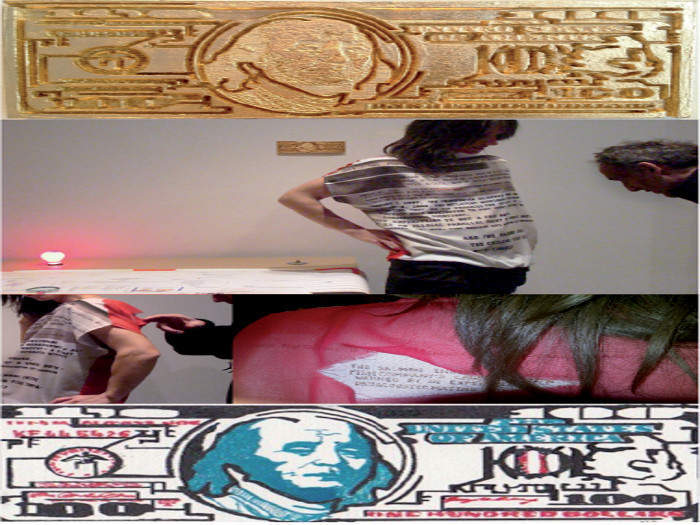 IT'S STORY TIME again in the art world. Modern Art ditched story. It was goodbye, gods, heroes, nymphs! Farewell saints. No history, no romance, no more war. Hello, apples on a plate, the corner café, naked women, circles, squares, splashes, spots.
Story muscled itself back some of the way in — Guernica, Magritte's enigmas — but as an element. Narrative was clunky, like illustration. But in our data-loaded times, the stories have become too in-our-faces to ignore. And looking for the story can be just how an artist makes his or her art. Nin Brudermann calls herself an investigative artist. I call her Nin, the Spy.
Brudermann arrived in New York from Vienna in 1996 with a student residency at New York's PS1 — then, as now, a piping-hot art space. But it didn't turn her on. 'I was bored with the art world and most of the art,' she says. These blues were not new. Brudermann had been to the Academy in Vienna, where she busied herself devising projects but was not attracted to the art scene. 'I always enjoyed more being out there. I was always interested in events, or happenings that don't fit anywhere else,' she says.
She wanted to stay in New York after PS1, so she took a job editing video. She was promptly sent to Berlin. 'Which was a very typical American thing — it would never happen in Europe,' she says. 'Here I was, an intern almost, a nobody, but they didn't have anybody German-speaking so they sent me as project manager.'
There she walked into a newsroom for the first time. 'I learnt it by being dumped into it,' she says. That was 1998. In due course her eye was caught by footage of the bombardment of Baghdad. 'I thought, "This is not right because we have seen the same cloud yesterday." It was shot on the roof of the Ministry of Information. The bombardment continued for three days, but they just showed the same thing over and over and over again. The cloud formations were always exactly the same.' Brudermann had never left the art world in her mind. An art project was born.
A Day of Reckoning
Her media career was blooming. 'I was always on an airplane,' she says. 'I made a lot of money. But it had been three years. I realised it was going nowhere. On September 11 I went to the company headquarters and quit my job.' That was New York. It was 2001. 'I quit at 9am. Between the towers coming down.'
Brudermann had already been re-editing the Baghdad tapes. 'It shows those three days as they actually were. It was mostly just waiting. You see these cameras panning across, panning across, waiting and waiting. And the journalists are off-mike, so you hear them talk, just chatting and intrigues. And there are just three impacts. Very noisy, they are very excited.'
She turned the footage into Waiting for War, a video installation on four channels. Images from it promoted Attack!, a group exhibition of art generated by armed conflict, at the Vienna Kunsthalle in the summer of 2003.
Soon she was working on two other projects, one generated by the first of the found boxes which have tended to crop up in her work. It was a metal cabinet she found in an abandoned apartment in her Brooklyn building; documents within it fleshed out the story of the man shown in a 1961 newspaper clipping, 'Luftwaffe Medic and Child Molester Paul Schafer Flees Germany'. She traced him to a colony, home to a handful of Nazis who had reached Chile from an Antarctic base by submarine.
Also included were a sealed letter to the US Secret Service and documents referencing 'Superdollars,' forged $100 bills probably made in North Vietnam. In 2008 this became Aurelio Z, a board game. Brudermann can stick with stories like a terrier shaking a rat, and this spring she exhibited a gold facsimile of a superdollar at a gallery in Chelsea, New York.
Plum Job
So, the bats. This project was triggered by Brudermann's interest in Plum Island, a quaintly named islet off Long Island, home to such a cluster of labs and disease research centres that it pullulates like a Petri dish. This interest took her to Vieques, a Caribbean islet which had been used as a bombing range by the US Navy for 60 years.
The disused munitions bunkers were now home to giant colonies of bats. Assigned to a scientific expedition that was studying the phenomenon, she videotaped as they applied sticky tape to the backs of trapped bats to check for toxins. This became an art installation, too.
Also on Vieques, she saw something she didn't understand. A balloon. 'Why was there a balloon where there are only bats?' she wondered.
It was a weather balloon. Brudermann soon learned that all nations put up weather balloons at the same time twice a day, namely 12 o'clock GMT. This wasn't a bad-vibes story, like Baghdad, Superdollars or Vieques. 'It was a unique moment of all nations uniting in such harmless fashion as launching balloons,' she says. 'I knew something had to happen with that.'
What happened was a lot of travel. 'I knew I had to go to these places,' she says. 'My first travels were to these so-called "hot spots", remote weather stations. The first trip was to the Antarctic; I went with the Norwegian Royal Air Force. And to the Indian Ocean I went with the French Foreign Legion.' Both went well. But there were incidents which bring it home that story artists — like, say, war correspondents — can become too much a part of the story.
In the Antarctic, Brudermann was at an ice station. One day it was windy and cold — 'minus 16°C, I guess' — but vividly dressed people were busy in the snow so she decided to go out and take some pictures. 'I went very far and I turned around. The wind was in my face. I was already frozen but suddenly I felt very hot. So I felt I needed to take off my clothes.
'You undergo training when you are going on an expedition to the Antarctic. You learn that when you have hypothermia you don't feel the cold any more. I knew that I couldn't do what my brain was telling me. The people weren't far away, they were very close, they could see me. But nobody was really watching me because everybody out there is doing something. And if you just lay there they wouldn't notice because some of them are laying down anyway.'
Floating Ideas
Brudermann knew what she was doing with this stuff. To start with, she interpolated herself. Nin, the Spy. 'I launched my own balloons,' she says. 'These infiltrative balloon launches happened at all places I travelled to and included an event at the Venice Biennale in 2003, where the Italian military closed the Venice airspace for my extra balloon.'
It was a ten-year project. Brudermann always knew where it was going. 'I knew it would turn into a video installation,' she says. Her model was the Eurovision Song Contest. 'Everything is announced in English and French. I would have a competition with all the nations. Who makes the best weather balloon launch?'
She called the project Twelve o'Clock in London: Austria/Autriche and decided it would only make sense if all nations participated. 'And that's when I started working with the United Nations directly,' she says. She had a moment with secretary-general Ban Ki-moon at a reception in Geneva.
'I sold this to security as a photo op, but my intention was to get to ask him a question unannounced and not vetted. I asked him if he knew how the nations indeed do unite twice a day.' Ban Ki-moon was nonplussed. She told him and gave him a balloon. 'He got me to sign the balloon.'
Twelve o'Clock in London: Austria/Autriche was shown at TKM. There's a book, its collaged pages striking art in themselves, and the show goes on. 'Every time I show it, there's a new contest so it's not a dead piece. It keeps evolving as it travels. Next I will bring the piece to New York, as Twelve o'Clock in London: United States/Etats Unis.'
As if her life were short of bizarre events, Brudermann was presented with another box. This was a fireproof chest she was given by a young woman who had admired Aurelio Z. It turned out she had been stalking a man for six years and the contents were a history of this adventure. Material she had taken from his rubbish bin included wads of chewing gum which she had compared with his dental records and apple cores, ear-plugs, lint from his vacuum cleaner, champagne bottles, ravioli and Ritalin boxes and housewares pieced together from broken glass. Also notes, including one reading 'I AM A TALKING THING'.
'For her it was a mission. She wanted to do a screenplay,' Brudermann says. 'She had boyfriends and they would have to come with her and watch while the guy paced back and forth. She told me, "This is not a love story. This is a story about decay." And there is brilliance in that story.'
Brudermann turned some of these relicts into individual artworks. I AM A TALKING THING became a sculpture.
Games, mazes, performance are central to her work, and she turned the whole event into a live performance with a well-known Danish TV host. Late Night Show was performed in 2010 at ME Contemporary, a gallery in Copenhagen, and it exists as a series of collages, each including a playable vinyl record performed by a group with the very Nin-the-Spy name, My Former Passport.
A Great War Game
A forthcoming project is making a piece of art from her family history. Her great-great-uncle, Rudolf von Brudermann, was an Austrian general, widely blamed for the Battle of Galicia, in which the Austro-Hungarian armies took on the Russians in 1914 and which cost half a million lives. Clash of Giants refights the battle. As a board game.
'It's not to rehabilitate my ancestor's honour,' Brudermann says. 'But I have access to unpublished and highly controversial background information, so it continues my interest in political decision-making. And this was political decision-making that changed the course of mankind. It will be played on a film set. It will be a round table, very similar to the Security Council table. It will be a mixture between the security council, a gentlemen's club and an illegal gaming situation.'
What will the pieces be? 'I'm not sure yet. I am going to shoot it as a movie, so it is going be different from anything I did before. It will be based in one room on one day. And the events will be told through the game, as if they will be happening right now. So at some points it will be unclear if it's a game or if some decisions are being really made at that moment. It will be a strange mix, between game and reality.
'The Austrian State Archive is very interested. They read all these letters in my family's attic. I have a contract that any historical revelation will be published with my piece and not before.'
Historical revelation? 'Historical revelation on why and how the First World War started the way it did. And ultimately ended the way it did. And ultimately triggered the Second the way it did.'
Read more from Anthony Haden Guest
>