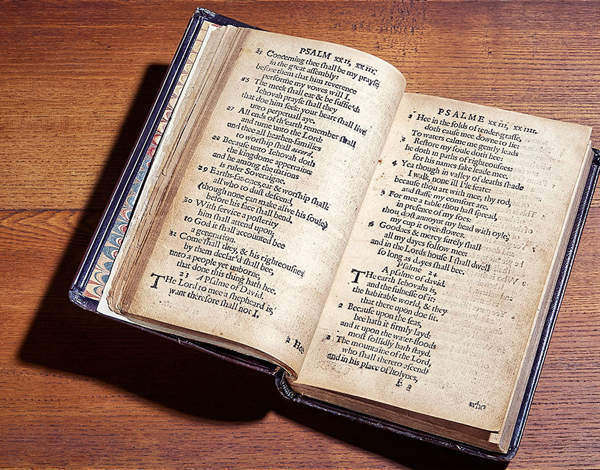 NEW YORK, 26 November 2013 – Tonight at Sotheby's New York, one of only eleven surviving copies of the Bay Psalm Book – the first book printed in what is now the United States of America – set a new world auction record for any printed book when it sold for $14,165,000. The book was purchased by American businessman and philanthropist David Rubenstein, who plans to share it with the American public by loaning it to libraries across the country, before putting it on long-term loan at one of them.
The Bay Psalm Book's selling price of $14.2 million is well in excess of the previous auction record for a printed book, established in December 2010 at Sotheby's London when a copy of John James Audubon's Birds of America sold for $11.5 million.
No example of the Bay Psalm Book has appeared at auction since January 1947, when another copy was sold at Sotheby's for $151,000 – at the time, this price marked a world auction record for any printed book, and many multiples of what other icons of printing achieved in that period, including the Gutenberg Bible, Shakespeare's First Folio and Audubon's Birds of America.
The auction was the culmination of a six month tour in which the present example of the Bay Psalm Book was exhibited at institutions across the country, from Philadelphia to Chicago, Houston, Los Angeles and more, before returning to New York for viewing prior to tonight's auction.
David Redden, director of special projects and worldwide chairman of Sotheby's Books Department, commented: 'We are thrilled that this book, which is so important to our history and culture, is destined to be widely seen by Americans who can appreciate its singular significance. We are of course also thrilled to have achieved a new world auction record price for any printed book, which affirms that books remain a vital part of our culture.'
Nancy S Taylor, senior minister and CEO of Old South Church, said: 'Old South Church has millions of reasons to be thankful this Thanksgiving. We have re-acquainted America with this amazing book and its extraordinary story. And, we have turned it into fuel for our ministries – from homelessness to housing, from youth violence prevention to elder care, from food insecurity to public education. We are delighted.'
The Congregationalist Puritans who emigrated to Massachusetts Bay in search of religious freedom quickly set about translating and producing a version of the Book of Psalms that was a closer paraphrase of the Hebrew original than the one they had carried from England.
The first edition of the resulting Bay Psalm Book was printed in Cambridge, Massachusetts in 1640, in a quantity of 1,700. Only eleven copies are known to survive today, in collections including The Library of Congress, The New York Public Library, Yale University Library and Harvard College Library.