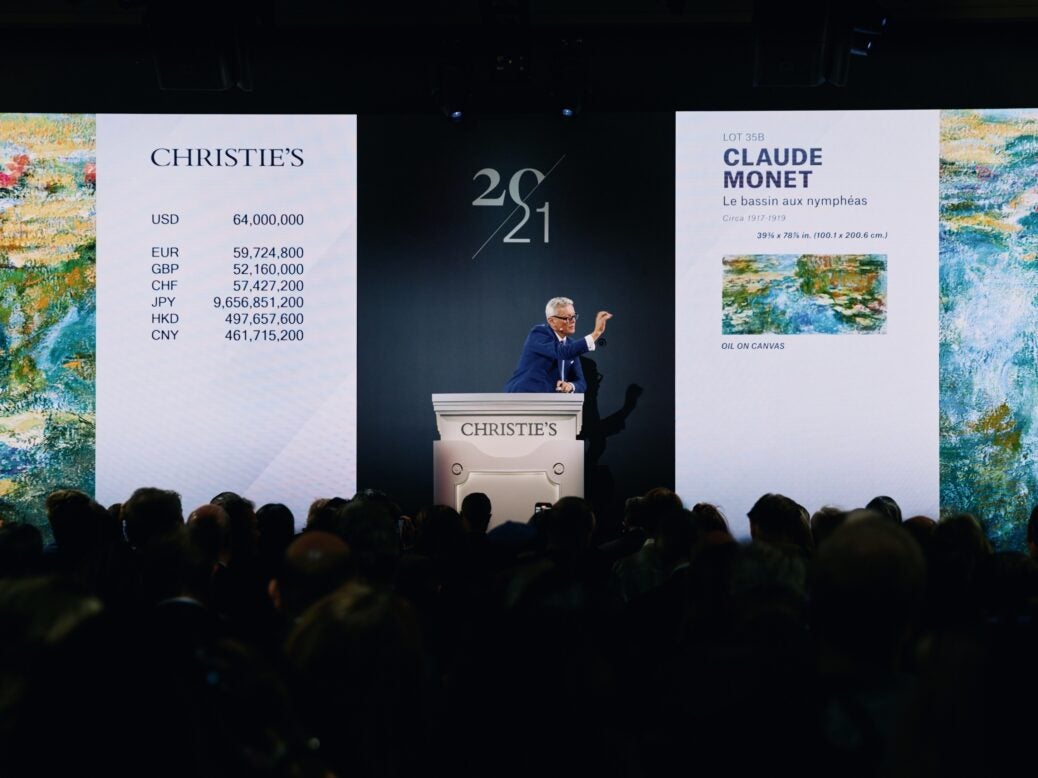 A Monet masterpiece never previously sold at auction led the sales at Christie's New York Fall Marquee Week, defying a patchy art market.
Le basin aux nymphéas (1917-19) sold for $74 million, making it one of the highlights of the auctions, which attracted international bidding and brought in a combined 2.5 million live-stream views. The sales were a celebration of works from the 20th and 21st century, anchored by the collections of filmmaker Ivan Reitman and music industry veteran Jerry Moss.
[See also: Audemars Piguet takes home coveted top prize at 'Oscars of watchmaking' in Geneva]
There were also new auction records set for artists including Fernando Botero, Richard Diebenkorn, Arshile Gorky, Barbara Hepworth, Joan Mitchell, and Joan Snyder.
It signalled an appetite for 20th and 21st century artworks, despite a sluggishness in the art market overall.
'The strong market response to Christie's sales was evidenced in the phenomenal results on Thursday evening – the highest auction total since 2017 for a various-owner sale,' noted Bonnie Brennan, President of Christie's Americas, of the 21st-century evening sale at which the Monet was sold. 'We were also thrilled to have the privilege of presenting the personal collections of filmmaker Ivan Reitman and music industry giant Jerry Moss, each a legendary figure in his own creative realm.'
Alex Rotter, Christie's Chairman of 20th and 21st Century Art, added: 'The 20/21 sale format is an ever-evolving platform that brings new challenges and surprises each season. This season continued to demonstrate the strength of the format, far surpassing existing auction records for a number of leading artists  across genres—ranging from icons such as Richard Diebenkorn, Joan Mitchell, and the late Fernando Botero to emerging talents like Jadé Fadojutimi and Jenna Gribbon. We look forward to building upon the success with our upcoming sales in Hong Kong.'
Last week Picasso's Femme à la montre (1932) sold at Sotheby's New York. The painting of the artist's young, lover Marie-Thérèse Walter, fetched $139 million, becoming the second most expensive Picasso ever sold at auction.
Below, Spear's shares highlights from the autumn auction season…
Untitled (Yellow, Orange, Yellow, Light Orange), 1955, Mark Rothko
Estimate: $45 million / Hammer price: $40 million ($46.4 million with fees)
Sale: Rockefeller Center, New York, 9 November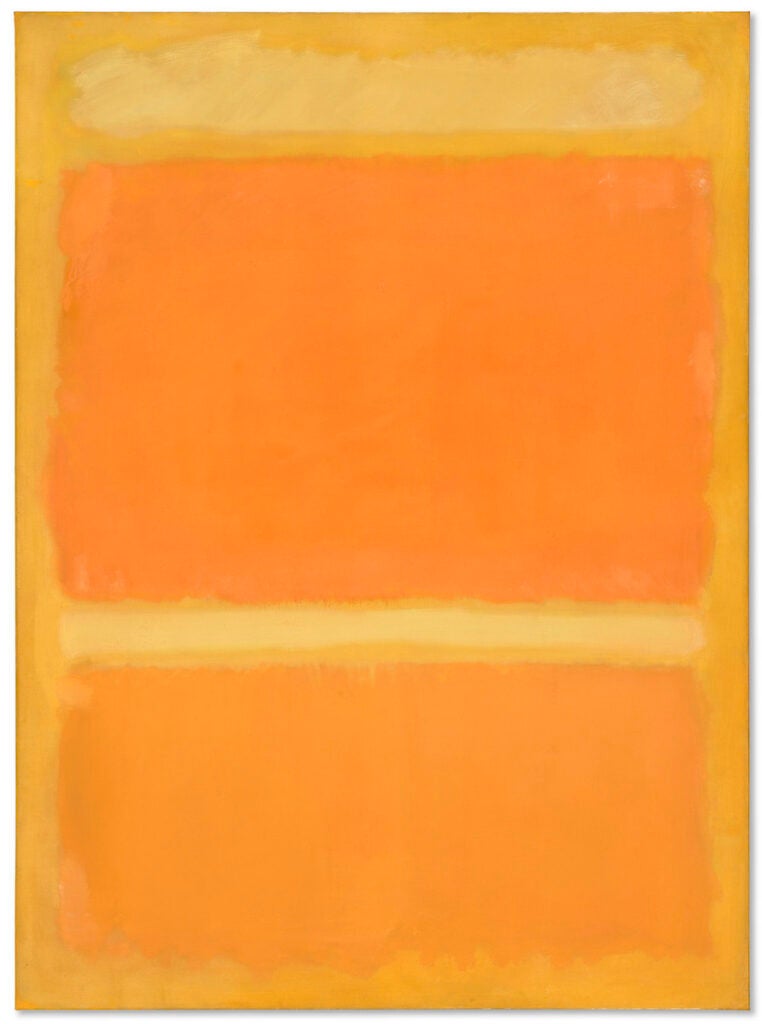 Mark Rothko's Untitled (Yellow, Orange, Yellow, Light Orange), 1955, widely considered to be the artist's most successful work, was be one of several highlights of the 20th-century sale at Rockefeller Center on 9 November during Christie's New York's marquee week of sales. 
The near-seven-foot tall painting was in the artist's personal collection until he died, at which point it passed into the hands of legendary 20th-century collectors and art patrons, Paul and Bunny Mellon. It is now up for sale for the first time in half a century. It was estimated to reach in the region of $45 million but sold on the night to a phone bidder for $40 million.
[See also: Picasso 'trophy' for the world's most powerful art collectors: $120 million portrait unveiled at Sotheby's London ahead of New York sale]
Filled with rich, dynamic fields of colour that casts a spellbinding glow over the viewer, Untitled (Yellow, Orange, Yellow, Light Orange) exemplifies the boldness and complexity of Rothko's finest work.
Alex Rotter, chairman of 20th and 21st century art at Christie's, said: 'Rothko stands among the giants of 20th-century art. He was deliberate in his process, with a singular intention of taking the practice of painting to new heights—achieving a psychological impact with his work that no other artist had previously. 
'His work continues to awe viewers of all generations, creating a deep emotional impact—a religious-like experience for those who stand before it. The painting we are offering is a best-in-class example, it is all-encompassing, radiating with an indescribable heat and intensity.'
Femme endormie, Pablo Picasso, 1934
Estimate: $25 – 35 million/ Hammer price: $37 million ($42.9m with fees).
Sale: Christie's New York evening sale, 9 November 
Picasso's vibrant portrait of Marie-Thérèse Walter, Femme endormie, came to Christie's New York from the California home of Ivan Reitman, the filmmaker behind movies including Ghostbusters, Dave and Kindergarten Cop. 
This colourful portrait of Marie-Thérèse Walter was in the possession of the Picasso family for nearly 60 years before its acquisition in 1993.
It is presented as part of the Ivan & Genevieve Reitman: A Life in Pictures sale, alongside works by Willem de Kooning, Jean Dubuffet, Loie Hollowell, Brice Marden, Richard Diebenkorn, Agnes Martin, Joan Snyder, and Saul Steinberg. 
[See also: Can London's art fairs survive in post-Brexit Britain?]
Femme endormie was created during what Max Carter, Christie's vice chairman of 20th and 21st century art, describes as 'among the most fraught years of Picasso's life'. 
'His wife, Olga, refused to divorce him; the Great Depression was in its fifth year; political turmoil engulfed France; and his native Spain, which he would visit for the final time that August, teetered on the brink of civil war,' Carter said.
'Picasso painted less—there are fewer than 45 recorded oils from 1934 and in 1935 he gave up painting altogether—and his imagery was dark and brooding. But on one glorious day in July, he produced three radiant visions of Marie-Thérèse Walter.'
On the night, the painting surpassed its $25m-$35m estimate with a hammer price $37m ($42.9m with fees).
Picasso's works are a major draw in auctions. Over the past decade alone, Picasso artworks have generated over $2 billion in sales, more than any other artist. 
Figure in Movement, Francis Bacon, 1976
Estimate $50 million / Hammer price: $45 ( $52.2 million with fees)
Sale: Christie's New York, 20th century evening sale, 9 November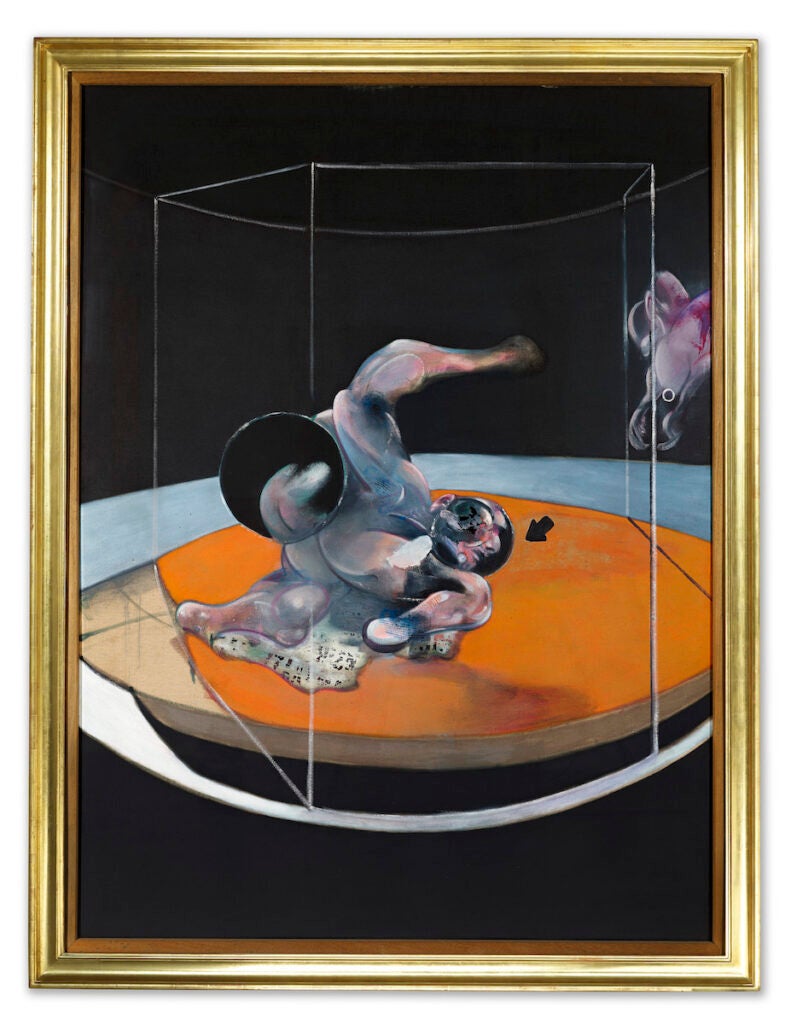 This meditation on love, loss and the transience of the human condition, part of a celebrated triptych, was another leading highlight in the 20th-century evening sale at New York's Rockefeller Center, securing the night's second-highest sale.
The painting went for a hammer price of $45 million, a little short of the $50 million estimate but with fees, the painting went for $52.2 million.
Francis Bacon's 1976 masterwork was painted in the aftermath of his muse and great love George Dyer's tragic death in 1971, and is shot through with the traces of his life and the force of the artist's grief. 
Never before seen at auction, the painting has remained in the collection of a single private family for nearly half a century. It is expected to sell for in the region of $50 million.
Le bassin aux nymphéas, Claude Monet, circa 1917-1919
Estimate $65 million / Hammer price: $64 million ($75 million with fees)
Sale: Christie's New York, 20th century evening sale on 9 November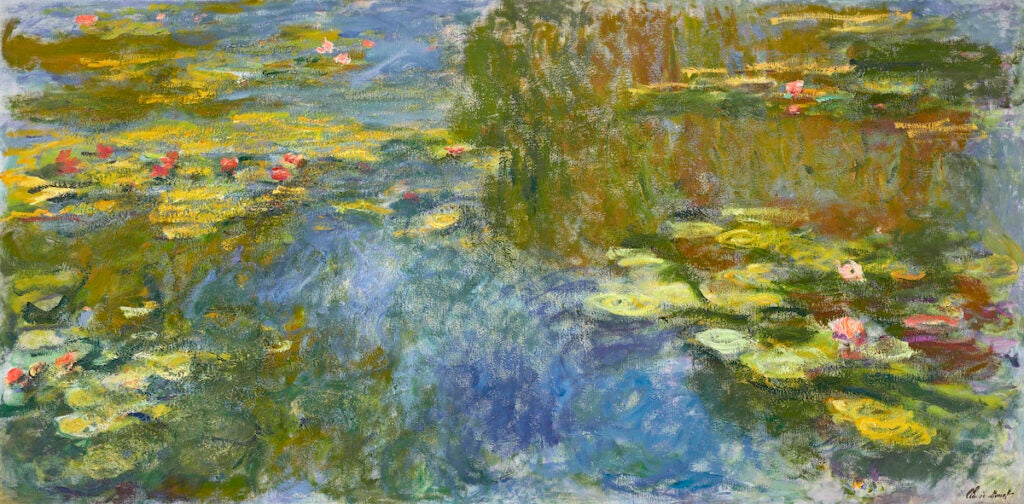 Monet's never-before-seen at auction masterpiece Le bassin aux nymphéas, explores the ephemeral atmosphere, seasonal blooms and glimmering reflections of light of the French impressionist's beloved lily pond in Giverny. 
This superb example of Monet's water lily series, one of four renderings, has been held in the same family collection for over 50 years. 
A Monet Nymphéas of this scale and quality had not come to auction since a canvas in the historic May 2018 sale of the collection of Peggy and David Rockefeller achieved a price of $84.7 million.
On Thursday was sold for a hammer price of $64 million to a phone bidder.
Fruits et pot de gingembre, Paul Cézanne, circa 1890-93
Estimate: $35 million – $55 million / Hammer price: $33.5 million ($38.9 million with fees)
Sale: Christie's New York, 20th century evening sale, 9 November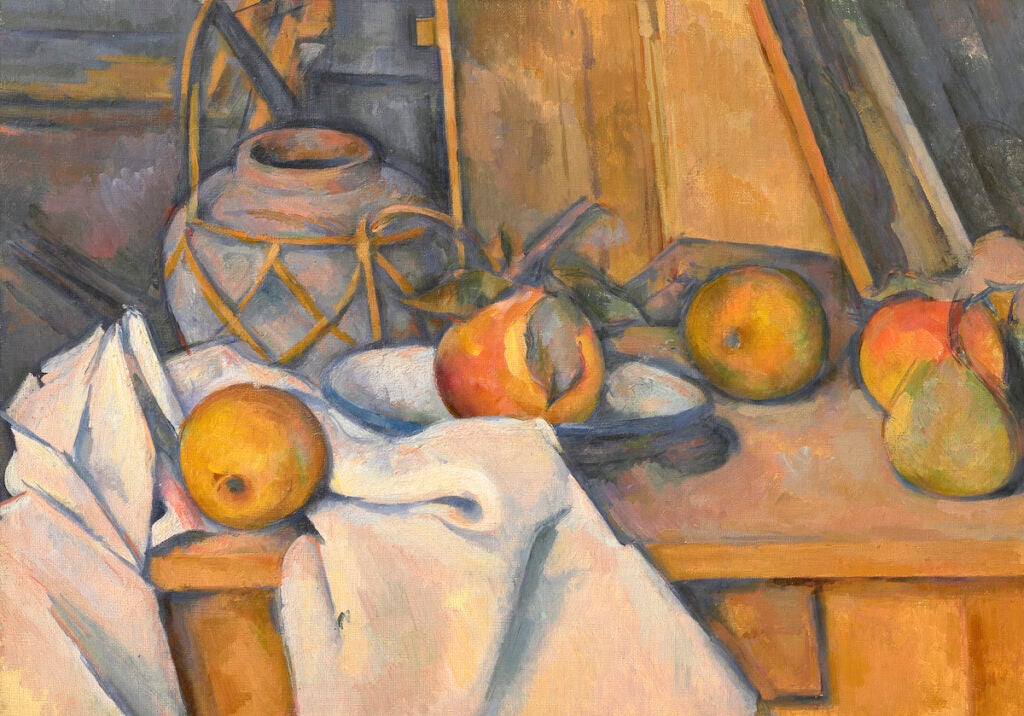 A veritable Cézanne feast was up for sale this November in New York for the first time in half a century, with Fruits et pot de gingembre a highlight of an exceptional trio by the French impressionist alongside Quatre pommes et un couteau and La mer à L'Estaque.
Fruits et pot de gingembre hails from his series of Cézanne's still-life compositions now celebrated as his signature artistic achievement and is part of a select group of canvases Cézanne painted in the late 1880s and early 1890s. 
[See also: What's next for fractional art investment?]
This work was most likely painted in the studio Cézanne kept at his parents' estate on the outskirts of Aix-en-Provence – the same site where he painted his highly celebrated Card Players series.
Cartern described Fruits et pot de gingembre, as 'one of the most important and exquisite Cezanne still lifes ever to be sold at auction.'
Fruits et pot de gingembre hammered at $33.5 million, or $38.9 million with fees. That figure was just above its low estimate of $35 million.
Femme à la montre, 1932, Pablo Picasso
Oil on canvas
Estimate: $120 million / Hammer price £132 million
Sale: Sotheby's New York evening auction 8 November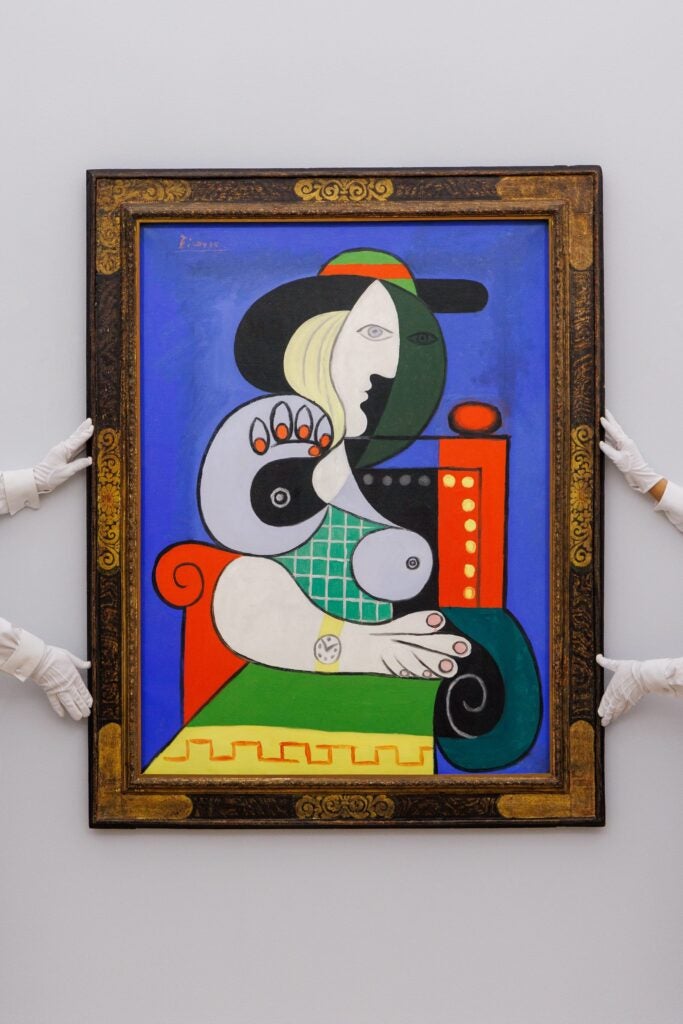 Picasso's Femme à la montre, a vivid portrait of his muse and lover Marie-Thérèse Walter, was the top lot in an exciting white-glove evening sale at  Sotheby's New York, where the painting beat estimates, fetching $139 million.
Hailed as a 'masterpiece' and a 'trophy' acquisition, the portrait defined the collection of the late, great American art patron and collector Emily Fisher Landau, who died earlier this year. It was painted in 1932 – a key period in Picasso's personal and professional life. (Indeed, the year was so influential that in 2017-18 the Tate Modern and Musée national Picasso-Paris collaborated on the twin exhibitions 'Picasso 1932'.)
The combination of the piece, time period and provenance is a 'dream combination' from a value perspective, explained Julia Bell, the founding director of Parapluie. Femme à la montre.
It was one of several pieces from Landau's collection auctioned in what was, at $406.4 million, one of the highest totalling sales ever staged and the most valuable sale devoted to a female collector in auction history.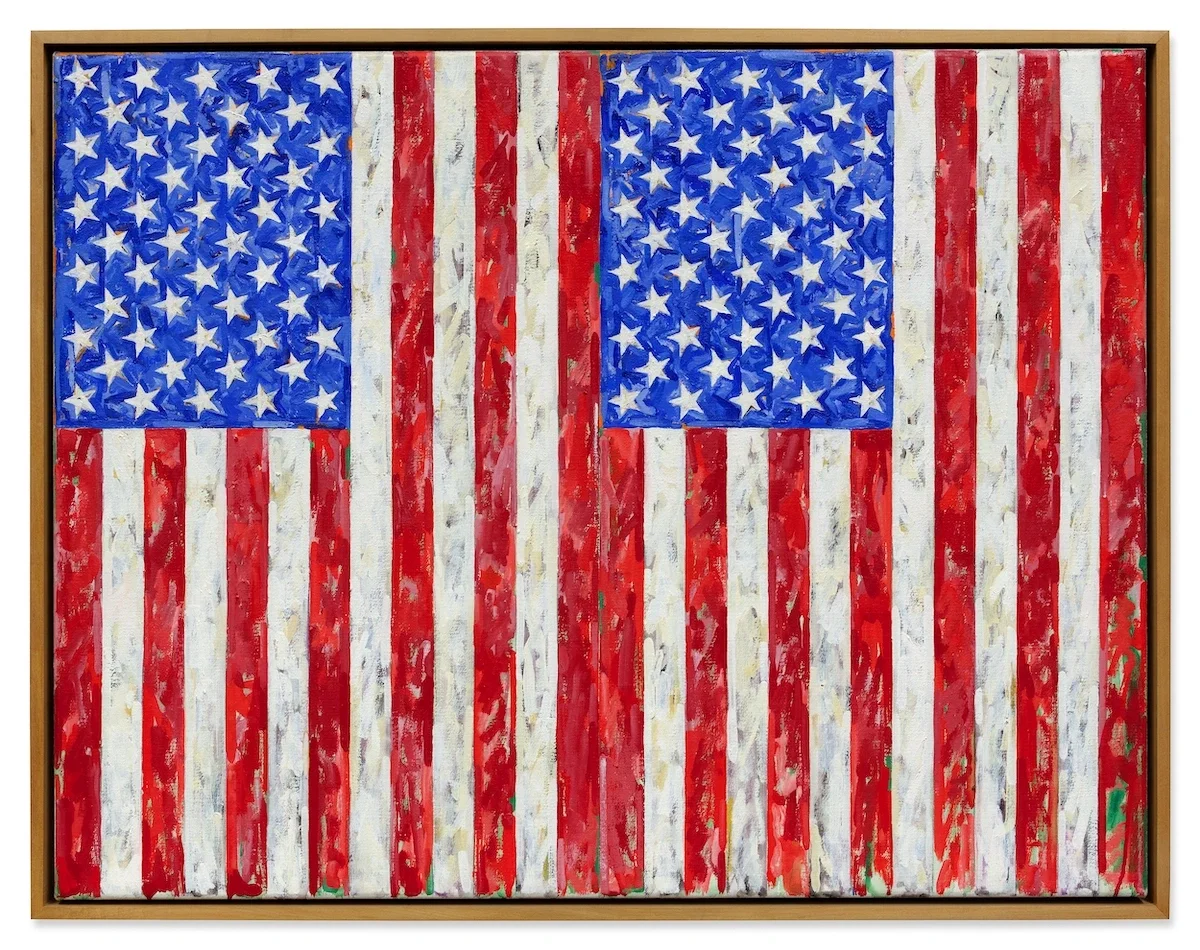 Abstraktes Bild, Gerhard Richter, 1987
Oil on canvas
Estimate: $30 million
Sale: Phillips 20th century & contemporary art evening sale, New York auction, 14 November 2023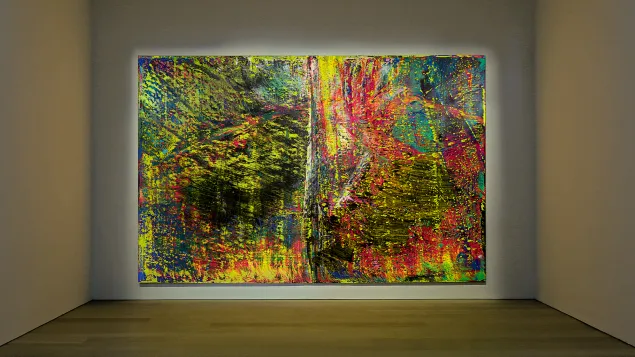 The auction power of German painter Gerhard Richter has continued to grow over the years; his auction record stands at $46.3 million for a 1986 Abstraktes Bild sold in 2015 by Sotheby's in London, while within the last 10 years, seven abstract paintings by Richter have sold for over $30 million, Phillips' deputy chairman for the Americas and senior international specialist of 20th-century and contemporary art, Jeremiah Evarts says.
While Abstraktes Bild 1987 is not estimated to reach quite that (it has an estimate of $30 million) it is still a star lot of Phillips's international fall auction season.
The sheer size of this work makes it a standout in a marquee season with many highlights. Comprising of two distinct panels fixed to one another, the painting as a whole measures over eight feet in height and spans over 13 feet in width, Abstraktes Bild, 1987, is one of the largest works from Richter's oeuvre to ever be offered at auction, according to Phillips.
While Richter painted several works as part of the Abstrakte Bilder series between 1986-1989, the only one on a similar scale hangs in Lisbon's Museu Coleção Berardo.
Le 14 juillet ou la maison sous les arbres, Fernand Léger, 1912-13
Estimate $15-20 million
Sale: Living the Avant-Garde: The Triton Collection Foundation, Phillips, New York auction, 14 November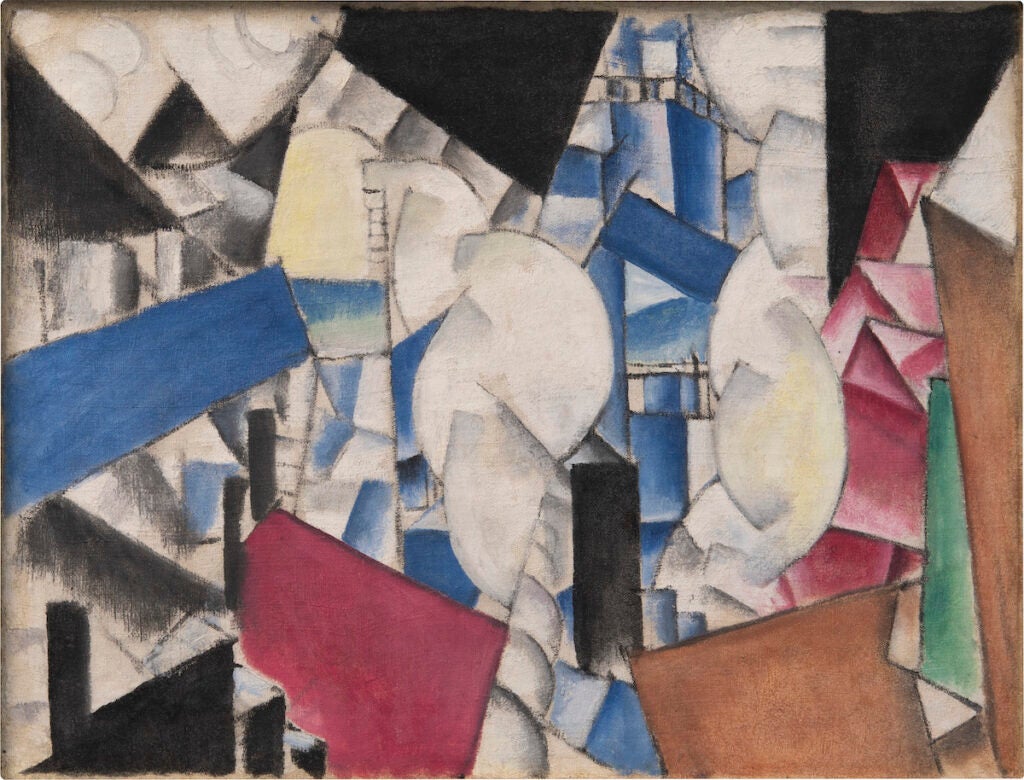 Phillips is offering 30 works of art from the Triton Collection Foundation in a dedicated evening sale this November.
The Triton Collection Foundation has committed itself to assembling an outstanding collection of avant-garde works that span the century and feature movement-defining examples of impressionist, modern, and post-war art.
Sharing top billing with Pablo Picasso's Femme en corset lisant un livre, 1914-1917, Fernand Léger's Le 14 juillet, 1912-1913 forms part of a sale Phillips say could fetch $70 million that also includes Georges Braque's La bouteille de Bass, c.1911-1912; and Joan Mitchell's Untitled, 1954.
Originally acquired by the Dutch shipping and oil magnate Willem Cordia and his wife, Marijke van der Laan, the collection moved to a foundation overseen by Cordia's children when he died in 2011. Of the 30 works offered at this sale, 24 are coming under the hammer for the first time. 
Keesjan Cordia of the Triton Collection Foundation, said: 'Our parents dedicated themselves to sharing that collection with the wider public. They took great care and pride in the works that they have chosen to acquire; never adding works that do not fit the quality or standard of the collection and always patiently waiting for those unique pieces they knew were out there. Ultimately, our role is to serve as temporary hosts for the incredible works in an ever-evolving collection.
'Our hope is that the treasures find homes that allow them to continue to contribute to the public understanding and appreciation of art.'